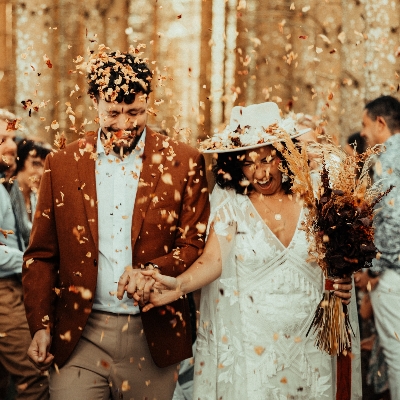 Celebrate the season
Q. We want to make our ceremony and big-day as a whole a celebration of autumn. Do you have any ideas on what we could do and include to carry this off?
A. Merie Brown says: When I think of autumn weddings, I think crisp, clear days with dark sparkling nights, pine cones, vibrant leaves, rustic logs and tree stumps. Outdoor ceremonies almost feel like a must!

Themed weddings spring to mind including apple bobbing, Halloween, Harry Potter or pumpkins and chestnuts with palette accents of orange, copper or gold if you want to go all out. Autumn is a romantic and atmospheric time of year to get married, as the warm colour schemes add a natural earthy feel to proceedings.

Choose seasonal wedding flowers such as foxgloves, antique roses, dried ferns and eucalyptus. These all look amazing with muted peach and brown tones, perhaps even consider an artificial bouquet in rich hues reflecting the season. If you love the idea of a confetti throw, use fresh crisp leaves crushed into clear jars that can hold candles afterwards to light your venue's outdoor spaces when the sun goes down.

The autumn months allow you to be adventurous with your food options and be sure to use quality local produce. What could be more inviting on a crisp afternoon than a bowl of fresh homemade soup to start your wedding breakfast? Finish with hot chocolate, cream and marshmallows to take outside as you gaze at the stars. Magic and sparkles: I just love autumn weddings!
Merie Brown, Orange Rose Ceremonies
www.orangeroseceremonies.com