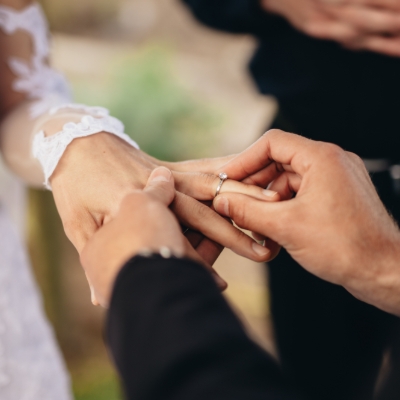 Using a celebrant
Q. What are the benefits of using a celebrant rather than a registrar?
A. Rachael Thompson says: Simple! Celebrants will work alongside you to ensure your ceremony lives up to your dreams. There are no restrictions on venue, date, location or time. You can hold your "I dos" where you chose. The venue doesn't have to be licensed, so that special place may be a beach at sunset, a woodland glade, or even your own garden.

You'll find that your celebrant will take the time to get to know you as a couple, so that they can create a loving and meaningful ceremony totally reflective of you. There'll be no standard script, no rules, and no wondering who's going to turn up on the day to perform your nuptials. You also have the option to include any symbolic rituals, or perhaps you prefer to keep the more traditional elements, it's completely up to you. What's more, my ceremonies are dog-friendly so your best buddy doesn't have to miss out on the fun.

It's worth noting though, that celebrant-led ceremonies aren't legally binding, but a quick visit to the registrar to complete the legalities is all that's necessary.
Rachael Thompson
rachaelthompsoncelebrant.co.uk