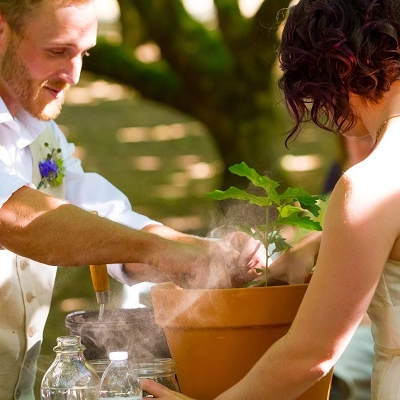 Let your love grow
Q. How do you inject your wedding day with the spirit of spring?
A. Mark Inscoe says: Spring is the perfect time of year for celebrating nature. It's a time of renewal, a time of new growth. Young, fresh greens and spring flowers enhance those outdoor ceremony settings. For thousands of years, the seasons, especially spring, have been integral in ritual ceremonies reflecting our respect for nature. A perfect addition to your day might be a symbolic tree or shrub planting. Depending on the location of your ceremony, this could be done afterwards in your garden or elsewhere (with necessary permissions). During the ceremony, the sapling could be in a pot while you and others spoon soil onto it with a ceremonial trowel. As you're doing this, significant words reflecting the symbolism of this action are spoken by your celebrant. Different trees have their own meaning. Apple is associated with knowledge, faith and fertility; birch represents truth and new beginnings; and elm is thought to strengthen relationships.

Remember, once you've done the legal bit in the registry office, you're free to choose from so many spectacular natural settings to stage your celebrant-led wedding or civil partnership celebration ceremony.
Mark Inscoe, Civil Celebrant Sussex
civilcelebrantsussex.com