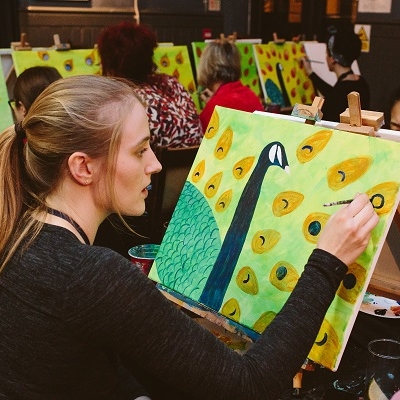 Paint the town
Q. We want to treat our bride to a hen party activity with a difference, but are really struggling to come up with creative ideas. Do you have any recommendations?
A. Alice Munro-Hainsworth says: Have you heard of a paint party, where an artist guides you through your chosen painting step by step? It's a great idea for a hen party activity. The sessions are fun and informal and you can sip on a cocktail, a glass of prosecco or if you prefer, a cup of tea as you paint. The activity is open to everyone of any age, so is suitable for all hens. You can bring your mum, your aunt, your nan and your bestie. It's proven that getting creative releases endorphins and a shared activity brings everyone together to chat and have a giggle.

Here at The Paint Club Studio, we provide you with a professional artist who will transform your chosen venue into a mini art studio and lead you through a two hour session step by step. Choose your painting and let us create a bespoke event for you. We can set up anywhere that has tables and chairs, be it a bar, field or party house. We provide all the painting equipment, including aprons and table covers. Best of all, you get to keep your painting as a memento of your hen party.
Alice Munro-Hainsworth, The Paint Club Studio
www.thepaintclub.co.uk