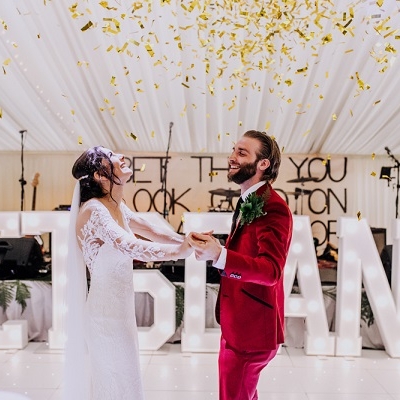 With a bang
Q. We want a festival/club vibe to our evening celebrations. What can we add to make it fun and memorable?
A. Ashling Barclay says: Using special effects at weddings can truly make your big day unique, adding moments that you and your guests will remember forever. For example, our effects range from traditional outdoor firework displays to simple ice fountains for your wedding cake and just about anything else you can think of in between.

To bring a club vibe to the dancefloor, why not use a confetti cannon, which can be set to go off just as you reach the end of your first dance for that real wow factor? You could even go for an all-out gig atmosphere with your very own pyro FX! Or how about a smoke or bubble machine for a touch of romance when the DJ starts playing the slow songs?

As the leading UK supplier of professional special effects and pyrotechnics to the theatre, entertainment and live events industries, we've seen that as the industry has grown more and more clients are wanting effects for their weddings. We're equally happy to work with you to create your wedding-day extravaganza as we are with A-list artists, TV channels and theatre companies.
Ashling Barclay, SFX Supplies and Hire
www.sfxsupplies.co.uk