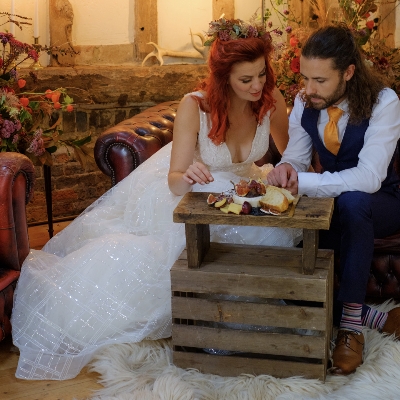 Small is mighty
Q. We're in the process of downsizing our wedding, how can we still make the day everything we've dreamed of?
A. Claire Field says: An intimate wedding gives you the freedom to express your own personality with no boundaries on style, theme or venue. It's easy to get caught up with the idea of a 'big day,' but a small, bespoke ceremony makes this personal moment of connection beautiful and touching.

Venue choices become much broader with a smaller wedding, and expenditure decreases the fewer people you invite, allowing you more to spend on the finer details. Think small on numbers, but big on details! For example, flowers can be more creative: flower crowns, blooms entwined in your hair, flower walls, bigger bouquets, floral centrepieces and scattered petals – the possibilities are practically endless.

Your wedding breakfast will also become a much more intimate affair, with no more fretting over the seating plan. A table of 15 can be stunning with vintage crockery, glassware, flowers and candles. You can also serve more interesting dishes, perhaps locally sourced, seasonal food, as simple or extravagant as you like. The freedom of a downsized wedding enables you to create the day of your dreams by bringing your vision to life.

Don't forget though, you can still have a huge wedding party once rules allow. You could even choose two totally different looks. Whatever you do, don't hold back. This is your moment, don't be afraid to make it your day, regardless of the size of your guest list.

Psst… Head over to www.your-sussex.wedding/news-headlines to see the shoot by Claire and a fab team of Sussex suppliers who got together to demonstrate these ideas.
Claire Field, Claire Marie Hair and Makeup
www.instagram.com/claire_mariemua