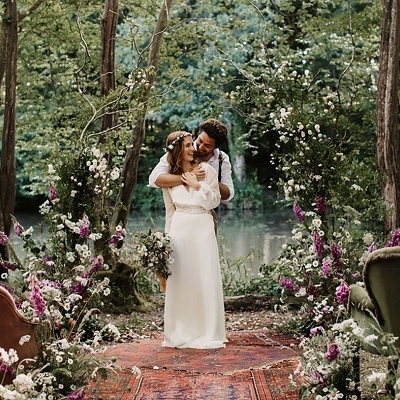 Green goals
Q. How can we make sure our big day is as sustainable as it can be?
A. Jude Hesselgrave says: Planning a sustainable wedding in no way means being 100 per cent environmentally friendly – that would be impossible. However, there are many ways you can be sustainably conscious when starting out on your planning journey. Sadly, I've witnessed so much unnecessary waste go into landfill from within the events sector over the years, so I'd like to share a few ways of reducing that and encouraging you to be aware of where and who you're hiring from.

Firstly, try to find suppliers who are local to your venue. This is a great way of keeping your carbon footprint down. There's a huge collection of wedding suppliers on Instagram, it's a great place to start, but be sure to get a feel for their ethos. With caterers for example, ask where their produce is sourced from, if locally from farms holding the Red Tractor logo then you know you're onto a winner!

Try to find a florist who has connections with their local flower farms. Weddings displaying our great British flowers are some of the best in my opinion! Try to avoid blooms that are flown in. There are also some amazing confetti farms in the UK, by purchasing your confetti from these businesses not only are you supporting the domestic farming industry but also our amazing, bird and insect colonies.

Ditch disposable tableware and hire yours from a reputable company. Avoid plastics and bamboo plates etc, don't be fooled into thinking they can be recycled, as not all can. Hiring them ensures each item will be used and enjoyed time and time again with nothing being discarded.

Lastly, if you're looking for an outdoor wedding venue look for one that doesn't host back-to-back weddings. You may need to book further in advance for this but by offering fewer dates each year the land has time to recuperate between each event and the wildlife and surroundings are less disturbed.

If we all do a bit, we can make a big difference.
Jude Hesselgrave, Wickerwood Farm
www.wickerwoodfarm.com