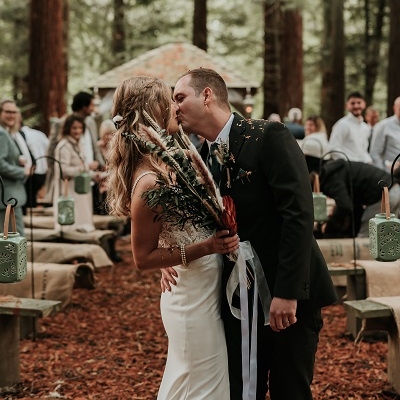 October-fest
Q. We both love the autumn, which is why we've chosen October to get married! Is there any way to reflect what we love about the season in our wedding photos to give them a twist?
A. Lauren Simpson says: Autumn is my favourite time of year! Definitely take advantage of fall colours surrounding your venue. Changing leaves and autumn foliage will create beautiful, picturesque landscapes.

Have a clear plan with your photographer. During fall, the sun sets earlier, so be sure to make the most of the light. Look up the sunset time in advance to allow you to schedule in time for golden hour portraits where possible. The golden hour creates a gorgeous soft, warm light for portraits and can really enhance the autumnal hues and foliage around you.

Think about the colours of the season and perhaps try to incorporate these warm, rich tones into your colour palette. Deep burgundy, burnt orange, forest greens in floral arrangements, wedding party outfits and tablescapes can really enhance the gorgeous fall tones in your photos. Why not consider adding further subtle touches into the detail of your day, such as fir cones, autumn leaves or even small pumpkins?

This time of year means slightly colder weather, so make sure you and your guests stay warm. Blankets are a great way to keep the chill off during the evening. You could also incorporate a blanket or shawl in an autumnal colour for your couple photos to create that cosy fall feeling.
Lauren Simpson, Lauren Beth Photography
www.laurenbethphotography.co.uk