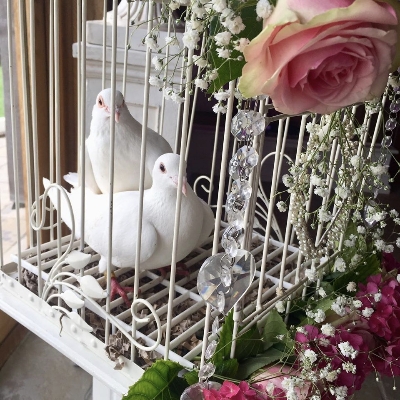 Come fly with me
Q. I love the idea of a dove release. How would this work on our wedding day and is it unkind to the birds in any way?
A. Viv Lambert says: We recommend a release of five doves on your wedding day. The first pair represents your onward flight together and the extras symbolise those loved ones who'll be watching over you, there in spirit. Released either by hand or direct from a pretty presentation cage and heart-shaped basket, both decorated in your chosen flowers, these beautiful birds rise and circle to orientate, then head back to their home in Hove, often arriving before us!

Their natural homing instinct serves them well and it's easy to see they're well-loved, expertly cared for and receive the very best of treatment. For us, their welfare is paramount, so we'd give you a full refund in the event of adverse weather conditions where their safety becomes an issue if released. If you're still worried, you're welcome to arrange a visit to see our feathered friends at home before you book.
Viv Lambert, Lambert Dove Release
www.lamberdoves.co.uk