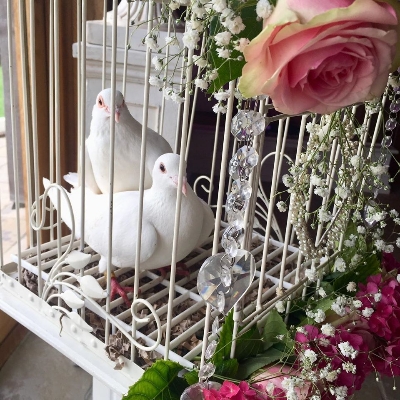 On the wings of love
Q. It's been a tough year and we're delighted that our wedding is looking like it can go ahead later this year. We want to add something extra special to our plans though. What would you suggest?
A. Viv Lambert says: Upcoming weddings are the perfect opportunity to celebrate the love and relationships we've all missed, both between the happy couple themselves and also with friends and family. However, not all of your loved ones can be with you in person on the big day, so a beautiful white dove release is the perfect way to symbolise the love and freedom everyone wants to fly toward now. For example, we offer up to five doves for the price of two symbolising those who can only be with you in spirit.

Two doves come in a pretty cage on a white pillar, with extras in a heart-shaped basket, both prettily decorated with flowers and ribbons to match your theme. Always accompanied by an experienced handler, on release they rise and circle to orientate before heading off for home, giving an opportunity for beautiful photographs while putting on a stunning display.
Viv Lambert, Lambert's White Dove Release
www.sussexdoverelease.co.uk