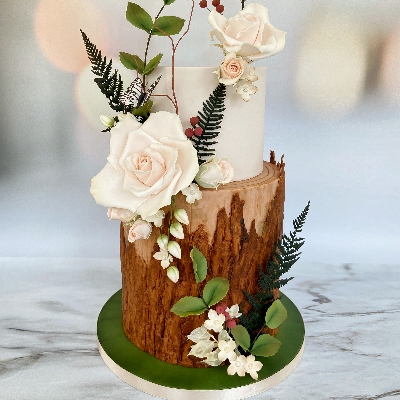 Warming bakes
Q. We're having an autumn wedding and would love to incorporate the time of year into our cake. Do you have any flavour suggestions or decorations we could choose?
A. Carrie Raymond says: There's definitely a wonderful opportunity here to include colours and flavours that really accent the season. For example, try replacing a raspberry or strawberry conserve filling for blackberry or plum. Also, orange or hazelnut praline flavours can be added to classic choices such as chocolate and vanilla to give them a real boost. Delicious caramel notes are very versatile and have proven popular in recent years, as have gingerbread and spiced carrot cake. These options offer a rich, spicy taste designed to warm the soul.

When it comes to embellishment, decorate your cakes with bold, muted colours of burnt orange, mustard, cream, burgundy and dark green; or focus on grey blues, sage, peach and dusky pink if you prefer a more subtle palette. If you like a classic look, why not swap out the traditional white for an ivory or champagne hue, which will better complement the colours of the season? The use of dried foliage and grasses such as pampas, bunny tails and ruscus is on trend, and adds a distinctive texture with a rustic feel. Lastly, we love rose gold and copper accents, which bring a gorgeous metallic element as the final flourish.
Carrie Raymond, Carita's Cake Design
www.caritascakedesign.co.uk