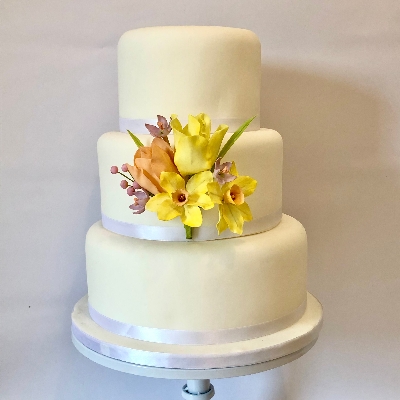 Spring is in the air
Q. We'd love a big-day bake to fit the relaxed springtime vibe of our wedding. What would you suggest?
A. Annie Rogers says: Everyone has different ideas about what their perfect cake might look like, so when deciding on your design you need to think about what reflects you as a couple. A naked or semi-naked cake might be perfect for you and your chosen theme. This has a more informal style that looks just right as the centrepiece at a relaxed wedding. It can be adorned with fruit, edible petals and flowers fitting in beautifully with a springtime theme.

However, if you'd like something more elegant, a classic tiered cake with a spray of subtle handmade sugar flowers would be ideal. Yellow, light greens and soft oranges are the perfect colours to complement the season. Daffodils and tulips are gorgeous reminders that the chill of winter is over and that new life is beginning – a wonderful sentiment to share with your friends and family on your wedding day.
Annie Rogers, Leading Lady Cakes
www.leadingladycakes.co.uk