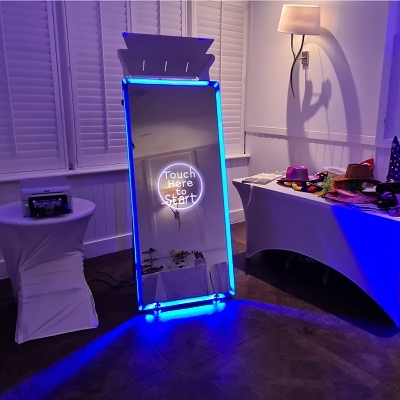 Snap happy
Q. How can we personalise our photo booth experience?
A. Chris Wilson says: We understand the importance of making your wedding day unlike any other. So, imagine your photo booth mirror illuminating the room with the colour of your chosen palette! You can also have your photo prints matching the theme of your wedding for all guests to remember the big day the way you want them to! Your loved ones can also upload photos of your wedding on the night they were taken for everyone else to see. Plus, with Event Gent you'll also have a mirror attendant who wants to do whatever they can to make sure you have the best experience possible, and who can forget all the silly hats and props to get even the most introverted of guests involved and having a great time.

We provide all of this and everything else you'd expect from a photo booth service. You can also make the most of unlimited prints during your event, take high quality DSLR images, get your photos right away with super-fast printing, and take away an album and USB stick of all the photos.
Chris Wilson, Event Gent
eventgent.co.uk