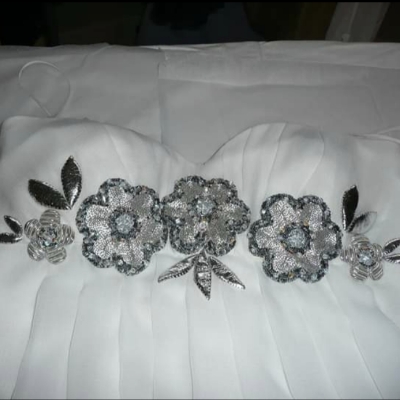 How to accessories a simple gown...
Q. Why not consult a professional hand embroiderer or accessories designer to get something bespoke added to your dress?
A. Victoria Buckroyd says: This way, you can both collaborate on the piece to create something you'll treasure forever. With my designs, I like to highlight the cut of the dress by applying detailing to bring out the brides' best features. This can be achieved by various combinations of embroidery, pearls, rhinestones, and applique to the waist, neckline or sleeve, so that the key areas are emphasised without swamping the dress. You can then match this detailing with hair jewellery, a headband and veil, allowing the whole look to come together.

Finally, consider your wedding-day theme. Perhaps you'd like to take this through in part to the bridesmaids' dresses in a different colour to complement your gown. This can be achieved using small embellishments such as hair accessories in varying hues or gifts mirroring your palette as a memento of the day.
Victoria Buckroyd, Victoria Buckroyd Bridal
www.victoriabuckroydbridal.co.uk