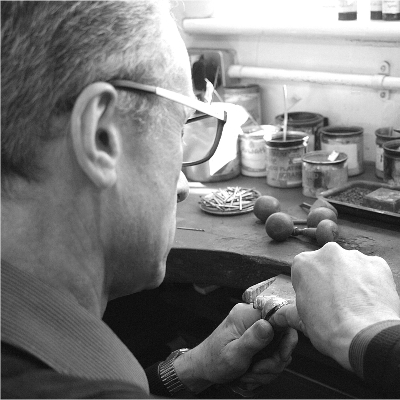 Band of gold
Q. We're not loving the idea of a traditional gold wedding band, and are looking for something out of the ordinary to reflect our personalities. What can you suggest?
A. Andrew Leggett says: If you want an unusual wedding, that's perfect for you, it probably doesn't exist…yet! The answer is to go bespoke. This gives you the opportunity to control every aspect of the design, including material, width, depth, profile, texture and finish. At a design consultation you can tell the goldsmith about any ideas you may already have. The designer will need to learn about your taste and lifestyle, along with any likes and dislikes, so will ask questions, while offering ideas and suggestions. Gradually, a design for your dream ring will take shape.

If you have an engagement ring this needs to be taken into account too, as it's important that the two work well together.

If you and your partner have similar tastes, it's easy to come up with matching designs. However, even if you have totally different styles it's usually still possible to pick up on at least one feature that can be incorporated into both.

So, by the end of your design consultation you'll have the blueprint for a pair of unique rings, perfect for you and your intended. If you decide to order, your rings will then be handmade just for you.
Andrew Leggett, Aurum Designer-Jewellers
www.aurumjewellers.com