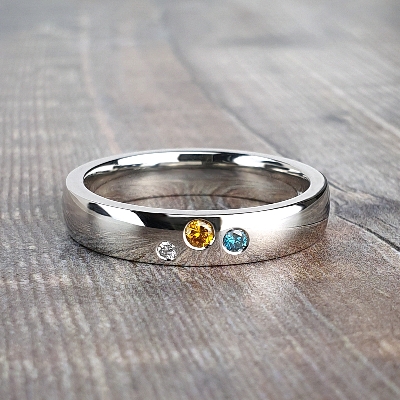 Jewel of the aisle
Q. I'd like some stones in my wedding ring, and ideally a bit of colour. What would you suggest?
A. Andrew Leggett says: In recent years, diamond-set wedding rings have become increasingly popular with both brides and grooms, largely due to their durability. Your wedding ring will be subjected to a lifetime of wear, and diamonds are less likely than other stones to suffer damage. Fortunately, diamonds come in a range of colours. Natural, fancy coloured diamonds can be very expensive, but colour-enhanced diamonds are more affordable.

Sapphires and rubies are next to diamonds in terms of hardness, but are nevertheless much less hard wearing. A word of caution: if your engagement ring has no coloured stone, I'd be very wary of adding colour to your wedding ring. Most people want their engagement ring to be the focus of attention, and coloured stones in your wedding band tend to draw the eye away from it. However, if your engagement ring does feature a coloured stone, you could go for some small accent jewels of the same hue.

There are lots of stones available, and opting for a bespoke design will open up a great many opportunities that you're unlikely to find in ready-made versions. The ring pictured is a man's platinum band with white, yellow and blue diamonds.
Andrew Leggett, Aurum Jewellery
www.aurumjewellers.com