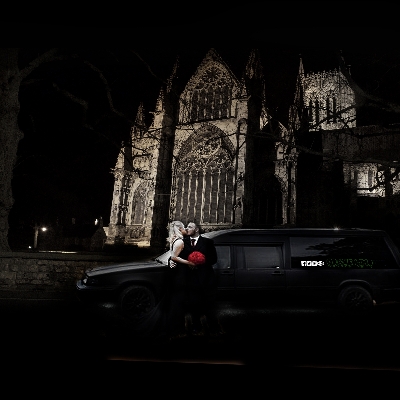 You do you
Q. Vintage and classic vehicles aren't really our style, but we want our transport to be an experience. What would you suggest?
A. Lee Clarke says: Vintage and classic vehicles don't need to be your thing. What I feel is most important on your wedding day, as clichéd as it may be, is being yourself and being happy. If that means getting a local taxi or travelling on a little push bike, so you make it to your big day the way you feel happy or comfortable, then that's what you've got to do. Make it memorable.

There's no rule demanding you have to do anything or follow any classic outplayed, overused or traditional themes. Other people's expectations are their own and you should live by yours, carve your own path. 

For example, my company Grave Limos offers a memorable experience that starts before you've even set foot in the vehicle. Picture a matte black, 21-foot hearse limousine with a roaring engine turning up to pick you up – you've already got your wedding day off to an amazing start. So, pick the wild card, be brave, be bold. Good or bad I guarantee you won't forget it and that's what really matters.
Lee Clarke, Graveyard Limousines
www.gravelimo.com