Richard Talman and Hugo Johnson are the incredibly talented gentlemen behind Haywards Heath-based bespoke jewellers RTFJ. Both regulars on your TV screens (Richard on The Repair Shop and Hugo, 2021's All That Glitters champ) and the pair have super-high standards when it comes to their pieces and customer service. Your Sussex Wedding editor Kelly Andrews caught up with them for a virtual chat about their experiences working on such well-loved BBC shows, as well as what inspires them and how to get the best out of your wedding rings.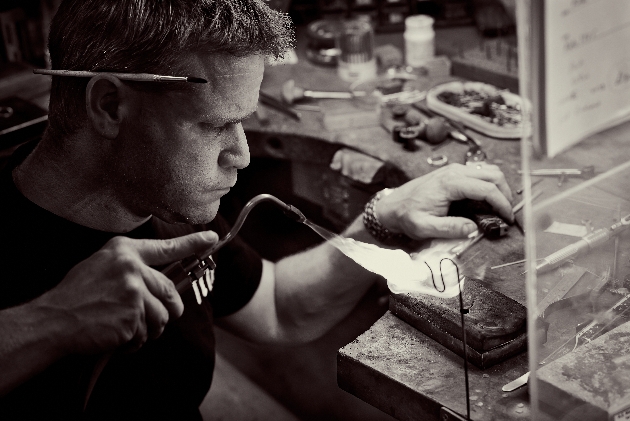 What led you both to begin your careers in jewellery and fuelled your passion?

Richard: I had a lifelong passion for geology and had collected gemstones from the age of five. My dad was a sheet metal worker, a coppersmith, so he taught me basic metal work, and by the time I was about nine or 10 I was soldering and using other metal techniques in our garage. So this and the love of precious stones naturally combined into creating jewellery.

Hugo: I guess you could say I came from an artistic family. I was always into working with my hands, drawing, photography... But it wasn't until I met Richard at the age of 15 and ended up going along to the workshop that fell in love with the art of making jewellery. Richard pointed me in all the right directions, including to the Goldsmith Centre. Then when I finished school, I started and apprenticeship at RTFJ and I've been here ever since. That's 10 or 11 years - since the business started. He's moulded me in a way!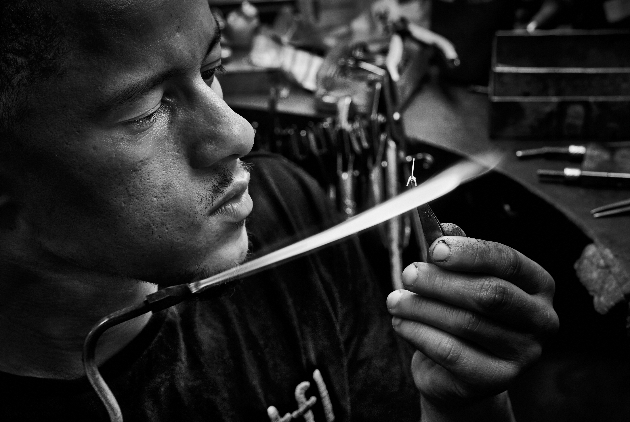 What inspires your creations?

Richard: I was West-End trained in Hatton Garden, so the inspiration behind everything for me is the stones. You fall in love with those first and foremost. In fact, I won't even discuss making a ring until we've found the perfect stones, looking at how they complement each other and the design.

Hugo is more focused on the metal side of things. So, he'll sit and carve a leopard's head out of a sheet of metal, whereas I can't even draw a leopard's head!

Hugo: I take a lot inspiration from nature and animals. Designs you'd get occuring naturally day to day.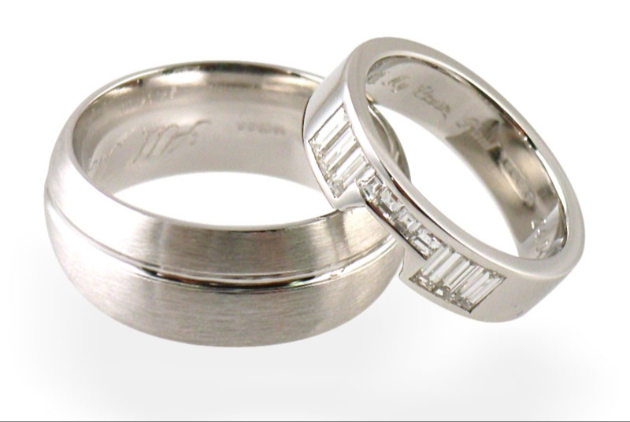 You've obviously learnt from the best Hugo! What are the similarities and differences between your work and Richards?

Hugo: Anyone who works in a company is trained to make in teh style of the person who taught you. So, if you were to look at our jewellery, you shouldn't actually be able to see any difference between the two pieces.

Richard: I could look at a ring my old boss made, one that I've made, and one that Hugo's made, all following the same pattern and they should all look exactly the same. I was taught to make things in a certain way and I've taught Hugo the same techniques, so a style follows the line. That's why it's very difficult in the trade to hire just anyone.

Hugo: But I think over time each individaul can bring their own personal flair to the pieces they're making, as well as sticking to the style you were taught. For me, it came from being inspired by nature when creating my own designs.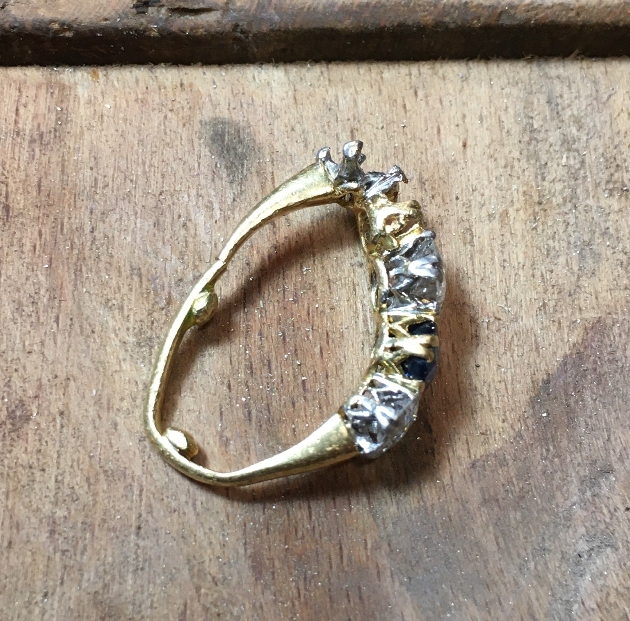 Thinking of your time on The Repair Shop Richard, what's the most challenging repair you've ever had to do?

It would have to be the sapphire and diamond engagement ring that was run over on a driveway, followed by the very first one I did back in 2017 on series three. Whenever you're dealing with such precious heirlooms, coupled with the fact that you're out of the workshop you're used to - that made it really challenging.

With the tiny margins for error you're dealing with and the cameras on you, the pressure must be immense - you must love what you do! What do you love about repairing vs. creating?

In a way, my love of repairing has overtaken my love of creating. I'm a bit of a sentimentalist – I struggle selling a car because I get too attached! But further to that I abhor waste - anything from food to jewellery. You can't throw anything away as far as I'm concerned, as long as there's a use for it. Someone might come in to the workshop with their late husband's ring having been told by another jeweller that it's beyond repair and that they should just replace it - that's the sort of thing I love doing. I always think It's a bit like taking your 12 year old dog to the vet and being advised to just get a new one! My passion is keeping people's memories alive.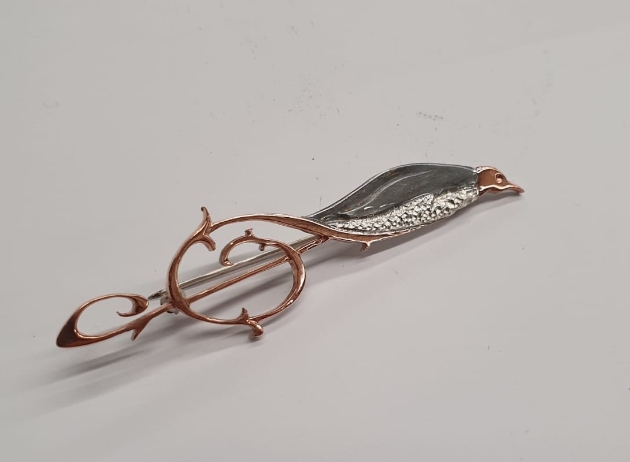 Hugo, huge congratulations on winning All That Glitters, we were cheering for you all the way! What was your favourite piece that you made?

I would say the sweetheart brooch in episode two. I combined a penguin with a treble clef for the bespoke challenge where I was able to apply the skills I'd learnt throughout my training for the first time on the show. Also we'd done some casting and when it comes to that it's either going to go one way or the other, it was a real gamble, but it all paid off and went very smoothly. So, that on top of some classic diamond mounting made that my favourite piece.

What meant the most to you on the show – having the client choose your bespoke piece or the judges awarding you jeweller of the week?

Personally, the highlights were when the bespoke clients chose my pieces. When it comes to judging another maker it's natural to lean very much towards your own personal style, which biases you. Having a bespoke brief, where you make something especially for someone; putting your time, effort, creativity and design into it then having it chosen by that person from a selection, that's a really special moment.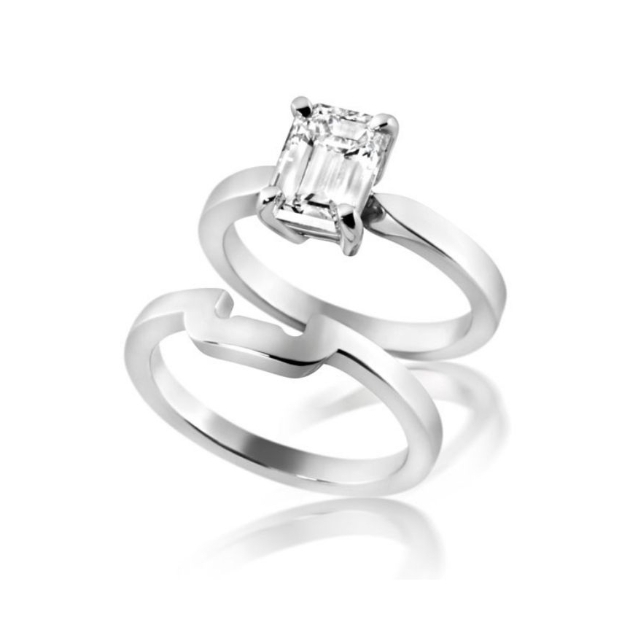 Trends or tradition: what's more important when it comes to wedding jewellery?

Richard: Definitely, tradition over trend. Trends are fine for earrings and necklaces, things you can change as those trends evolve. But I'd advise people to tread carefully if applying that to wedding jewellery. Currently everyone's going crazy for pink stones, but will that still be the case in 20 years time?

There's a world of choice now when it comes to materials for wedding rings. What metals and stones are best for longevity and ease of care?

Richard: The hardest wearing precious metal is and has always been platinum. With regards to stones it's primarily diamonds followed by sapphires and rubies. Definitely not emeralds, turquoise or pearls as they're all far too soft.

Hugo: Platinum's also great as it holds polish a lot longer than white gold. It's timeless. Alternatively, 18ct gold is best if you're looking to go down the yellow route.

Richard: Yes, avoid 22ct gold as it's very soft. Also, steer clear of 9ct gold - there's actually more copper content than gold, so it tarnishes.
Jewellery is something that means so much to us. How do you ensure that your bespoke pieces will be treasured and handed down through the generations?

Richard: We make things to last. They're solid items made from the correct metal. I do all the client interviews, so I find out what people do for a living. If someone's hands on I'm not going to make them an emerald eternity ring for example. I'll make sure I make a hardwearing piece to suit their lifestyle.

Hugo: We try to encapsulate that person in the pieces we make and that's what really adds an emotional connection. We encourage them to put their own input into the design so we can create it around them and who they are. That's what makes them want to treasure it.
What key piece of advice do you have for couples about to choose their wedding rings?

Richard: While it's essential to personalise them as much as you can, try not to go for anything too in-the-moment as it may not stand the test of time. I had a bride once ask me for a specific colour of stone according to her wedding palette. But that's only going to have meaning for a tiny fraction of the life of your wedding ring. In the future people won't know that those were your wedding colours. Make sure the personalisation has everlasting meaning.
Can you talk us through the bespoke wedding ring process?

Richard: First the couple would come along to the workshop for a one- to one-and-a-half-hour consultation, where I have endless samples, photos and ideas. We talk about what's going to work best for them after finding out about their lifestyle. They then get given a quote and if they decide to go ahead we start making up the metal. They'll come back for a fitting after that, the same way you would for a wedding dress. We make any alterations and stone layout is chosen at that time.
What tips do you have for caring for and cleaning engagement and wedding rings?

Richard: Take it off whenever they might be vulnerable, such as when exercising at the gym, playing sport, gardening or if hands are likely to come into contact with anything metal. In terms of cleaning, you can't beat a jug full of hot water and washing up liquid. Leave your rings in the solution for 10 minutes before scrubbing with a toothbrush. The best advice I can give is to avoid any rubbish that claims to be jewellery cleaner. These only clean momentarily and leave a residue dirt adheres to. Also, ignore all the old wives' tales. I've heard it all: gin, ketchup, toothpaste. I can assure you, none of them work. In fact, give me the gin, I'll drink it for you instead!
Tell us about a typical day in the RTFJ workshop.

Absolute mayhem! It's crazy but fun - we're artisans here, we don't know what's going to happen one day to the next!
You've both achieved so much already. What are your dreams for the future, what's next?

Richard: I have no aspirations to grow the business any bigger than it currently is, because then you lose the personal touch, and there's enough jewellers like that out there to sinnk a battleship. Clients come here because they want to speak directly to the craftsmen. I'd rather be limited than grow beyond our capabilities of customer care. I want to carry on as we are and make life fun.

Also, we're introducing new ranges for people who want to buy our jewellery, but don't want to go the bespoke route.

Hugo: For me, I agree. It's about growing the classy, beautiful range of jewellery that we have and keeping the process as personal as possible so as not to lose our special touch. I want to keep producing high quality jewellery and maintaining or even increasing that standard.