We caught up with Lydia Champion the event sales manager at the Brighton i360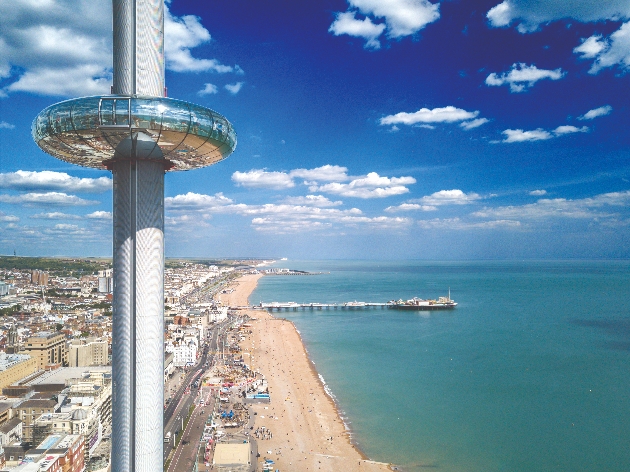 Credit: Brighton i360Your Sussex Wedding editor Kelly Andrews caught up with Lydia Champion, event sales manager at the Brighton i360 to find out what a typical day looks like for her.

When a couple books their wedding day at Brighton i360, what's next for you?
It's great to meet them and find out exactly how they envision their big day. From there, I can offer recommendations and feedback. As a group, we tour the site and discuss the style and design that will bring their vision to life.

Planning a wedding from an events point of view involves so many steps from outsourcing suppliers and entertainment, to creating a menu- tasting session and looking at aisle music. We have great connections with our recommended suppliers and hotels, so we support local businesses where we can.

For many of our clients it's their first wedding, so we even advise them on the small things such as sending out save-the-date cards. It's a really exciting time for the client and it's great to be a part of that.

What does a wedding day at the venue look like for you?
We have two licensed event rooms including the giant glass pod that showcases unfolding views of Brighton as it travels to the grand height of 450ft. Plus, our event rooms open onto West Beach and our glass capsule sits above the iconic seafront, so thanks to our stunning location, a wedding at Brighton i360 captures that vibrant Brighton vibe in all its glory. We also have a huge upper deck, which is fantastic in the spring and summer months for pre- and post-ceremony drinks.

I'm always really busy making the day perfect to suit the brief, whether that's dressing the room or glass pod, or meeting and greeting guests.

What's the highlight of the job for you?
Being able to provide couples with the wedding of their dreams and seeing their excitement ahead of and then throughout their wedding is so joyous. I love being creative and offering my recommendations for design and colour schemes. It's great taking a theme and watching it come to life. I also love seeing the excitement of the guests as they travel to 450ft – which for many is the first time they have experienced the pod. The excitement really adds to the atmosphere!

What are your wedding trend predictions for 2023?
Couples are looking for different experiences for their big day, something to make their wedding stand out and leave lasting memories for their guests. Backdrops are so important, which is why many people choose to marry in the clouds.