Southend Barns in West Sussex has been lovingly restored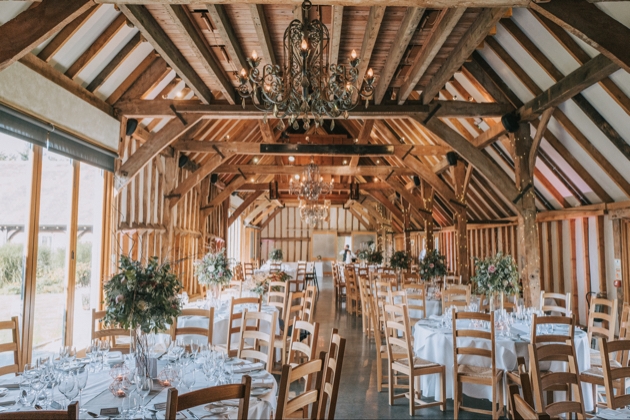 Credit: www.marcelgphotography.comSouthend Barns
01243 641247 | www.southendbarns.co.uk

Set on a working farm in the beautiful West Sussex countryside and surrounded by stunning landscaped gardens and peaceful courtyards, Southend Barns has been lovingly restored with rustic charm and romantic touches.

There's ample outdoor space with a picturesque courtyard that lies at the heart of the venue. It's a space for children and the ideal spot for reception drinks and garden games. As evening falls, the gardens are lit with romantic up-lights that show off the flint and log walls of the wedding barns. Here, guests can gather around the Collecting Yard with its sumptuous sofas, firepit an al fresco bar.

The simple yet romantic Dairy Barn is fully-licensed for all civil ceremonies and partnerships. With a wonderful sweeping 22-metre aisle, exposed wooden beams and benches it holds up to 120 guests and can also be used after the "I dos" for a drinks reception or transformed into an entertainment room for children.

There's also an outdoor ceremony garden nestled in a tranquil spot between the resident alpaca's field and the Dairy Barn. Using natural elements that complement the rest of the barn, The Secret Garden is a hidden gem that features a 50-foot aisle set amidst peaceful scenery and seats up to 100.

The Threshing Barn can seat 120 diners and 200 loved ones can attend the evening reception. The 200-year-old barn radiates rustic charm and has plenty of space for dancing and entertaining.

There's also a Milking Parlour, which can be used as the groom's quarters or for the bride and bridesmaids to get ready before the vows.