Wed in Brighton: Kelly Andrews spends a night experiencing some of Brighton's finest wedding venues
Editor Kelly Andrews spend a night in Brighton experiencing some of its finest wedding venues and wine.

Brighton is a place bursting with character and charm, one of the county's jewels. So, I was thrilled to get the chance to spend a night there sampling some of Sussex's best produce in Nyetimber English sparkling wine, while enjoying the sights from the British Airways i360 Viewing Tower, before resting my head at Malmaison. Click play to join me on my trip, and read on to find out more about hosting your own wonderful wedding day in Brighton.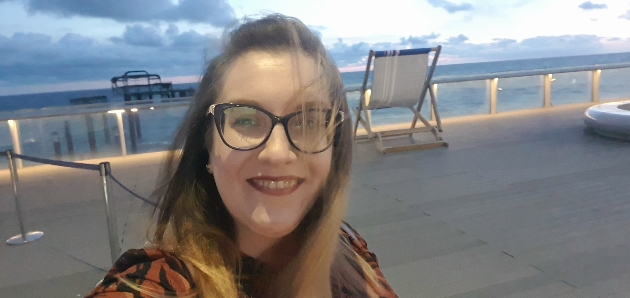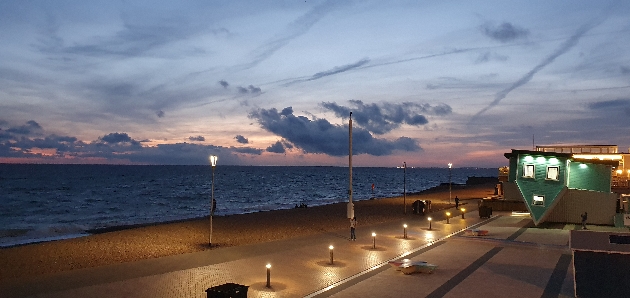 URBAN CHIC MEETS SEASIDE SPLENDOUR

The first thing to strike me about Malmaison Brighton was how easy it was to get to. I usually use the park and ride when I head to the city, so wasn't sure what to expect of its location. Situated by the Marina, it's simple to bypass the hustle and bustle of the city and head straight there. What's more, with the neighbouring free public car park, its just a short and very scenic stroll across the Boardwalk, to the hotel's front door.

The super-chic Malmaison has the feeling of a sophisticated urban boutique hotel, while offering all the benefits of being part of a larger group. Our oh-so trendy and minimalist base was a Club Deluxe Sea View room, which afforded us every luxury including a showstopping view of Brighton Marina from the balcony.

Indeed, as you'll see from my vlog, I struggled to tear myself away from it! Whilst there I had chance to check out the wedding spaces, which have been designed to be as flexible as possible with the perfect spot for every stage of your day. A highlight is the lovely conservatory and terrace where we enjoyed breakfast during our stay. It can accommodate up to 40 loved ones for a seated meal, who can later spill out onto the terrace for al fresco mingling and drinks overlooking the Marina. Alternatively, it can host up to 80 for a drinks reception or barbecue.

However, if a completely blank canvas is what you're looking for the Work + Play rooms are what you need. One big space or split into three individual sections it can be tailored to meet your requirements and you can decorate according to your theme. At its smallest it can hold 30 and at full capacity, fully opened up it can play host to 150.

For intimate celebrations The Cage is the ideal area. Positioned in the heart of the restaurant, Chez Mal, this semi-private dining room offers you a dining experience for up to 16. You can also exclusively hire the entire restaurant with everything you need to make your ceremony and celebrations special, when you'll be accompanied by 140 for wedding breakfast and 250 for the evening. From delicious banqueting options to interactive food stations or afternoon tea, the venue's chefs offer a range of dining packages to ensure you have your wedding your way. If the delicious three-course meal and cocktails we enjoyed, having returned from the wonderful i360, were indicative of what will be offered for your wedding feast, you won't be disappointed.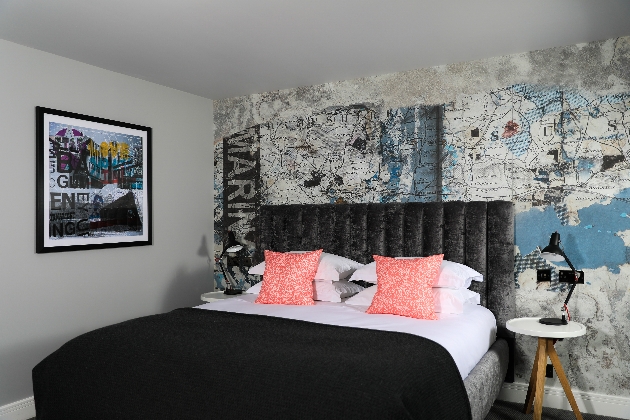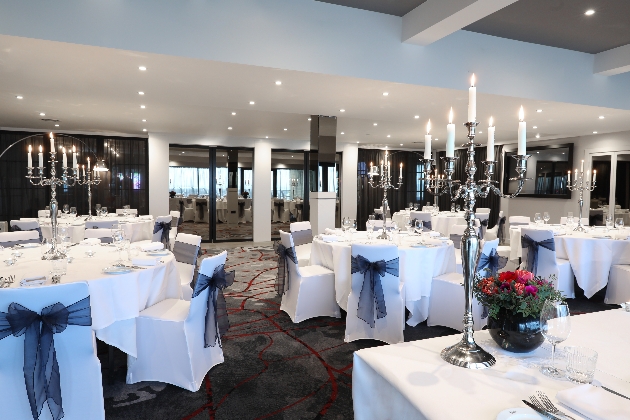 HIT THE HEIGHTS

To say I was excited to visit the British Airways i360 Viewing Tower would be an understatement. We drove along Brighton seafront, not sure what to expect from a wine-tasting at 450ft, but certain it would be something to remember. The autumnal sea breeze whipped through my hair as I got out of the cab and we passed through security. Uberkeen, we arrived bang on the requested 30 minutes prior to the flight, and had time to admire the surrounding sights of the West Pier at sunset and the quirky Upside Down House. The location is an Insta-paradise! Waiting on the beachfront terrace it was easy to picture a summer wedding drinks reception with wow factor. What an extraordinary place to host a wedding!

As the doors to the pod slid open allowing us inside to defrost, I was treated to my first peak at the glass viewing pod – ten times the size of a London Eye capsule and home to the South Coast's highest bar, The Nyetimber Sky Bar. Here, you can rather spectacularly say "I do" in the sky accompanied by 60 of your nearest and dearest seated theatrestyle. You can then stay for your wedding breakfast or head into one of the venue's flexible event spaces on the ground, capable of hosting anywhere from 20 for a intimate banquet in the 1866 West Pier Toll Booth, up to 480 for an evening bash in the Attenborough, Birch and Constable suites when joined. The aforementioned beachfront terraces offer stunning views of the sea making an ideal spot for canapés, an al fresco reception or beach barbecue as you take in the sunset together. Wherever you decide to eat though, the venue's chefs will create your menu according to your personal taste using only the finest seasonal ingredients, many of them sourced locally from the South Downs region.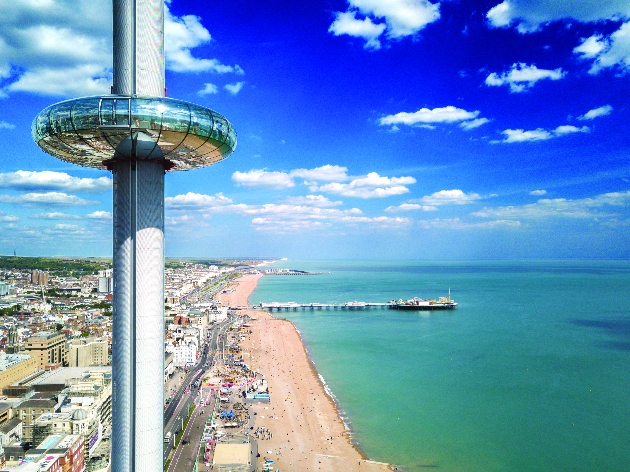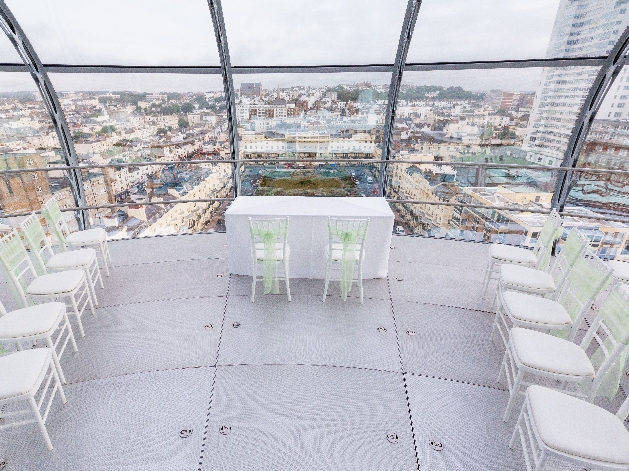 ME AND THE SKY

If there's one thing I can tell you with all certainty it's that choosing Nyetimber English sparkling wine for your big day will mean you're in for a real treat. I was lucky enough to sample three of the winemaker's offerings and each one was more delicious than the last. So, it came as no surprise to me when brand ambassador Zoe, our host for the evening, told us that every single vintage Nyetimber has released since 2006 has won either a gold medal or gold trophy in international competition. In fact, in 2018 head winemaker Cherie Spriggs was honoured with the sparkling winemaker of the year award at the prestigious International Wine Challenge. This is basically the Oscars of the wine world and it was made all the more significant by the fact that she was the first person outside of Champagne to win it, as well as the first ever female. Impressive stuff.

Nyetimber (meaning new wood) has six vineyards in West Sussex, two in Hampshire and three in Kent. So, it felt really special to sample quality local produce in such an iconic Sussex setting. Classic Cuvee was the first one I got to try. It's Nyetimber's house wine representing 75 per cent of its production. This signature multi-vintage is a classic blend of chardonnay, pinot noir and pinto meunier, perfect for toasting your nuptials.

The Rosé, I understand, flew from the shelves during the last lockdown meaning it's now in short supply. So, if you can get your hands on a bottle I'd advise you not to hesitate! It's a delightful bubbly glass full of berry flavours, evocative of the English summer.

Finally, my favourite, the Cuvee Chérie. Ideal served with flavoursome food, it would make a wonderful accompaniment to your wedding breakfast. It's a multivintage with the new identity of the winemaker's demi-sec, the first of its kind in England.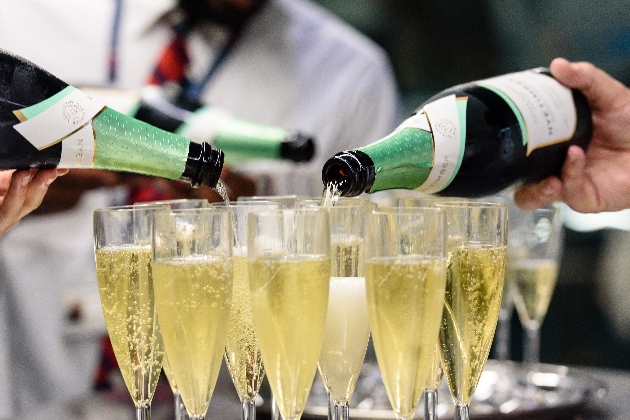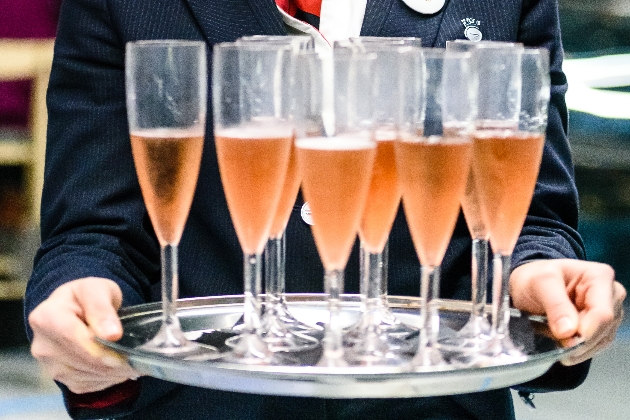 FIND OUT MORE

Try the wine-tasting experience for yourself at the British Airways i360 Viewing Tower, book your flight, get some hen or stag inspiration, or find out more about hosting a big-day to remember over at www.britishairwaysi360.com

Book your stay at Malmaison Brighton, find out more about their very special suites – a dream for your wedding night, or investigate the wedding packages available at https://malmaison.com

Nyetimber offers a range of wedding wine packages, which are well worth checking out at https://nyetimber.com/weddings