How to wow with your venue styling
When faced with the initial blank canvas that is your venue you may view it in one of two ways: with total panic or giddy excitement. In which case, you'll either be in need of inspiration or focus so we chatted to Annabel from Butterflies & Bows (www.butterfliesandbows.co.uk) who was kind enough to share her expertise on the matter particularly when it comes to making the most of your wedding flowers. Check out her top tips for creating a veritable wedding wonderland with wow factor.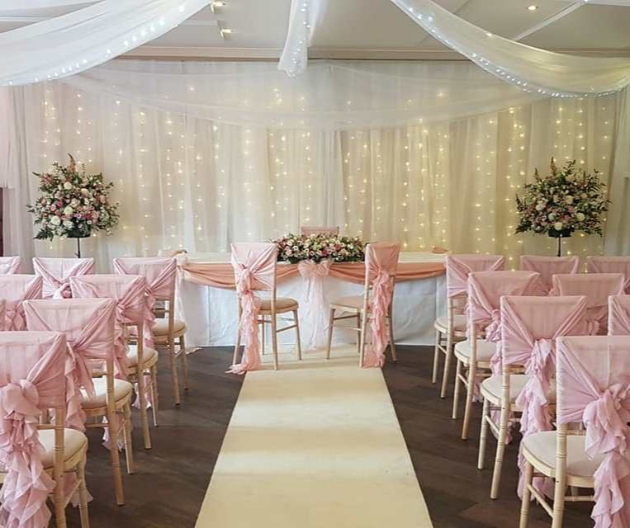 A luxurious floral, romantic look is on trend at the moment and that's looking set to continue for 2022. Think plenty of soft, romantic floral arrangements and decorations but with a luxurious twist. Soft pinks, pale mint green and ivory whites are popular, but this style can work with any colour palette.

THE CEREMONY SPACE

For the ceremony, floral pew ends rather than bows are the way forward. Gypsophilia and smaller, delicate flowers are perfect, paired with a lace or satin bow. These work equally well whether they're tied to each pew end or alternate.

Large pedestal arrangements with a voluminous ceremony table display at the front of the room really creates the wow factor – a real focal point! With lots of flowers and greenery trails from the stands, these can also be used for the reception room after the "I dos." I'd use the same flowers in the pedestals as in the ceremony and top table flower arrangements with lots of blooms and greenery tumbling down the front of the table.

To add some extra flair, have an arch at the entrance of the aisle. These really decorate the room and add interest to spaces that maybe have less character. The arch could then be used behind the top table during the reception or placed as a photo backdrop allowing your guests to snap some selfies in front of it.

Soft luminous drapes with flowers on the front work beautifully at al fresco gazebo weddings, with blossom trees and pedestal flowers.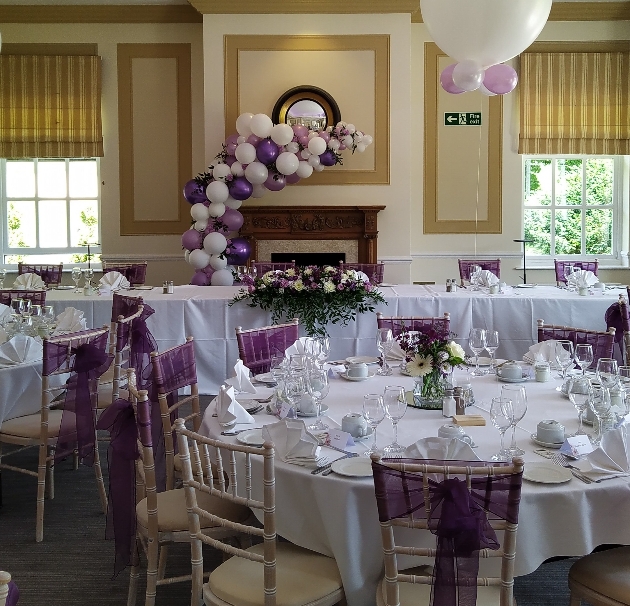 THE RECEPTION ROOM

Tall centrepieces add a touch of drama to any room as they have height they immediately decorate the whole room as well as the tables. Martini vases are still very popular for table centres or tall wider vases with a ball style display. I'd recommend blooms such as roses, hydrangeas and gypsophilia mixed in with varying degrees of greenery. To add a more luxurious feel, set on a mirror plate with crystals and lights, and pearl or diamonte strings delicately hanging from the vases or around the stem of the vase.

Decorate any features in the venue. Think garlands or luxurious material swags for arches, fireplaces, bannisters, railings, poles. Use fresh greenery or greenery with flowers, alternatively, high quality artificial garlands are an option to keep that budget in check! And don't forget the power of balloons! Modern sculpted styles will work in any venue or large round single helium balloons always make a real impact.

Sparkling fairylight backdrops, ceiling drapes, window drapes, and column drapes with greenery or lights transform simple spaces into opulent venues. Strings of LED lights wound around railings, bannisters, fireplaces, columns and outside trees and shrubs are VERY popular for next year and are ideal for illuminating darker areas and enhance all areas after nightfall. Also for the darker months, uplighters also cast a wonderful hue of light up walls and room features, or illuminate the outside of the buildings at night.

Chair décor, such as lace vertical drapes are beautiful and immediately transform Chivali chairs into something very special. If your venue has older conference chairs, covers with a sash will immediately transform the room.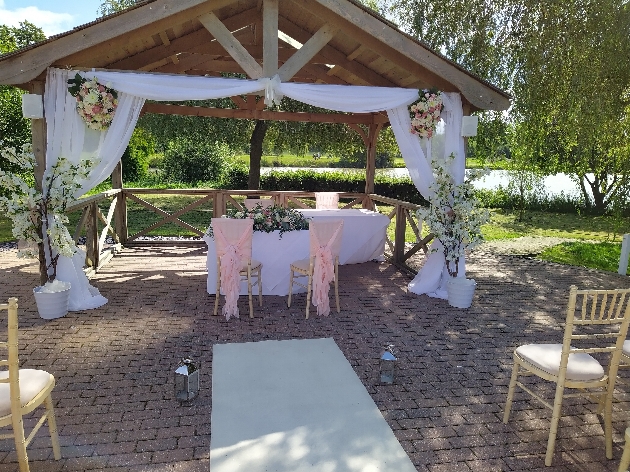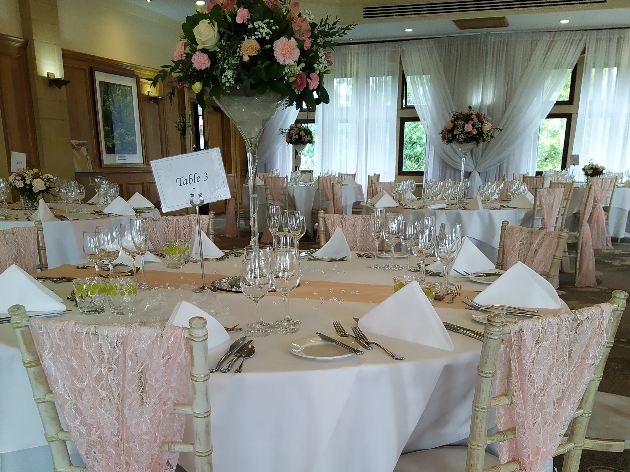 So think about every aspect of the day: ceremony, reception and evening dance and all the areas within your venue. Reuse items from the ceremony in the reception to keep an eye on that budget and think larger displays, with added details such as drapes, lights, hints of pearls, diamontes and lace to really wow your guests.
You can find out more about Butterflies and Bows and get in touch at
www.butterfliesandbows.co.uk