Bolney Wine Estate believes that every day is an occasion to enjoy and make memories, and that life is all about making the most of moments with friends and loved ones – with great food and wine at the centre. You don't always need a big event to enjoy great food and drink. Everything in the collection has been extensively tried, tasted, and expertly paired with love and care. So, whether it's a treat night just for yourself, a drinks and nibbles evening or brunch, warm your plates, ready those glasses and prepare for food and drink heaven with Bolney's new occasions and hampers range, delivered right to your door.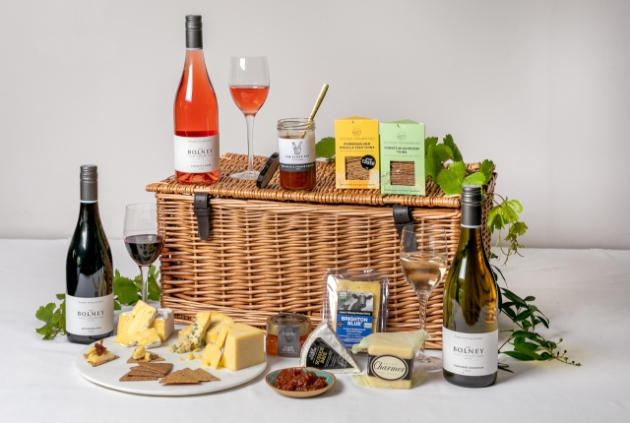 Sussex Cheese & Wine Hamper, £110

From creamy cheeses made from locally-sourced milk, to quintessential English wines, look no further than the county of Sussex, the home of Bolney Wine Estate. They've worked hard to hand-select the perfect Sussex pairings of cheese, wine, and nibbles in this wicker wonder, showcasing the very best of both, paired to perfection.

Let Bolney's Lychgate Red bring you flavours of the Sussex hedgerows and countryside, with its earthy, fruity flavours – and their Lychgate Rosé which is also wonderfully fruity and fresh. Both pair well with their stunning Brighton Blue, which has a mellow blue flavour and a slightly salty finish. The Lychgate Bacchus continues the Sussex countryside theme with elderflower and gooseberry notes. This panoply of fruit needs to be paired with a special cheese, so they chose Sussex Charmer - where farmhouse cheddar meets Italian-style hard cheese. Add to this heavenly mix their Sussex brie, a jar of tomato and red onion chutney, forest mushroom thins and some tantalising parmesan and nigella seed thins, there is no finer tribute to the best of Sussex wine and cheese.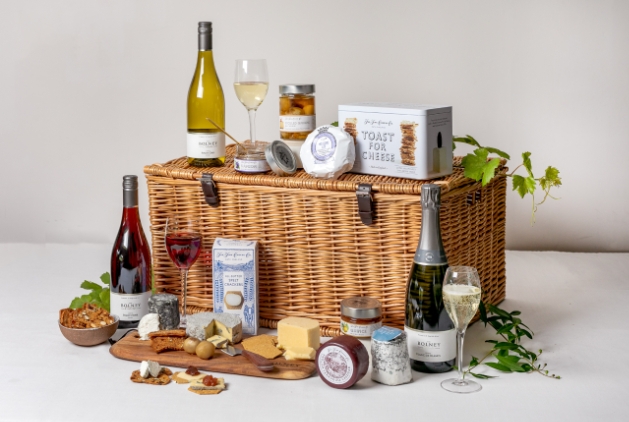 Partners in Wine Hamper, £170

The Partners in Wine Hamper is the ultimate Bolney tribute to the timeless pairings of cheese and wine, all nestling in a 24-inch wicker hamper. These three cheese and wine combinations (with crackers and chutneys too) will help you to discover your perfect Partners in Wine.

The Partners in Wine Hamper is the result of Bolney's painstaking labour of love – finding the perfect cheese and wine pairings. You'll find three award-winning English wines – Bolney's sparkly, fruity Blanc de Blanc, a smooth, fresh Pinot Gris, and their light, elegant Pinot Noir – just waiting to be enjoyed with Bolney's choice of premium cheeses – Dorstone, Molecomb Blue, and English Farmhouse Cheddar. And the matchmaking doesn't stop there – they've included a delicious Quince purée – the perfect sweet accompaniment to bring out the richness of smooth, hard-pressed cheeses, and pickled onions for a tangy, crunchy treat. But no cheese and wine occasion is complete without the perfect cracker – so you'll love their all-butter Spelt Crackers, and two varieties of Toast for Cheese. And to ensure you get the perfect slice of cheese every time, they've included an extra-special partnership – the Bolney acacia-wood cheese knife and cheese board set.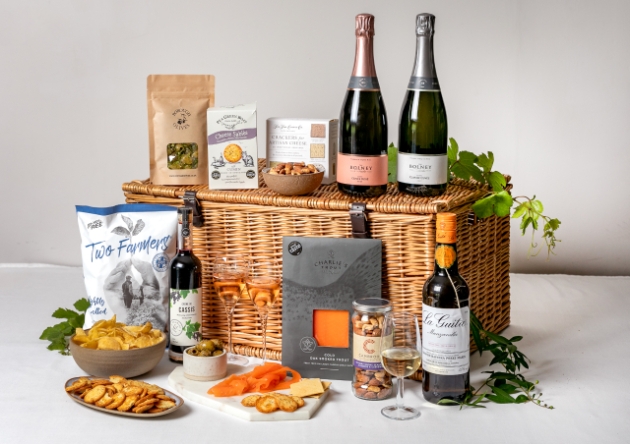 Aperitif Hamper, £150

If you're planning on spending quality time this Christmas, you'll love these perfect pre-dinner pairings - all in one place, and beautifully presented in a wicker basket. That's why they put together the Bolney Aperitif Hamper – a mouth-watering selection of light bites and refreshing wines, guaranteed to whet any appetite.

Why not begin with a delicious Manzanilla sherry, pitted green olives stuffed with parsley and tarragon and some hickory-smoked nuts? Then move on to the delicately-flavoured smoked trout, and nibble on some cheese and cumin sables or an array of artisan cheese crackers. Last but not least, they've packed some Classic Cuvée (which also mixes wonderfully with their choice of Créme de Cassis blackcurrant liqueur) and a bottle of Cuvée Rosé to refresh and cleanse your palette. The perfect prelude to any occasion over the festive period, and a great gift idea.

Check out www.bolneywineestate.com