Wedding postponements – a celebrant's view
Nikki Kulin is a professional wedding and funeral celebrant based between Sussex and Southern Spain. When it comes to wedding postponements due to the coronavirus pandemic, she has a wealth of advice for couples faced with difficult times ahead. We caught up with Nikki to find out more.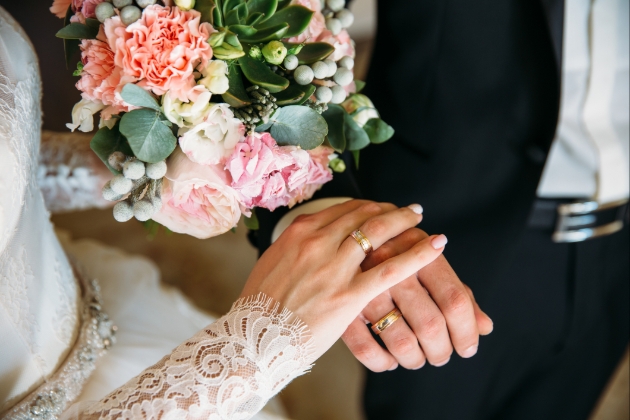 Nikki says: "For all the lovely couples who had wedding planned for over these recent months, I am so, so sorry. Who knew, as we began 2020, that three months in we would face this situation. For those who have been planning wedding: I share in your worry and I know that so many of you have dreamed of this day for a long time. If you've been forced to change your plans or postpone, please know that I share in your disappointment. At the time when you should be making the last few adjustments to your plans, you're having to postpone your date and liaise with multiple suppliers to coordinate and postpone to a new date.

"I know so many of you will be hugely worried and will have many questions regarding your upcoming wedding. It's ok to feel sad, angry and disappointed. The thing that doesn't change is the person you're marrying, your family and friends who will be there to celebrate your love, the joy you will feel and the memories you will make.

"As an independent wedding celebrant working between Sussex and Southern Spain, I truly feel your pain. In fact, my own daughter's wedding ceremony, planned for early May, was to be my first ceremony of 2020. How lucky am I as mum-of-the-bride to also be conducting the ceremony! They were lucky enough to bring their legal signing forward to just before register offices announced their closure and I'm so pleased they did. Not least because my son-in-law is an ICU doctor working on the front line. It wasn't the day they had planned, but, with less than 24 hours' notice, they celebrated with just parents and siblings, with pizza and champagne.They have now postponed their original celebrations until October. The celebration will be just what we all need once life returns to the normality we had all come to enjoy before this unprecedented time in our history.

"Although there's much fear and panic relating to the virus, at the present time, many wedding planners have already taken steps to postpone and reschedule their April to June weddings. I believe that investigating possible steps to be prepared and make timely decisions will help us to remain calm. Collectively, your wedding suppliers are all in this together. I hope that they'll be super-flexible in helping you to reschedule as things become clearer over the weeks ahead.

"The situation continues to change almost daily across the world. For those of you who have not yet made a decision regarding your event, be sure to check the with local suppliers who will have a clearer picture. There is much uncertainty about what the coming weeks will bring. It will also largely depend upon how the authorities work to flatten the curve.
Also, take a moment to check your wedding insurance. Never has there been a more pertinent time to have taken out wedding insurance!

"So, with this in mind, what tips can I offer to help those couples in the position of having to consider postponing and rescheduling their date?
Speak to your team of vendors

even if it's only to test the water and pencil in a postponement date. Set up a WhatsApp group or Google document so you can coordinate to find a mutually convenient date for you to work towards. My advice is to do this sooner rather an later as many vendors work 18 months in advance. Most I know will be super-accommodating, offering free postponements.

Think of the extra planning time as a bonus.

Everyone will need lots to look forward to once lockdown ends and your celebration will add an extra special event for everyone to look towards.
With registrars in the UK not offering legal signing dates until 1st September and beyond, remember that a

professional celebrant

can offer you the opportunity to mark your special day in a truly unique way in the location of your choice.
If you can't get your first choice of supplier, they hopefully have organised a

support network of trusted professionals

with whom they have an agreement. For me, one of my May couples from Norway, with whom I have been working with for over a year, and whose unique ceremony I had already written, wanted a date in October. I had a booking with another couple with whom I had not yet started to work and managed to pass it to a trusted colleague to take over. I was able to contact the wedding planner with a solution rather than a problem and know that they would be in good hands whilst the Norwegian couple would have me, as originally planned, to conduct their ceremony.

A wedding planner is really your best friend

and the benefits of having one come into their own in situations like these. They are your eyes and ears on the ground and can save you a huge amount of stress and headache! Very good value for money!

Consider marking your original date in a special way

, whether than be a toast, a special meal or a short Zoom ceremony with your celebrant. This year will go down in history and these tales will become part of our collective social history.
Whatever you decide, I wish you well and good luck with planning your new date. Your love deserves to be celebrated and your family and friends will welcome the opportunity to celebrate with you. I hope you will receive flexibility, care and a mountain of understanding as your wedding suppliers help you work through these changes together."
Nikki Kulin is a professional wedding and funeral celebrant based between Sussex and Southern Spain. She specialises in handwriting bespoke ceremonies to mark life's rites of passage, which can be conducted in your chosen location.
Check out
www.costacelebrant.com
Keep up to date on the evolving situation at
www.who.int/emergencies/diseases/novel-coronavirus-2019