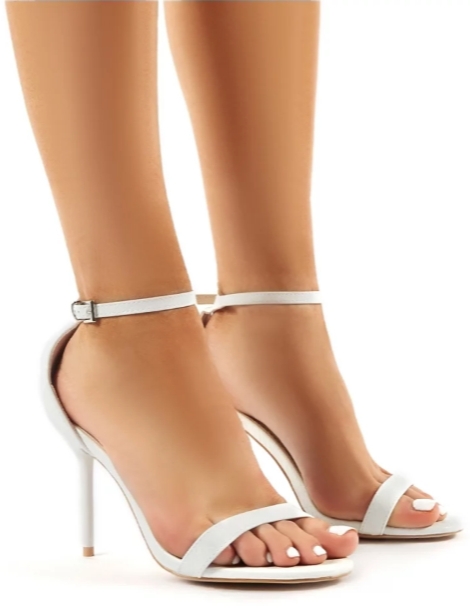 A team of shoe experts from Public Desire have revealed five ways to help make wearing new shoes more comfortable and pain-free - perfect for big-day bridal shoes!

Sandpaper, water and even deodorant have been named in a list of items that can help bed-in stiff new shoes and make walking in them easier. Fast fashion shoe experts Public Desire have revealed five ways to help make wearing new shoes more comfortable and pain-free. Most shoes come with a bedding-in period, until the materials become more supple and comfortable to wear. Having shoes rub at the same point on your foot can cause blisters and ill-fitting shoes can cause a variety of health issues in the long-term. Similarly, certain new shoes can be difficult to walk in purely because the sole is so slippery at first.

A spokesperson for PublicDesire.com said: "There's nothing worse than buying a pair of shoes and then discovering how uncomfortable or just plain difficult they are to wear for long periods of time. These hacks should help eliminate any discomfort that can be felt, from blisters to the pain of wearing heels for a long time. If it's too late and your feet are already feeling the pain of uncomfortable shoes, soak your feet in green tea, as the anti-inflammatory properties will help soothe the area."

These are Public Desire's top tips to make new shoes comfier and easier to wear:

1. Sandpaper
In order to feel more comfortable and have more grip when tottering about in heels, take a piece of sandpaper to the ball of the shoe. This will make the surface rougher, allowing it to grip with the floor better, hopefully helping to avoid any awkward stumbles.

2. Deodorant
Rubbing deodorant onto the backs of your heels, or wherever your shoes are rubbing, will help prevent blisters. It needs to be the stick type deodorant, as this will create a barrier layer between your foot and you're the shoe, protecting the foot from friction.

3. Water
If you're finding your shoes are a little too small around the front, fill a plastic bag with water, place this into the shoe, then put it in the freezer. The water will freeze and turn into ice, expanding in the shoe, and hopefully leaving you with a comfier fit.

4. Tape
If you tape your third and fourth toes together it will make wearing heels much more bearable. The nerve which is found between the two toes is where most of the pressure is placed when wearing heels. By taping the two toes the pressure is lessened, and the pain gone.

5. Inserts
There are so many different types of inserts on the market, including ones which support the arch of your foot. These are great to opt for if your shoes are too big for you, or if you have pain in the lower part of your foot, as they can give your foot a softer surface to put pressure on.