Lauren and James grew up on the same street, just two doors apart and he'd call her "the girl next door but one."
Lauren remembers: "I was attracted to James the moment I saw him in his tracksuit!" Whenever she was out front James would also emerge and pretend he was doing something with his car as an excuse to see her. Likewise, she'd pop out for a sun-bathing session whenever she knew he was in the garden – "I actually don't enjoy the sun one bit," Lauren laughs. Eventually, they both plucked up the courage the speak to one another, they exchanged numbers and Facebook accounts and love blossomed from there.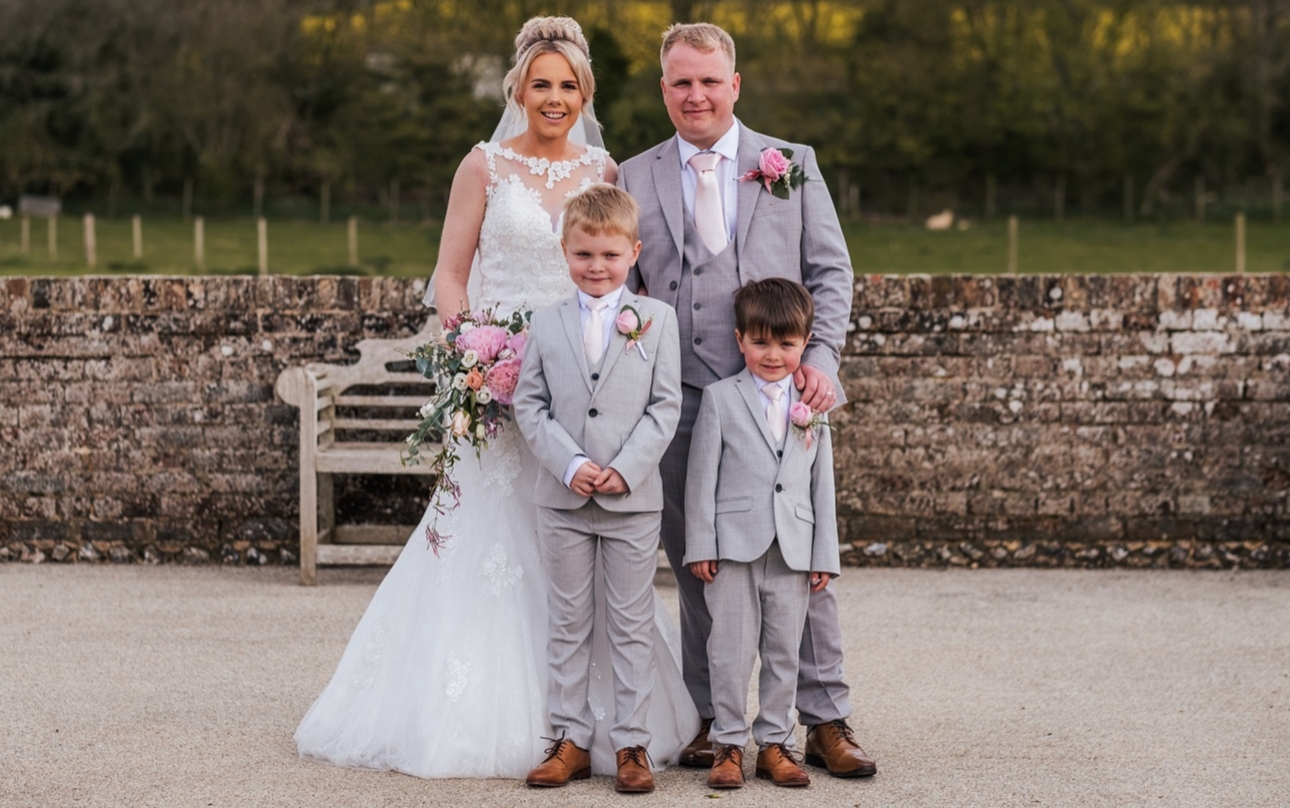 James proposed at Disneyland Paris next to the fairytale castle. It was timed to perfection just as the parade was about to start and they posed for a rare picture. Just as Lauren was about to move away, she turned to see James on one knee. "I blubbed like a baby and loads of people in the crowd clapped for us. It was very special," she remembers.

Driving towards Farbridge for their first visit, the couple couldn't believe how big it was. Luckily, they got to view the venue on a day that another wedding was being held, so they were able to see it in all it's glory and instantly fell in love. "It was beautifully set up, the lighting was perfect, it was amazing. I'm so happy we went with it," Lauren tells us.

The date was set for 8th April, 2022. Here the bride tells us more...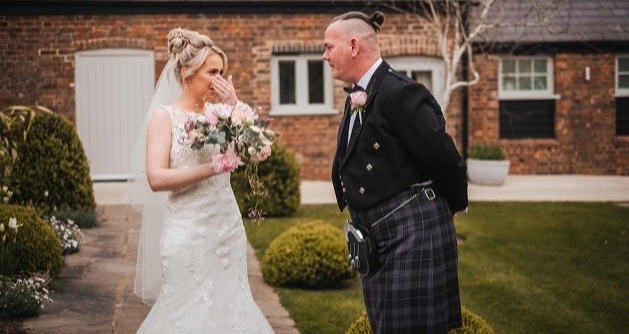 The start of the day was relaxing for me, getting pampered, but as the ceremony drew nearer and I saw my dad in his kilt, I became a bag of nerves! Our photographer, Hayley, asked for a picture of the special moment and she certainly captured the emotions perfectly. James' morning was a bit stressful though, trying to get himself and our two boys sorted in time, but he got there that's the main thing.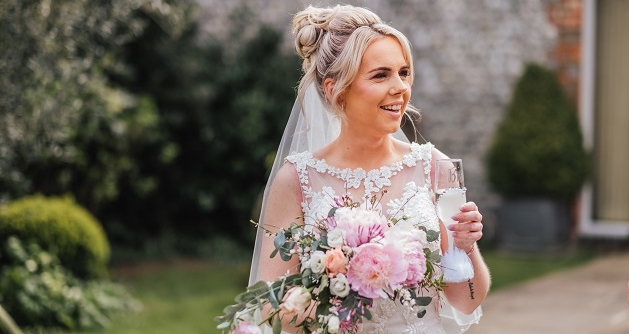 I wore a beautiful ivory gown called Rachael by Romantica. It had a sweetheart neckline and was adorned in lace. The back was open, but it had a detachable accessory that clipped onto the top of the dress covering most of my back. I loved the shape the gown gave me and it was so comfortable. I tried on so many, but this one gave me butterflies!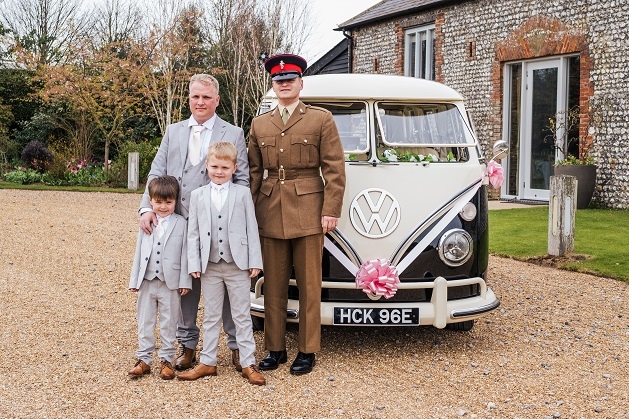 James wore a light grey suit, which complemented the blush in our colour palette well. Our two sons were pageboys and they wore different suits but also in light grey. James' younger brother who is in the army acted as best man and wore his dark green uniform.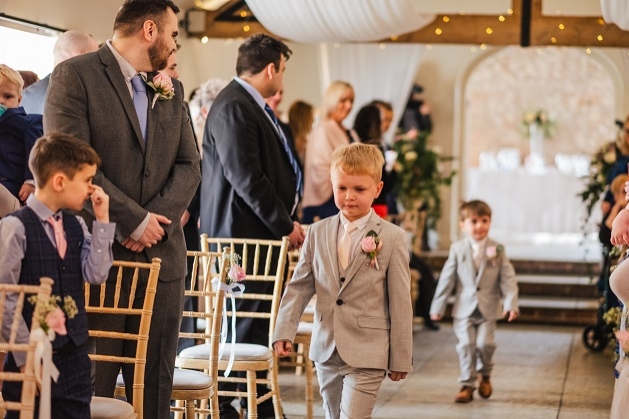 One of the highlights of the day for me was seeing our sons in their suits – I cried before I even got down the aisle when I saw them and how grown up they looked! Then, seeing James standing there waiting for me, I wanted to run down the aisle to him.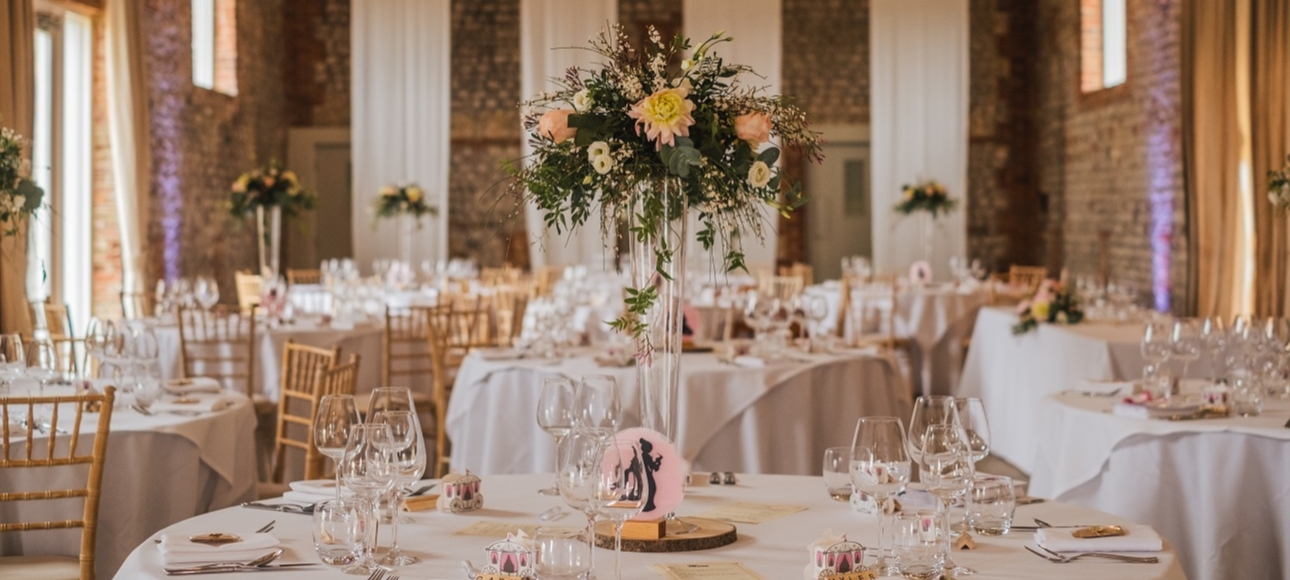 Unfortunately, the company we'd paid a deposit to for our wedding favours went out of business due to the pandemic, so we were left to sort our own with just five weeks to go. We bought some princess carriage cut out boxes and filled with mints and love heart marshmallows.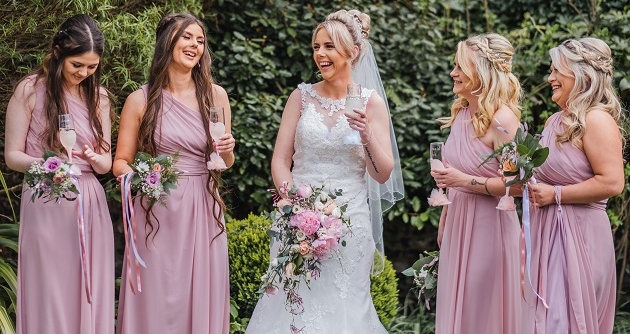 Our bridesmaids wore blush, one-shoulder dresses, Eden from Wed2B's infinite range.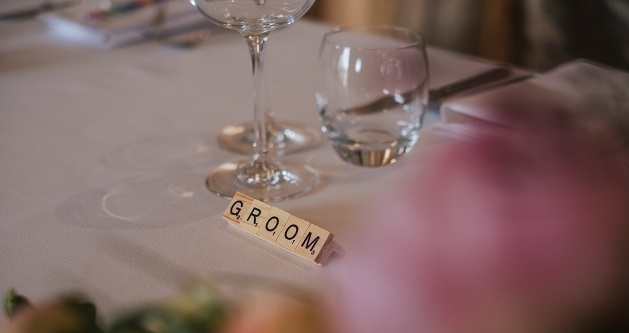 Guests' place names were Scrabble tiles, which they could take home.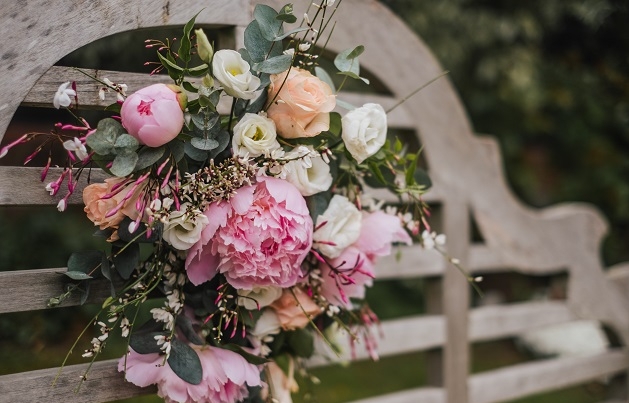 Our centrepieces and my bouquet were created by Anita who owns Little Florist in Bognor Regis. We supplied the glass vases and she made the arrangements for them and delivered them to Farbridge the day before.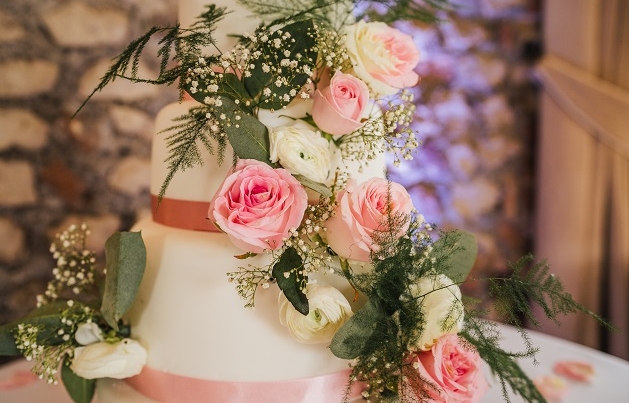 Our beautiful cake, made by my talented auntie and her friend, was exactly what we wanted and was decorated with blush roses to complement our palette. She too created the bridesmaids' bouquets and other flowers around the venue. We were very lucky to have her help.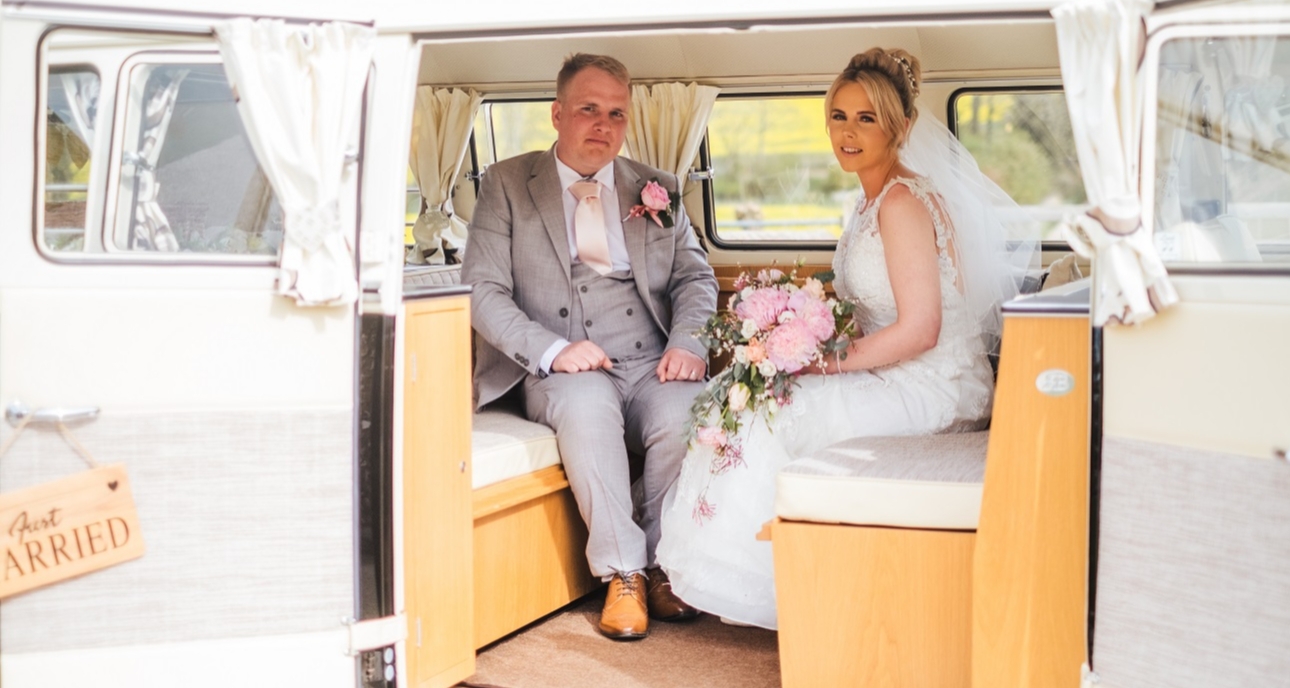 James hired a Campervan called Hector for himself, our two sons and his best man, allowing them to arrive in style. The service was amazing, he even stayed until after the ceremony so we could have some photos inside.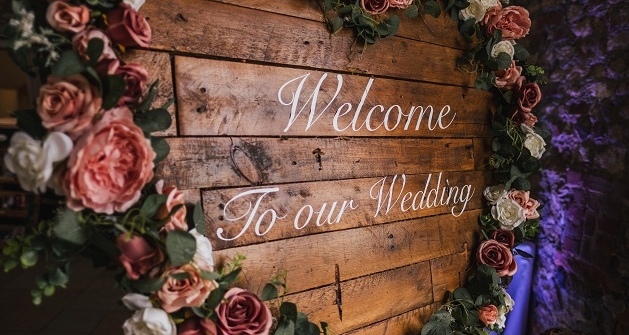 James made the table plan from a Perspex sheet, copper pipe and rope using his handy-work skills. We used our Cricut machine to cut out Disney princess silhouettes in black vinyl and listed guests names underneath according to their themed table name. Our wooden love heart welcome sign placed in the main doorway was also handmade by James. We loved it that much we now have it hanging in our living room and plan to add some of our wedding photos.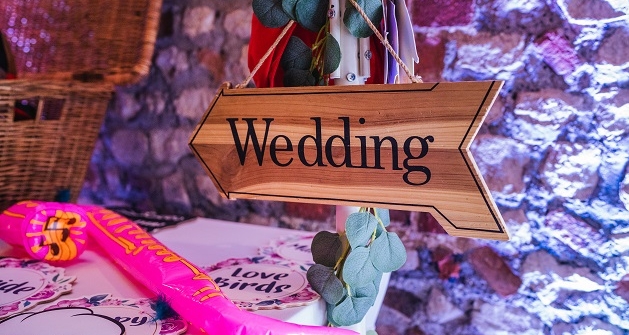 We entertained our guests with an amazing DJ, who went above and beyond for us. Included in the package was a magic mirror with lots of props. Everyone really enjoyed putting on wigs and holding up funny signs to get some great pictures. It was an even bigger hit with the kids, they loved it and wouldn't leave its side!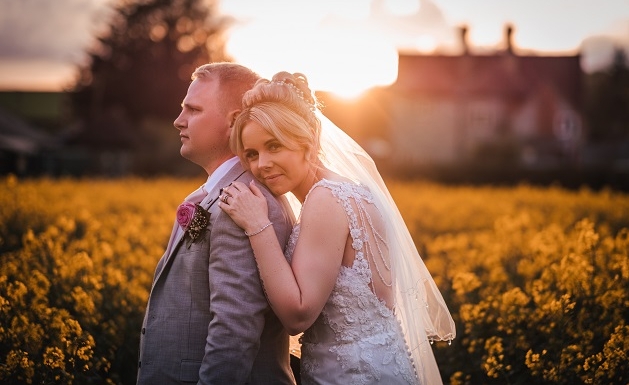 I know it's cheesy, but we were both in a bubble of love all day. It was such an amazing feeling finally being husband and wife after having to postpone the wedding three times due to Covid and the very sad death of James' dad. It was bittersweet and a long time coming.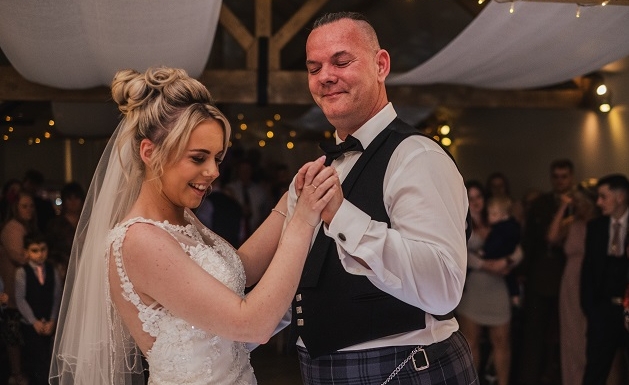 Doing a father/daughter dance with my dad really made the day extra special, before being handed to my husband by him one very last time. Another significant touch was James' dad's memory bear, which got pride of place on a table. It was like he was there in spirit and that was important to us both.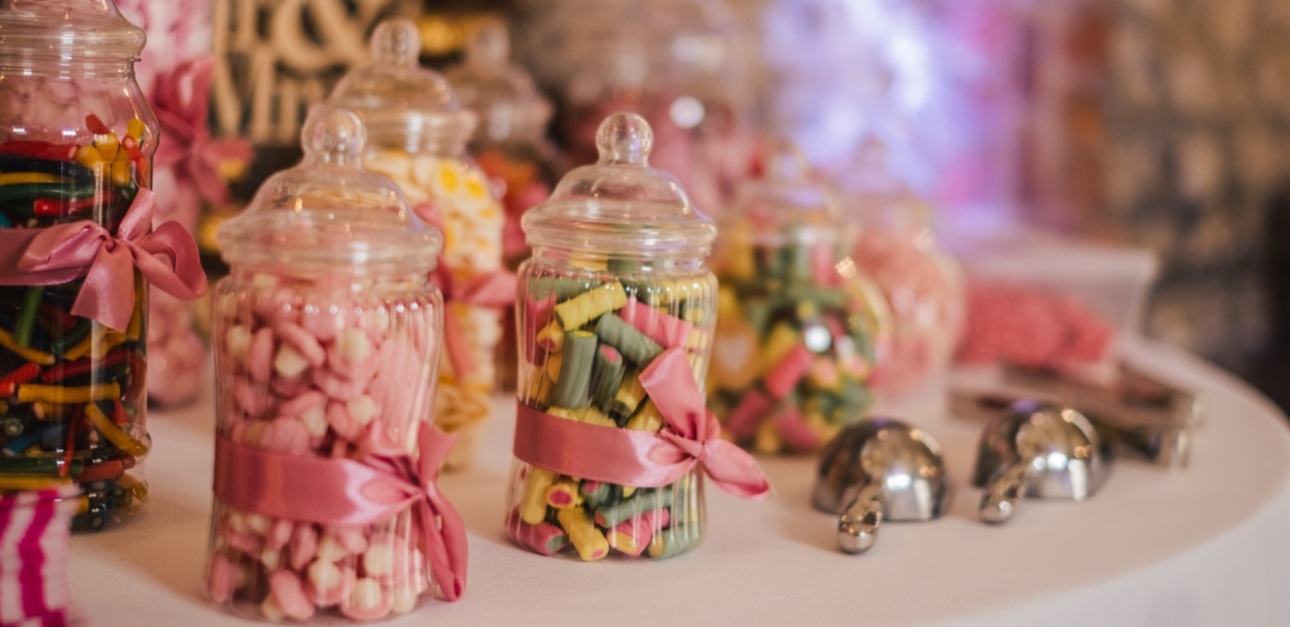 We also had a well-stocked sweet table with bags and scoops, which guests from youngest to oldest loved.
Lauren and James' contact book