Having moved with his family down to Sussex from London, Harry joined the local sixth form, which Zoe already attended.
He was soon cajoled into a night out by his new friend Duncan, and that's where he met Zoe. "One thing lead to another and now, 10 years later, we're married," she says. "We've always just enjoyed each other's company and we often say to each other that we just love doing life together."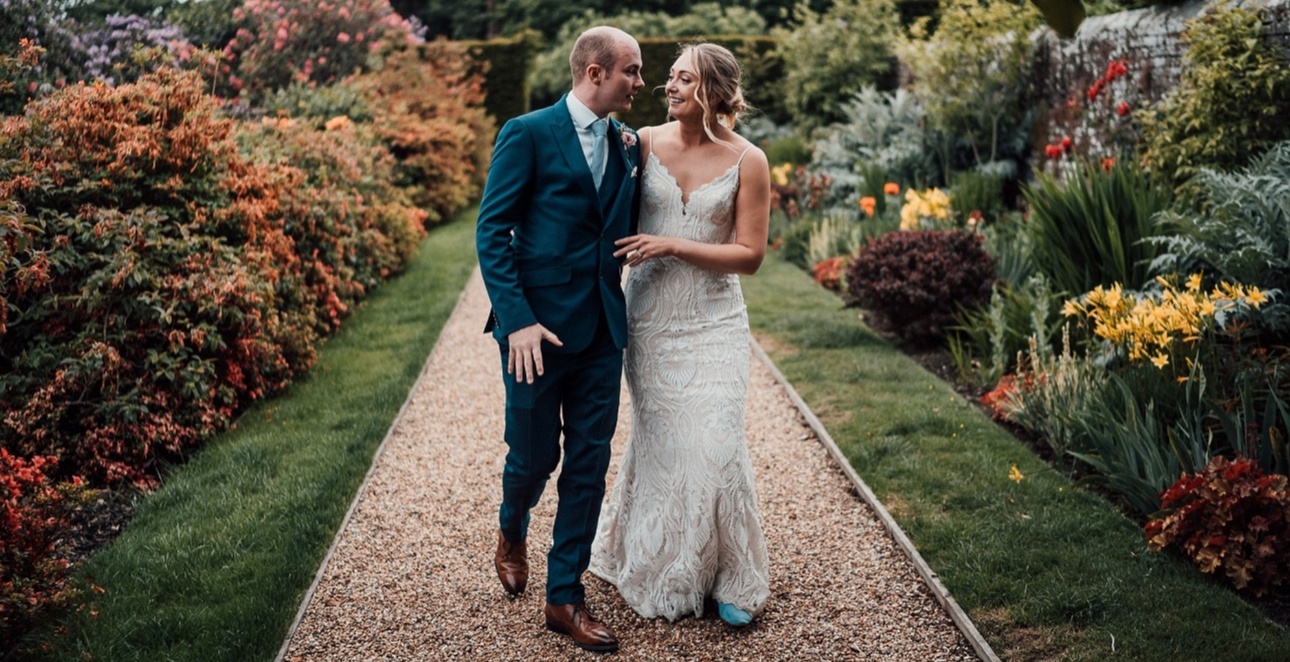 Harry proposed by the lake in the grounds of Villa Melzi, a botanical garden in Bellagio, Lake Como.

The couple share a mutual love of the song September by Earth, Wind and Fire, which they routinely played at university parties, and if you're familiar with the lyrics, you'll immediately know the date Harry chose to pop the question!

Although they're terrible at managing to pull off surprises for each other, unbeknownst to Zoe, Harry had managed to fly out his step dad and wedding photographer, James, to capture the moment.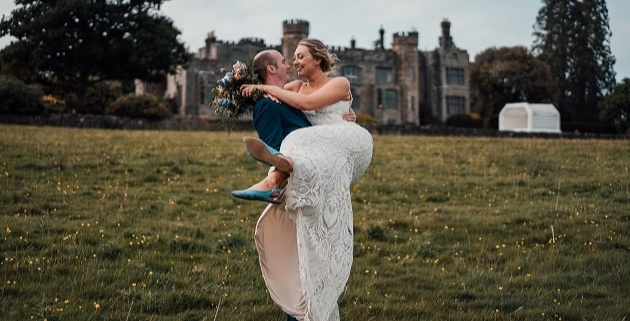 Zoe is a home girl, so getting married in her beloved East Sussex was important to her.

Wadhurst Castle was hosting a wedding fair shortly after the pair became engaged, so they popped in to look around and practically booked it on the spot! "We met Susan, our venue coordinator that day and knew this was the place for us. We didn't need to see any others.

It overlooks the East Sussex countryside where we spend so much time taking long walks together." So, the date was set for their 10th anniversary, 26th May 2022.

Join us as the newlyweds tell us more...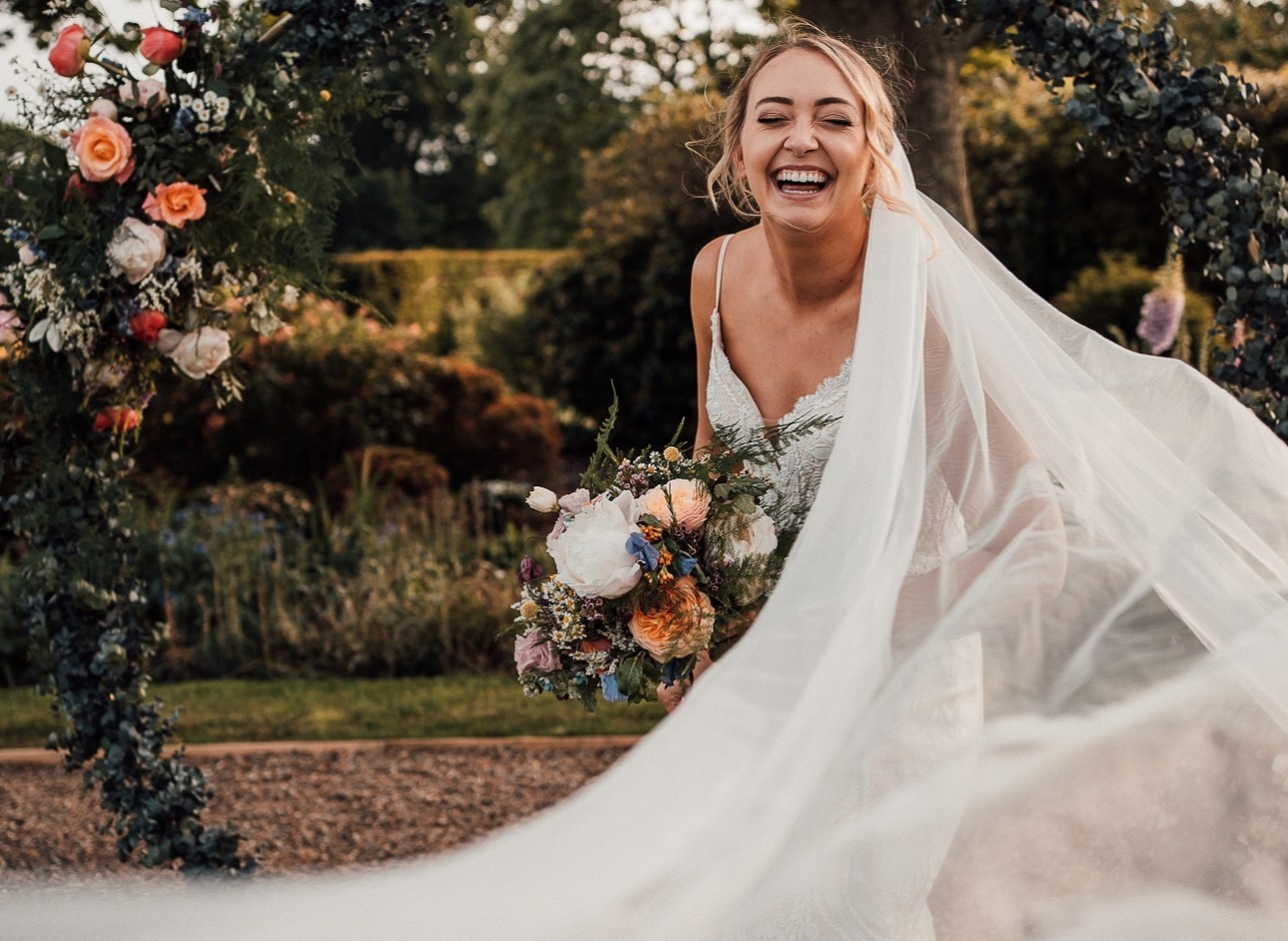 The beautiful bride wore India by Madi Lane, a beautiful figurehugging boho-style gown. "I could move and cuddle all my favourite people in it without feeling restricted," she remembers.

It wasn't a style she'd imagined herself going for, but knew it was the one when she tried it on and felt incredible. "I was so worried Harry wouldn't like it as it was very lacy, but I thought he was going to fall over when he saw me," Zoe continues.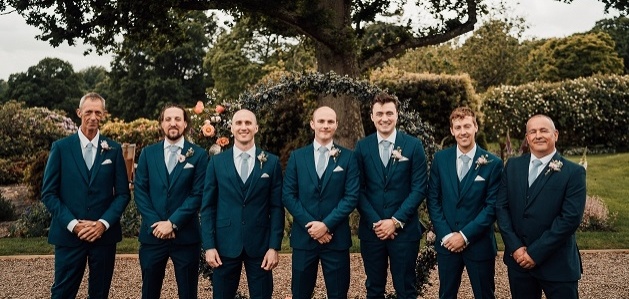 Harry wore a blue three-piece suit with a tie colour-matched to the bridesmaids' dresses.

"Who knew how difficult that was going to be to find?!" Zoe remembers.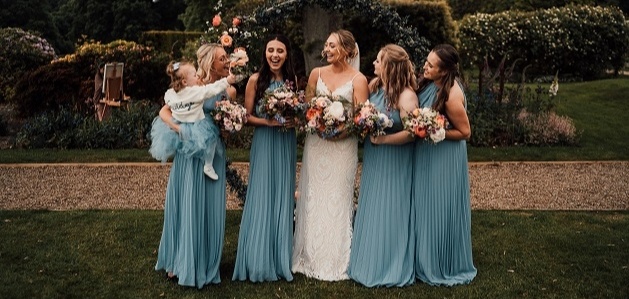 The groomsmen were dressed to match, while bridesmaids wore blue dresses.

The flowergirl looked super-cute in a cardigan bearing her nickname, Squidge, paired with a blue tutu.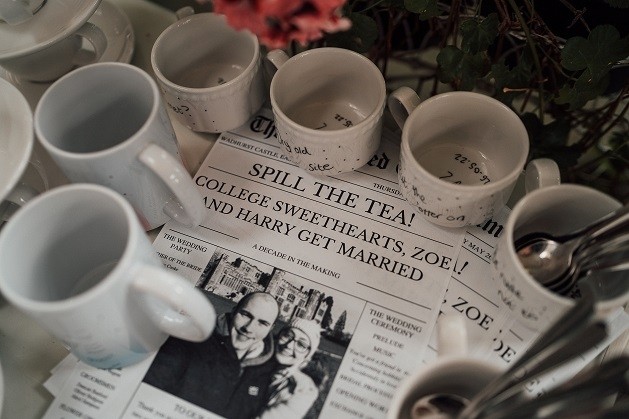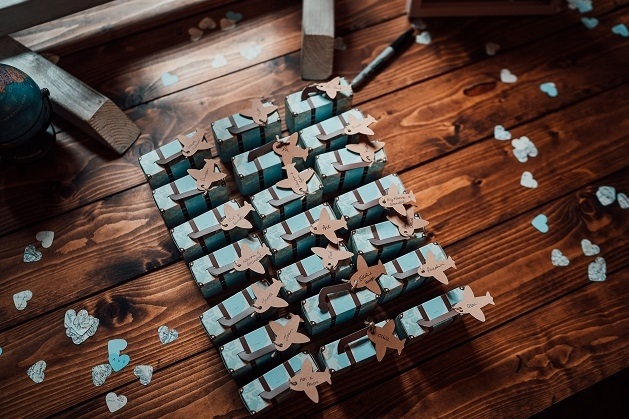 Zoe and Harry settled on a clever something blue theme and set about designing their big day to reflect this. The styling also featured a nod to their favourite pastime, travel, so they chose aeroplaneshaped bottle openers in mini suitcases as wedding favours, which they placed on the entrance table.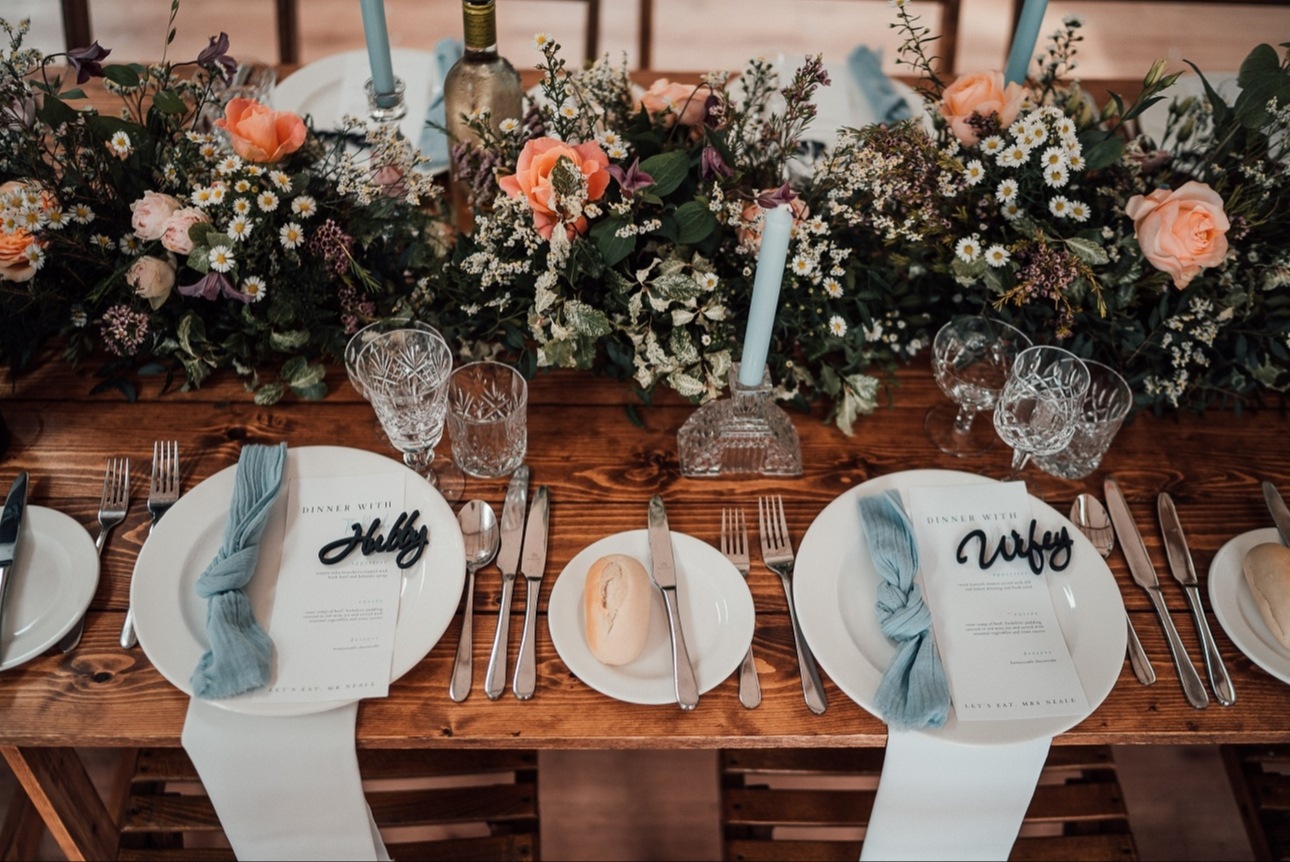 The table plan, welcome signs, order of the day and a sign illustrating their love story were all designed to match with their names and wedding date on the bottom.

They chose a bold black font that would stand out against the colourful flowers and used the same one throughout the remaining décor.

Since there were only 28 guests, the duo decided on one long banquet-style table. But, Zoe remembers, "Arranging the seating plan took more thought than we'd imagined."

The place names were carved from wood and painted black. They sat on top of personalised menus that the couple had made to remind guests of their meal choices.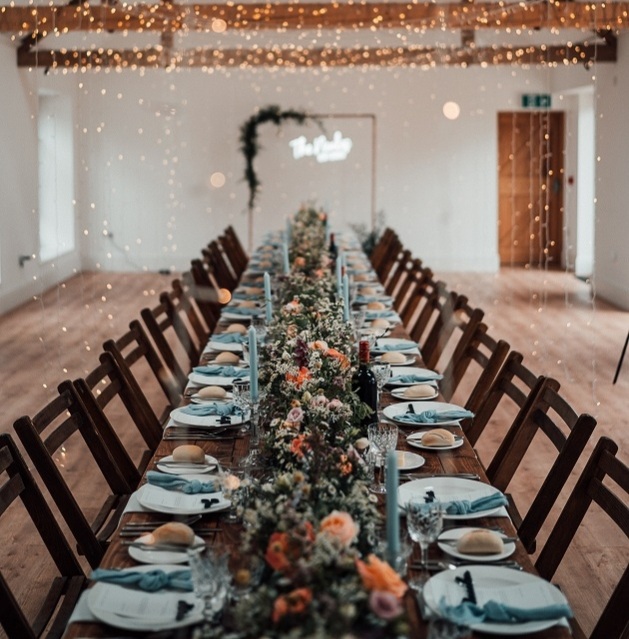 Zoe adores flowers and had a vision of beautiful blooms lining the entire centre of the wedding breakfast table, rather than individual centrepieces.

"I was speechless when I saw how beautiful the wedding breakfast setup was.

My dad and Harry spent hours the previous day making a fairylight canopy above the table and it looked incredible – so much better than I had ever envisioned," the bride shares.

The florist was briefed to create the floral displays in a wild and relaxed style.

Peonies are Zoe's favourite flowers, so all the bouquets included these and the couple's little niece had one to carry down the aisle. Zoe says,

"The flowers were our biggest expense after the venue hire as they just bring me so much joy, so I wanted them everywhere.

It was the element Harry let me run away with and I did just that!

They were worth every single penny. Afterwards, our family collected them up and donated them to the local hospice to decorate the patients' rooms."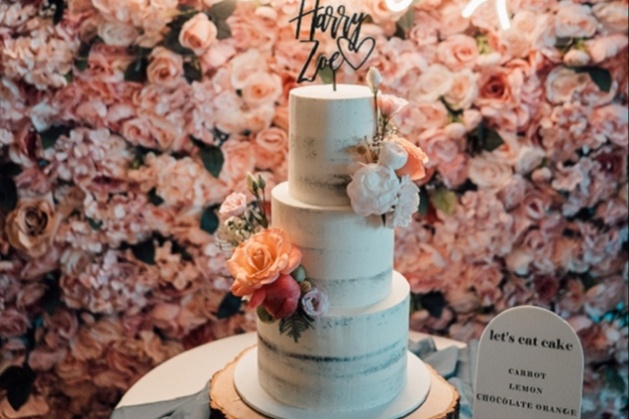 The big-day bake was a semi-naked three-tier showstopper featuring their favourite flavours.

It was decorated with flowers to complement the arrangements as well as bride and groom moose models as a nod to their nickname for each other.

The table it stood on was draped in blue chiffon to suit the wedding's palette. They also hired a huge flower wall to serve as a backdrop, complete with neon sign.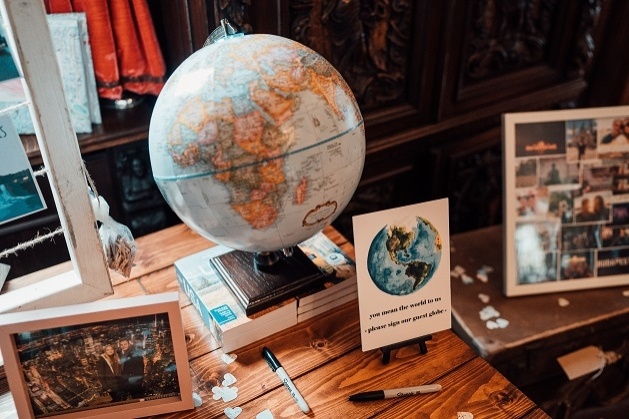 The entrance hall was adorned in large prints of world maps and photos from the couple's travels.

Along with the globe guest book was a postcard wall for guests to add their bucket lists of ideas to.

Harry is a lifelong McLaren fan and former employee, so his close friend and groomsman, Alexis, drove him to the venue in a 765LT Spider.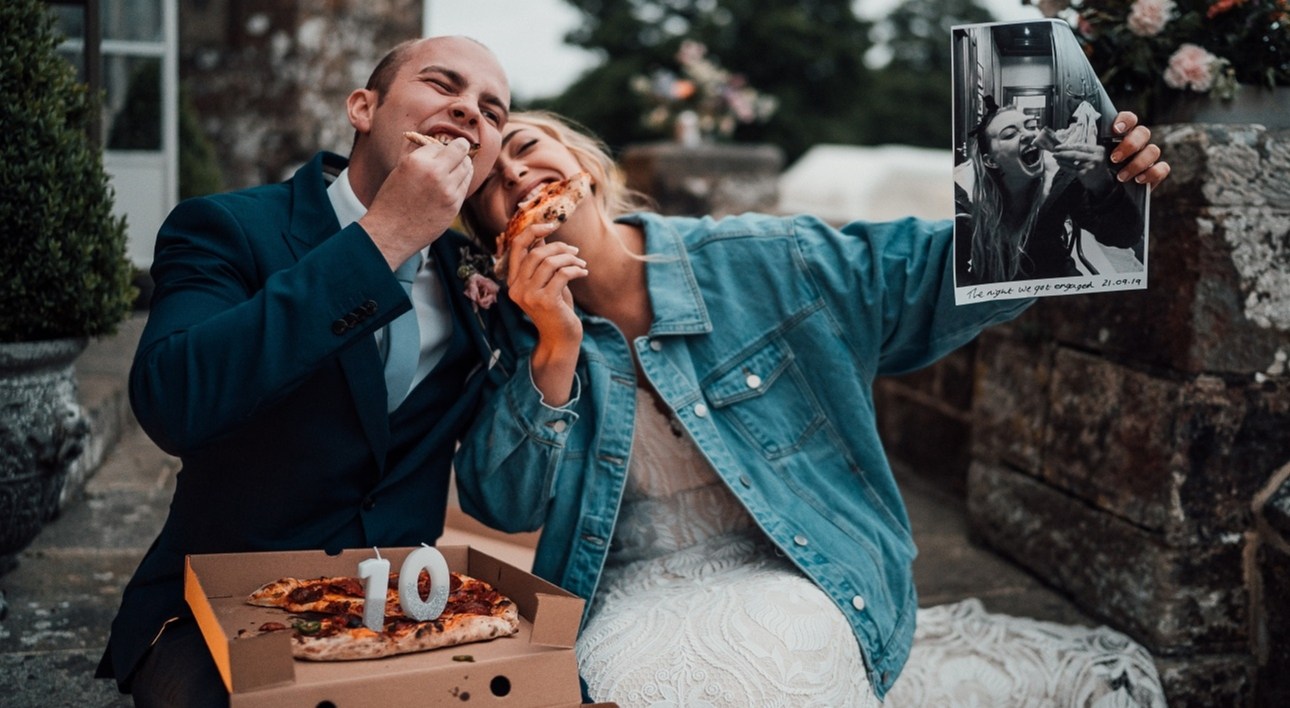 A sit-down three-course meal was served for the wedding breakfast and the couple supplied wine complete with personalised labels, along with guests' favourite drinks.

The kettle never goes cold in Zoe and Harry's house, so they decided to have a tea round after the wedding breakfast, served in Mr and Mrs Neale mugs and for guests, mugs bearing tea-related phrases.

There was also a teacake tower and personalised newspapers saying: "spill the tea!"

In the evening the hog roast, pizza van and ice cream van all proved popular.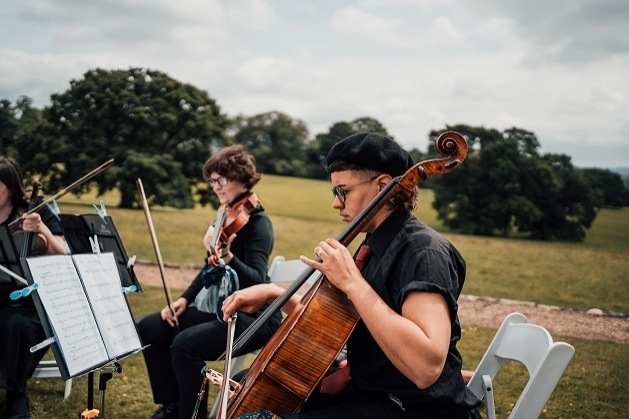 A string quartet played during he ceremony. The jazz band hired to entertain during the wedding breakfast was a nod to one of the duo's favourite nights ever – "Feeling utterly content in a dark cosy corner of a jazz club in Budapest," Zoe says.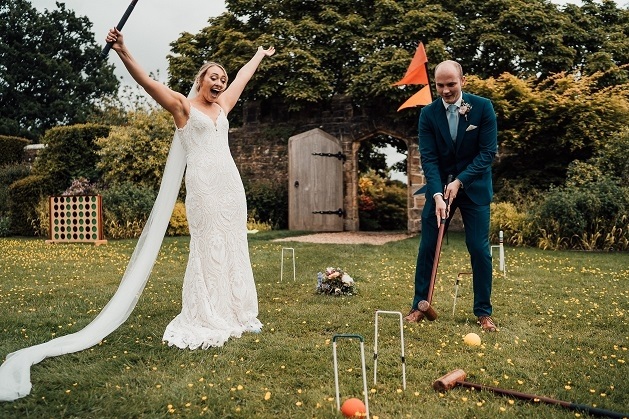 The couple laid out a selection of carnival-themed games in the walled garden. One of their first dates was spent at a carnival, so they chose the classics like a coconut shy and hook-a-duck. They also made sofas out of hay bales, so guests could watch each other play mini golf, along with a brilliant caricaturist and live painter.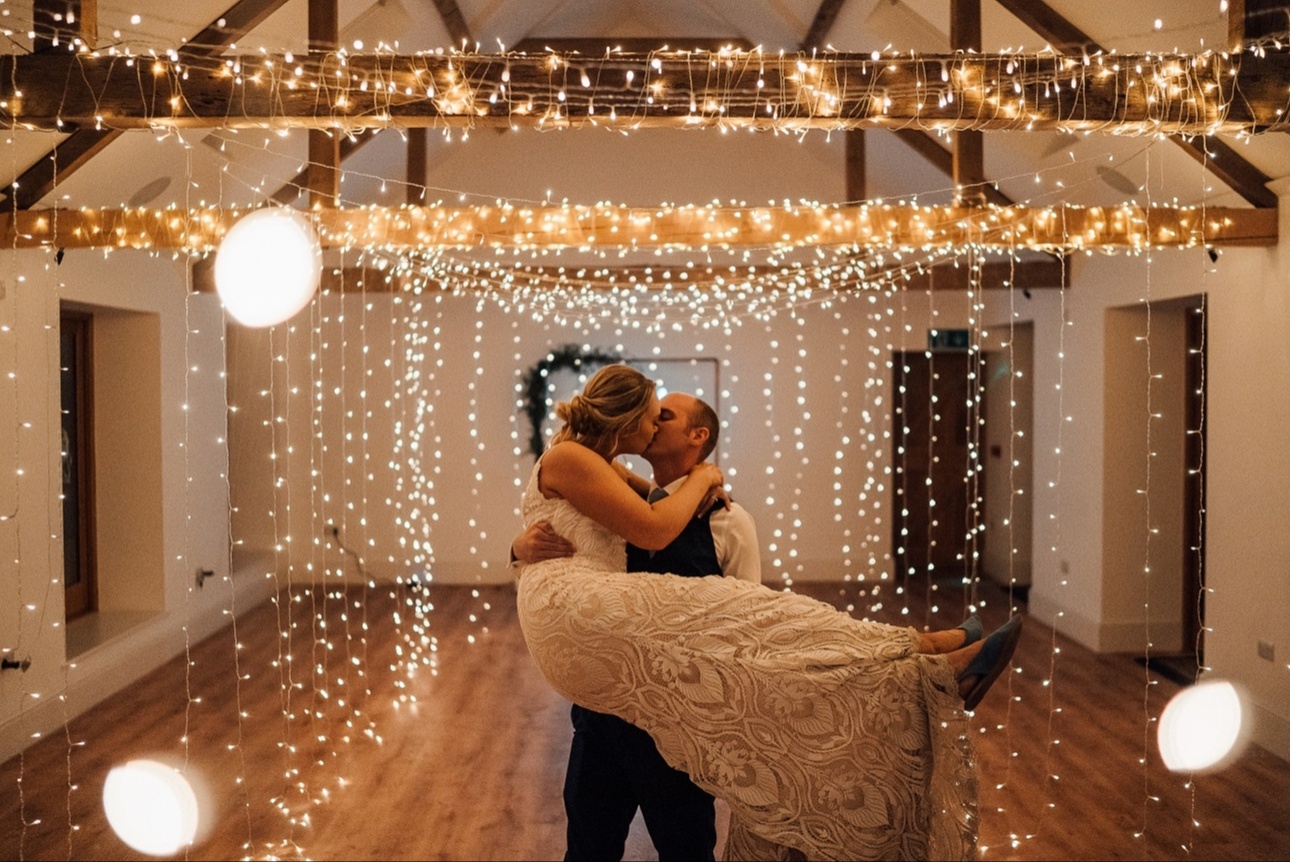 The DJ was a retired professional dancer and taught Zoe and Harry their first dance routine. The wedding breakfast table was moved away allowing them to enjoy it beneath the fairylight canopy. "Even I, who will normally avoid dancing at all costs, felt utterly at home in Zoe's arms," Harry remembers.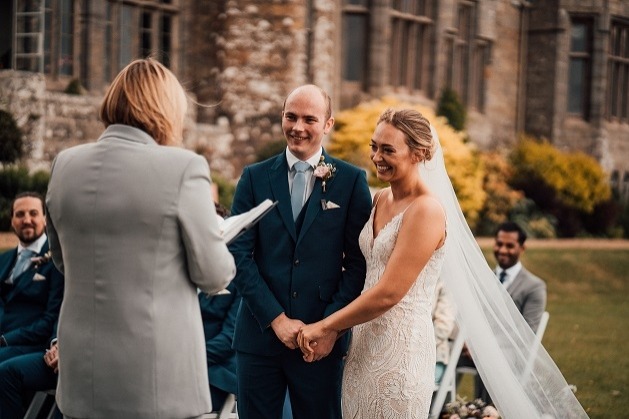 "I'd honestly never felt so nervous in my life," Harry says. "I never cry, but I was overcome by emotion and a couple of tears did escape as I stood at the front looking at my stunning soon-to-be wife. I couldn't believe my luck that I was marrying my dream girl.

There was a feeling of utter contentment and relief as we walked back up the aisle through the confetti and saw all the smiling faces of our loved ones." Zoe remembers, "I was so excited to get down the aisle to see Harry.

I didn't feel an ounce of nerves, I was just so ready. I'm such a planner, so I knew everything was under control thanks to my brilliant bridesmaids. I'll never forget Harry's face when he saw me.

I was just so happy the entire day and it shines through in the photographs."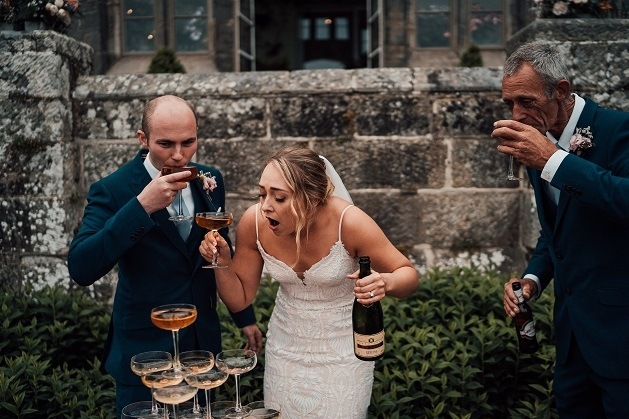 The newlyweds shared a pizza on the venue steps towards the end of the evening and lit number 10 candles to commemorate their 10th anniversary together.

"I have a framed picture of us scoffing pizza the night we got engaged, so it felt just right to be sharing one on our wedding day."

Zoe's dad had a bottle of champagne that he bought the day she was born and kept it to give to her on her wedding day.

They set up a champagne coupe tower to pour it into and raise a toast together.

However, as it turns out 26-year-old bubbly doesn't always age so well and it came out a worrying brown colour. "You can see from the photos how it tasted," Zoe laughs.
Zoe and Harry's contact book