Charlotte and Ryan met at university and soon became inseparable. "Despite being very different people with many different interests, it just worked," Charlotte says, "Being at uni could be stressful and Ryan was always there, being a calming influence, which I definitely needed as I was the opposite.
He never failed to make me laugh and became, not only my boyfriend, but my best friend." The couple decided to move in together during their last year of studying and have lived together ever since.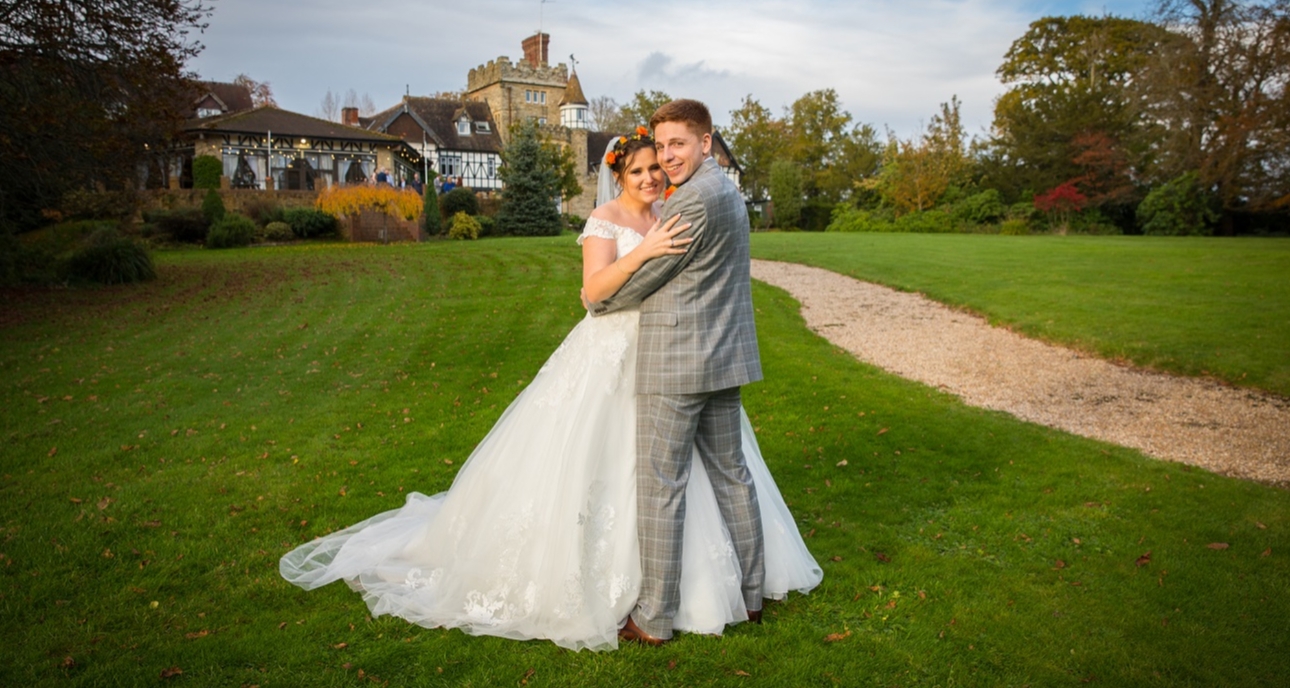 Ryan proposed while the pair were on holiday together in Snowdonia. In the gardens of the glamping pod site where they were staying was a hill with a bench at the top overlooking the sea. Ryan arranged with the owners to have the area decorated with fairylights, and they also left a blanket and bottle of bubbly up there for them.

Ryan took Charlotte to this beautiful spot and got down on one knee, with a ring he'd designed himself. "Just the two of us, overlooking the sea, surrounded by fairylights at sunset... it was a complete surprise and just the most perfect, romantic moment. I very tearfully said 'yes,'" Charlotte remembers.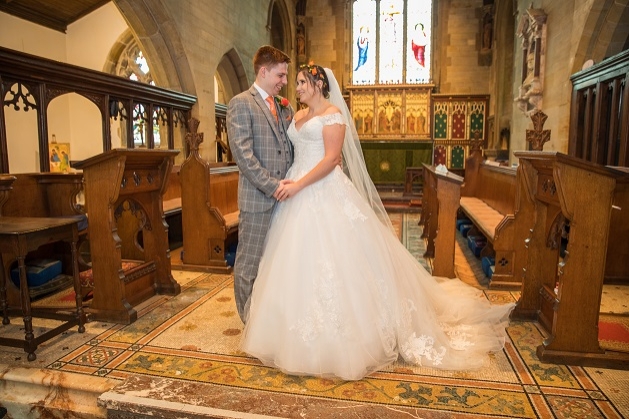 Charlotte sings in the choir at their village church, St Margaret's in Warnham, so this was the perfect venue for the ceremony.

However, when it came to choosing a reception space, the couple were less sure. "We looked at different types of venues from old manor hotels and barns to modern spa hotels.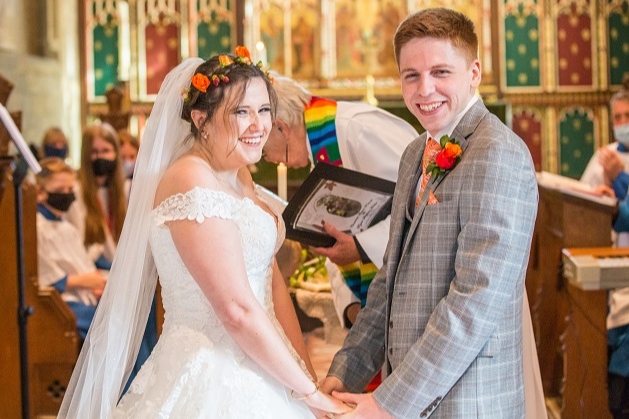 But when we visited The Ravenswood, we instantly knew this was the one for us. Not only is it stunning with amazing grounds, it also offered exclusive-use, which included three huge reception rooms," the bride explains.

Join us now as we learn more about the big day from Charlotte..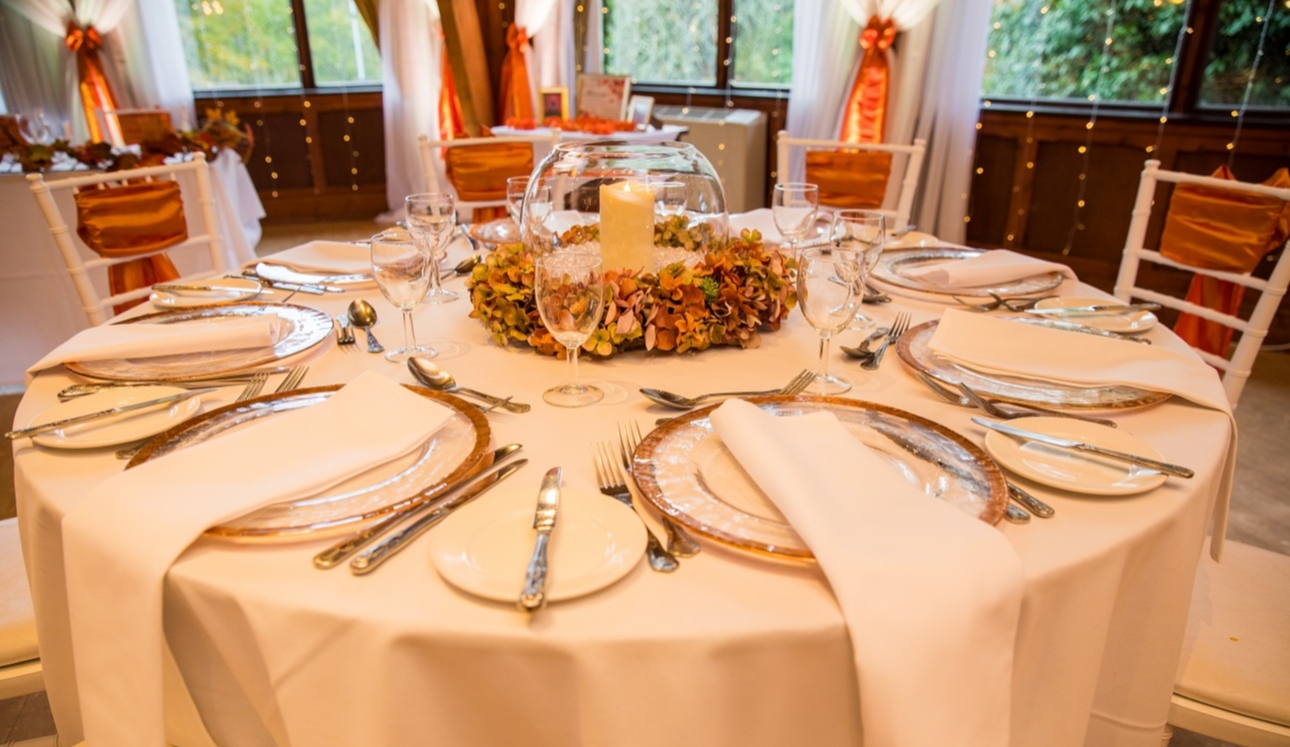 With an autumnal vision for the reception venue styling Mulberry Events set about making their dream come true. "The end result on the day was better than I'd imagined," Charlotte recalls.

There were orange bows on the back of the chairs and gold-rimmed chargers with a candle in a bowl surround by a flower wreath on each table.

The top table was adorned in a string of autumn leaves, while the windows were draped with matching orange bows and fairylights.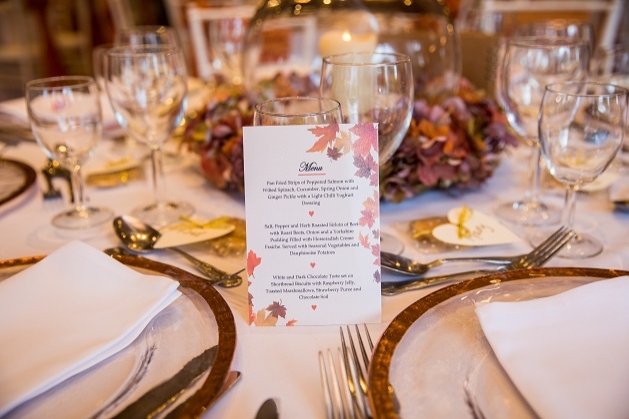 The table plan was created using a mirror decorated in a string of faux orange roses.

The table names were all of places that mean something to the happy couple.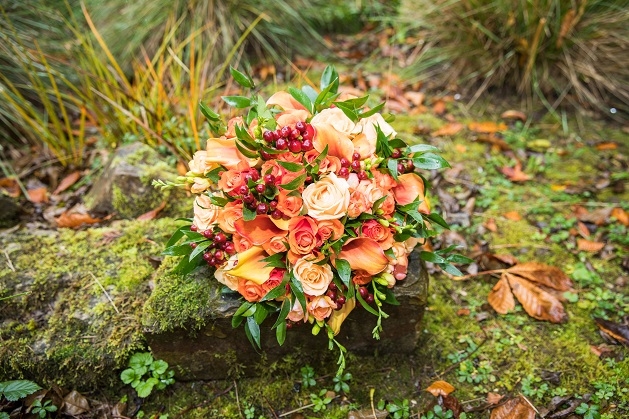 The flower arrangements for the day all included a combination of orange and peach roses, orange cala lilies, spray roses, hypericum berries, green foliage and orange freesias. Charlotte's bouquet was tied with an orange ribbon, while the bridesmaids' were tied with gold. The bride tribe also wore flower crowns and the bride herself had loose flowers in her own hair.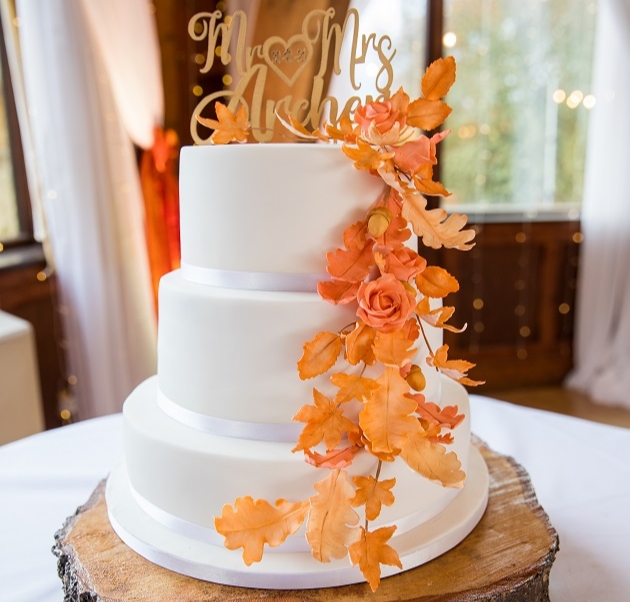 "The food at The Ravenswood was sooo good!" Charlotte tells us.

From the drinks reception where they served canopies with a choice of Peroni, prosecco or elderflower; to the wedding breakfast, where the team were adept at catering for various dietary requirements; and on to the evening food – there were delicious delicacies to delight the whole way.

There were further treats on offer in the shape of the wedding favours, which were heart-shaped Welsh cakes doubling up as place names.

Charlotte's dad is Welsh, so they were a nod to her heritage.

The big-day bake was formed of three tiers of traditional fruit, chocolate, and coffee.

It was decorated in ivory fondant icing with sugar roses and leaves, and topped with a Mr & Mrs Archer topper.

"The cake looked amazing, and tasted amazing," Charlotte remembers.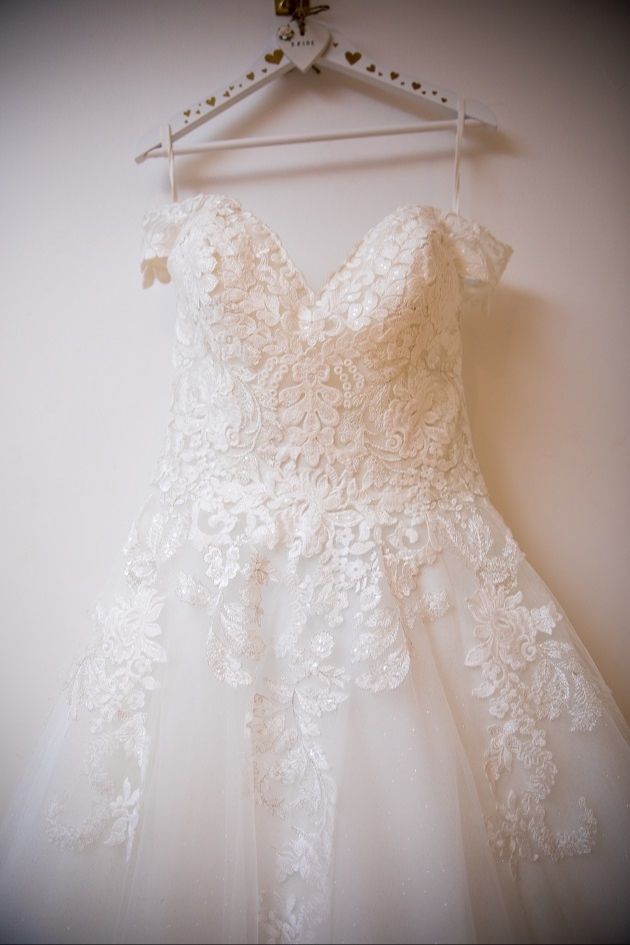 The beautiful bride wore Bellagio by Eddy K with a subtle glitter tulle.

Charlotte explains, "I'd always wanted to feel like a princess on my wedding day, so only a princess dress would do."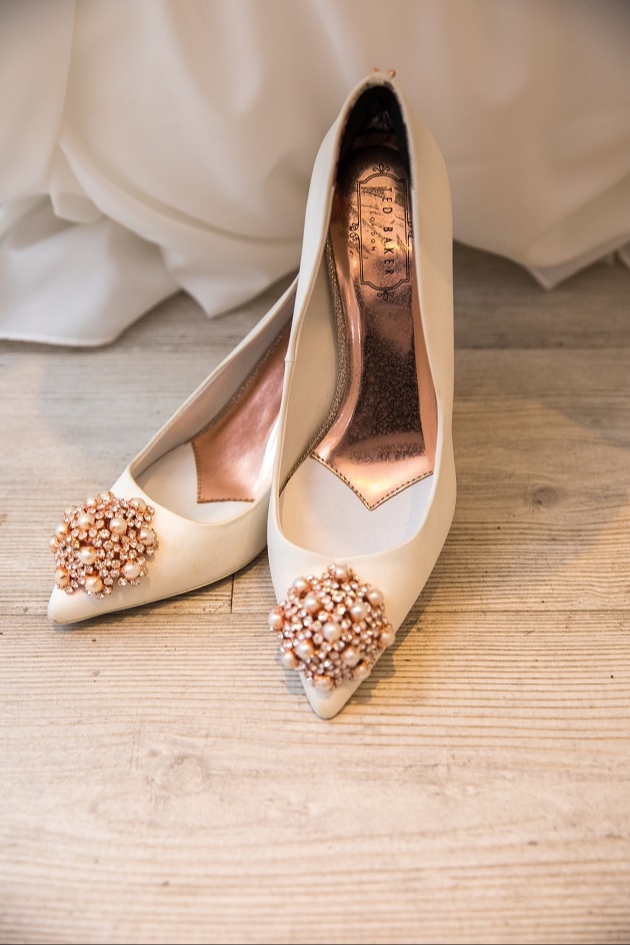 She accessorised with a matching tulle glitter veil and a faux-feather bolero to wear for the sparklers outside in the evening. She completed the look with a gold necklace Ryan bought for her, two pairs of earrings, one belonging to Ryan's late grandmas, and her mum's gold bangle.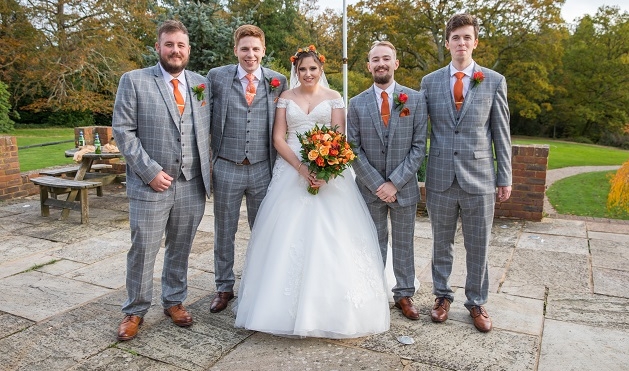 Ryan was dressed in a grey striped suit as were his groomsmen, father-of-the-bride and the groom's dad. They all had a dark orange pinstripe running through them, which matched the colour palette perfectly. Orange ties, purchased using Swagger and Swoon's colour match service to mirror the exact hue of bridesmaids' dresses, completed their ensembles.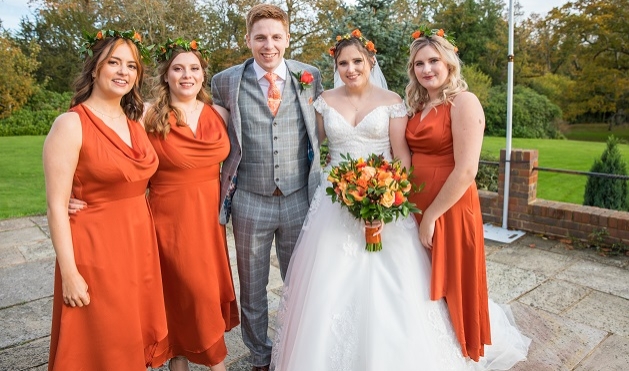 Ryan's tie had a paisley print so that he stood out as man-of-the-moment and the gents all wore pins that he'd bought for them.

The bridesmaids wore burnt orange midi, drop-hem, cowl-neck dresses paired with gold heels or flats and a gold shawl to keep the chill off.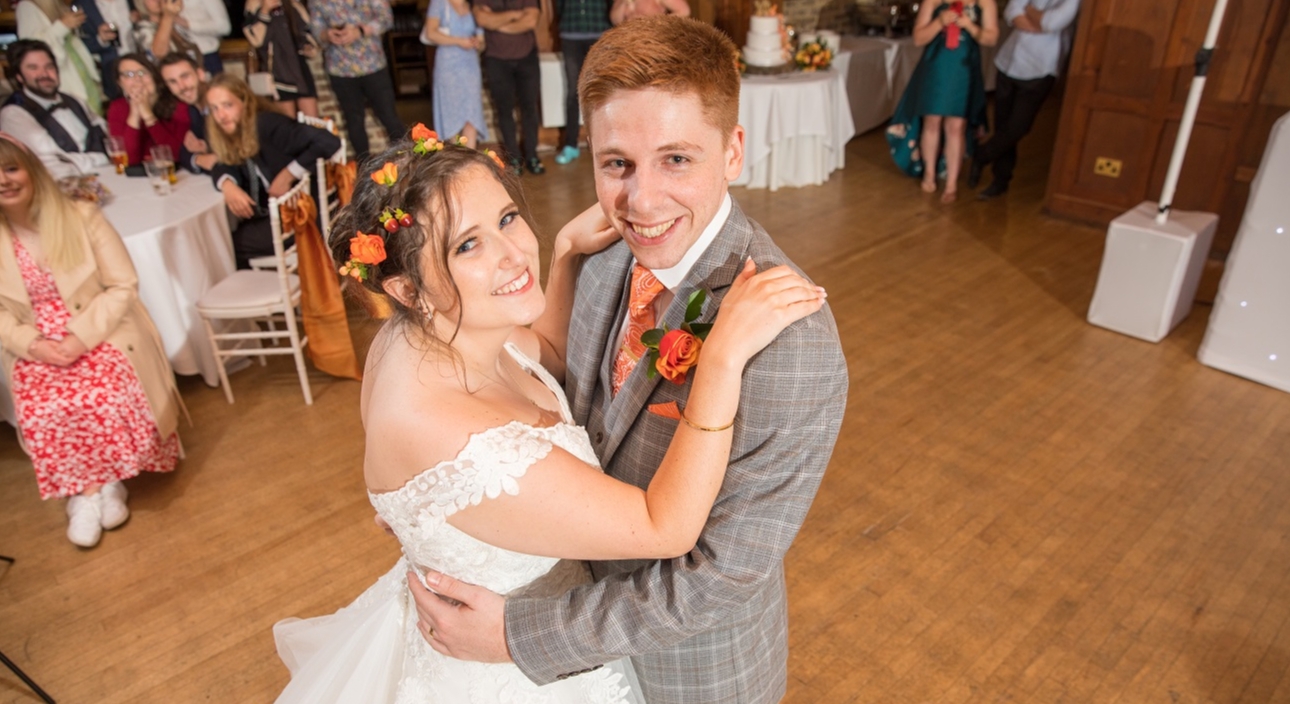 A cellist played beautifully throughout the drinks reception as guests arrived from the church. "We had lots of lovely comments about her playing," Charlotte says.

The Ravenswood supplied the evening DJ, who sent the couple a form to complete to make sure they played the right music.

"They did a great job and the dancefloor was full all evening," the bride remembers.


Charlotte says, "It was the best day ever. I was so nervous in the car on the way to the church, but as soon as I started walking up the aisle and saw Ryan waiting, I relaxed and enjoyed every minute.

"I surprised Ryan during the speeches by singing him I've Been Waiting For You by ABBA with some personal word changes.

As I was performing, my four-year-old nephew, our pageboy, went over to Ryan and tried to put his ear defenders over his ears!"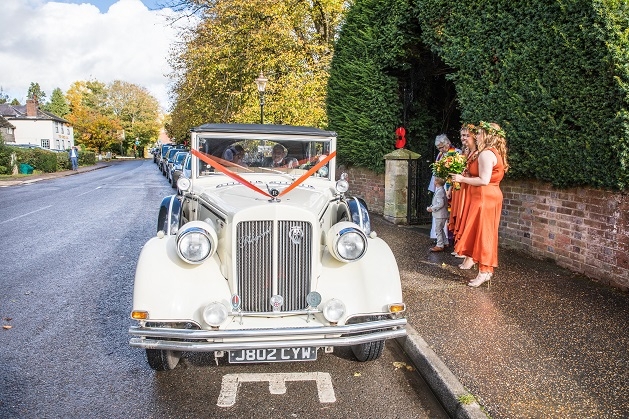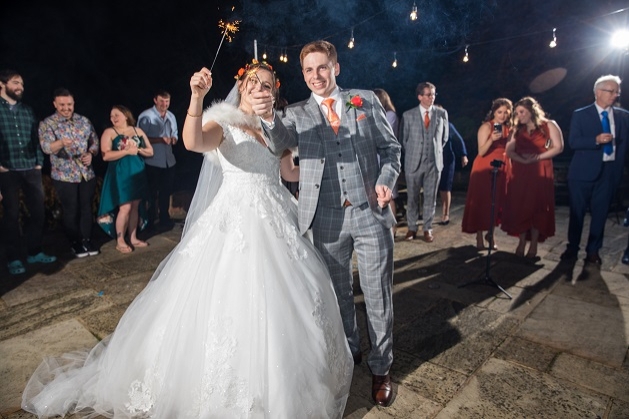 Charlotte and Ryan's contact book