When April and Lee met up for their first date at a pub in Brighton they quickly felt at ease in each other's company. So, it didn't take long for their relationship to blossom from there and they moved in together six months later. April says, "We're like chalk and cheese, but I think that's why it works so well – being so different brings balance to the relationship. We do have lots in common though, including a shared love for our adopted Birman cat, Larry."

The couple had been talking about getting married for a while, but April didn't expect a proposal. She'd assumed they'd just agree a date, send out invitations and that would be that! However, Lee had other, much more romantic ideas. As per their annual tradition, the pair headed to Lancing to pick out their Halloween pumpkin at the patch there. But before long, April lost sight of Lee, who unbeknownst to her had wandered off to find a private spot to carry out his plan. When she eventually found him, he was kneeling next to a tiny pumpkin and said, "What about this one?" As she moved closer to check it out, he turned around and held up her mother's engagement ring, which she'd always dreamed would be hers some day. April recalls, "I couldn't believe it and sheepishly said, 'Oh go on then!'"
April and Lee were keen that their day and theme should be centred around their beloved Brighton – the city they call home. Having visited the iconic Royal Pavilion in the past and feeling in awe of the incredible Music Room, the pair had already discussed this as the dream location for their vows.

So if, like us, you can't wait to discover more, read on as the bride tells us about their very special wedding day...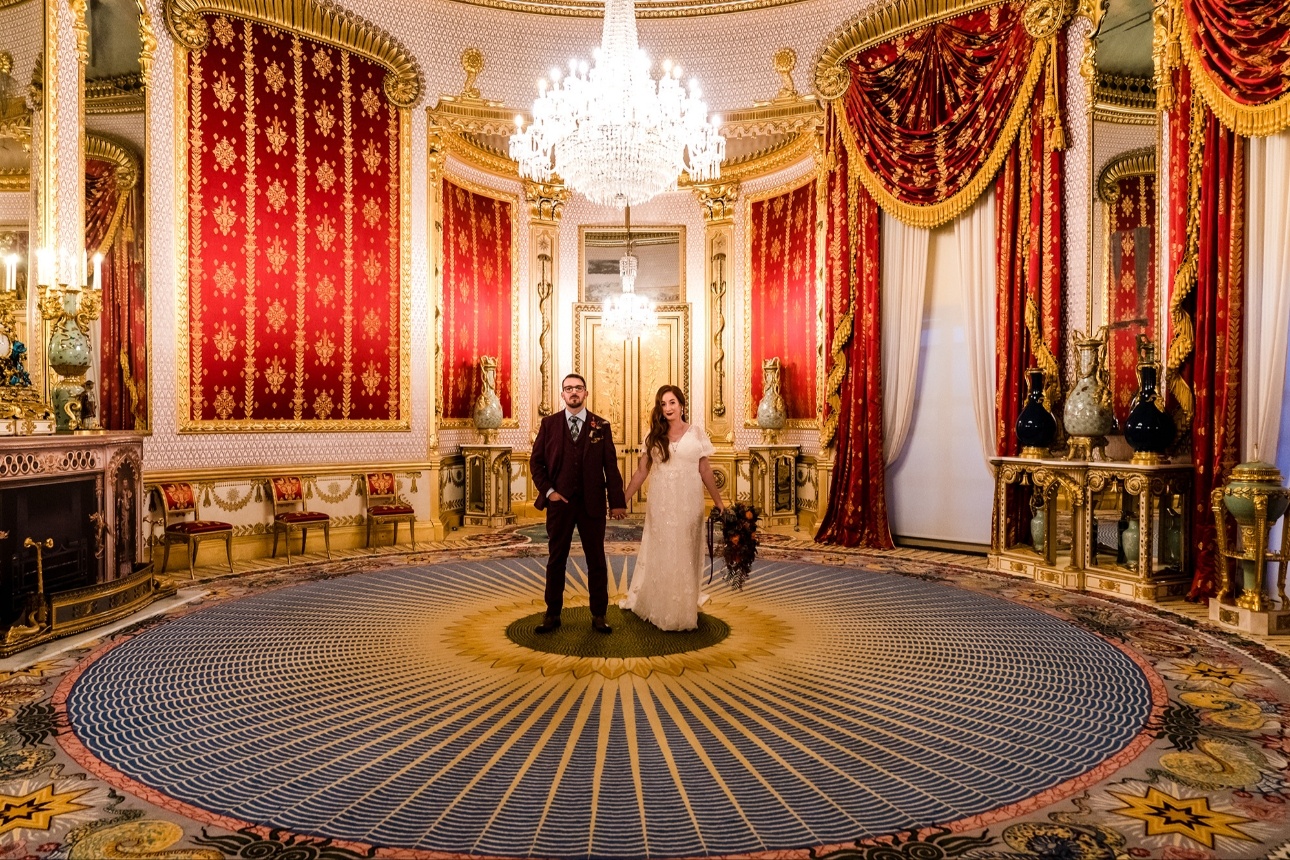 In honour of Lee's heartfelt and memorable proposal the couple opted for an autumn-themed day, with pumpkins featuring throughout. Large fresh flower displays decorated the tables, featuring gorgeous, rich, seasonal hues and mini dried pumpkins. While April's stunning bouquet shared the same motif, it also had two charms attached containing pictures of her grandparents on their wedding day.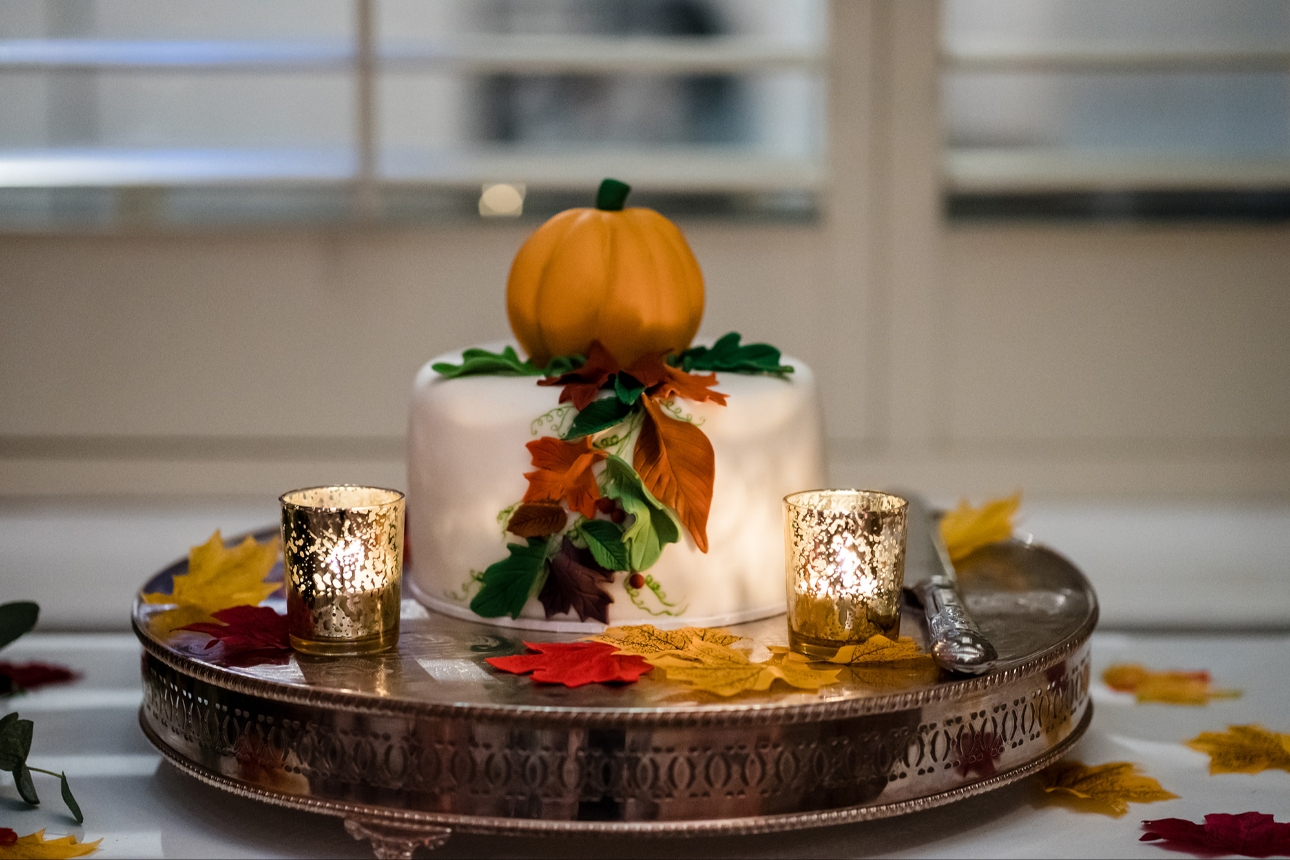 The big-day bake was iced in white and topped with a large pumpkin. Mini versions were gifted to guests as wedding favours to take home and enjoy.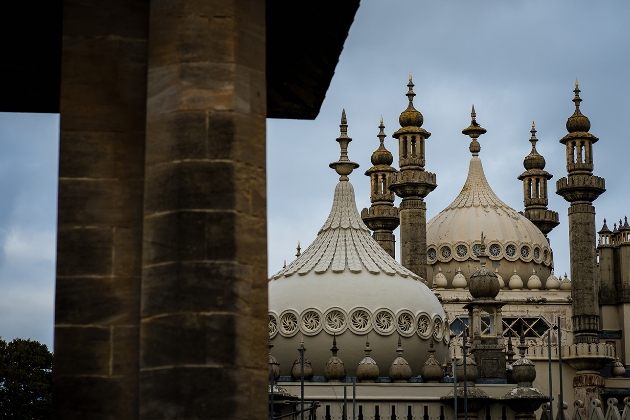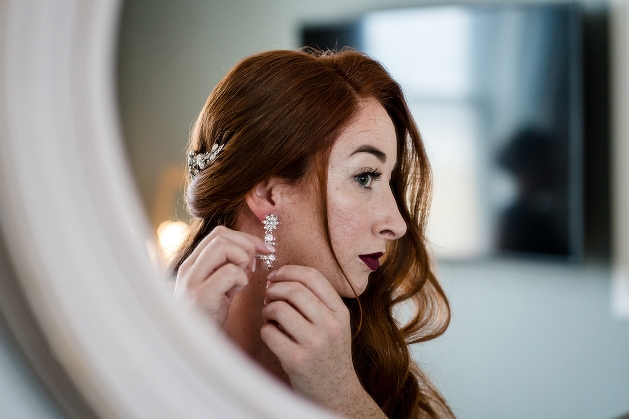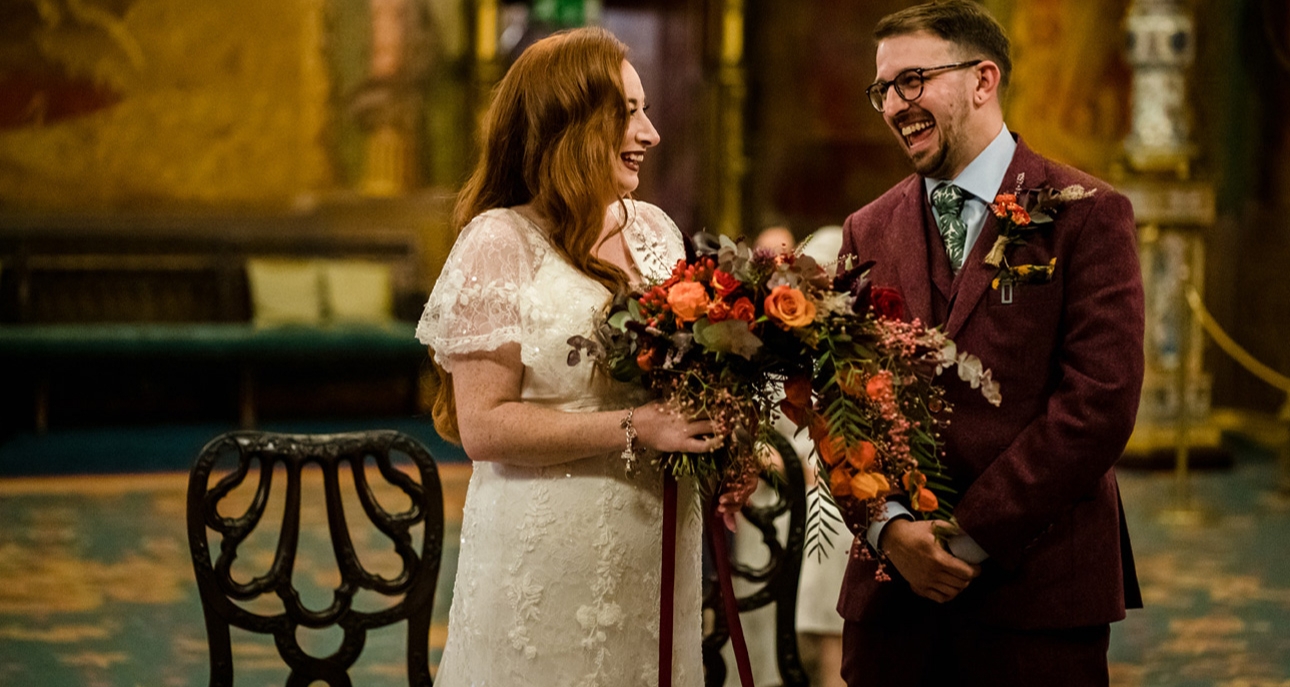 The bride found her dream dress, Hadine from Modeca's Le Papillon collection, in the first boutique she went to while visiting her family in Cork. "It was dress number nine of 12 I tried on. Once I was in it and saw the flutter sleeves and chapel-length tulle train, I fell in love," she explains.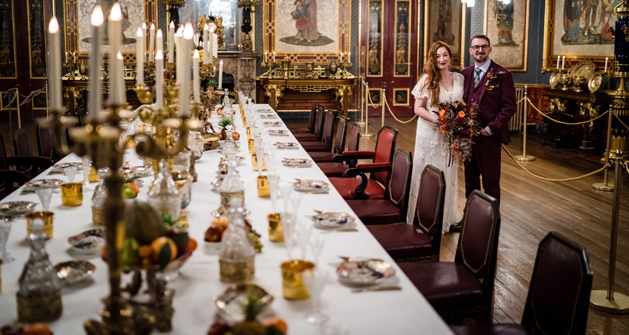 After the "I dos" the couple headed to The Grand Hotel for their reception with 15 of their nearest and dearest. Everyone enjoyed a superb three-course meal in the beautiful Pavilion Room, overlooking the West Pier.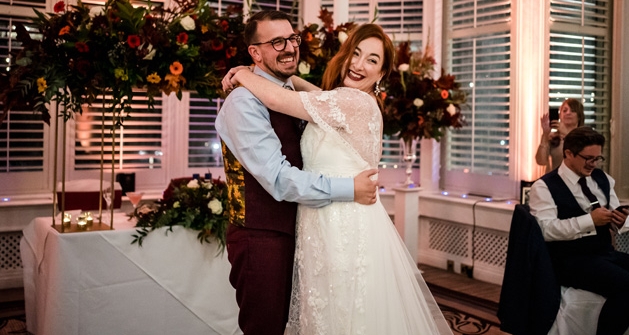 The evening entertainment was provided by pianist Will Mavin, who also played for the newlyweds' first dance. April remembers, "He was exceptional and can also pay guitar for events if preferred."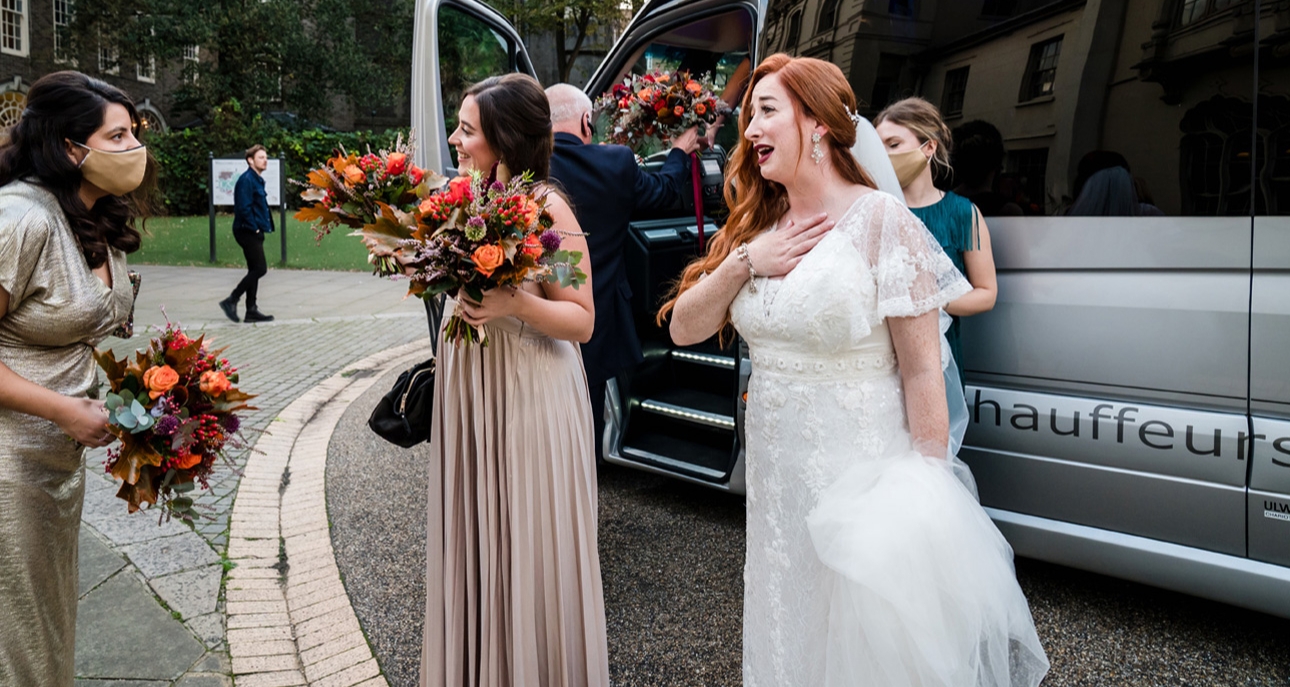 "We were both getting nervous in the lead up to the ceremony as it was late in the afternoon so we'd been waiting and prepping all day," April remembers. As the wedding car pulled up at the front of the Pavilion the bride was met by friends who were no longer able to attend due to restrictions. They'd all gathered to welcome her as she stepped out of the car and made her way towards the aisle. "This meant a lot to me and Lee," she tells us. April walked down the aisle to The Rose by Bette Midler, played on the harp. Lee even got his request in with the harpist for a bit of Metallica as they signed the register.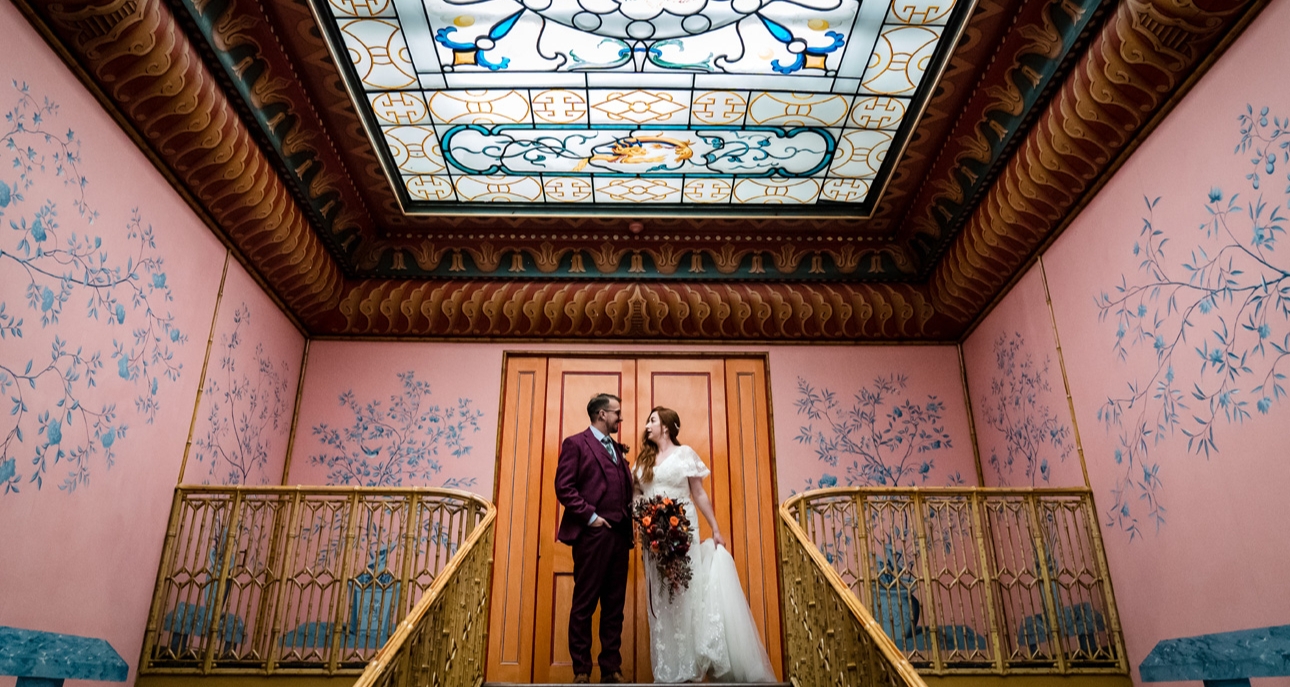 April and Lee's wonderful wedding day was the culmination of many months spent planning and re-planning throughout the pandemic. In fact, the pair had planned no less than three wedding days, each one being downsized in line with evolving restrictions. Things were still changing two-weeks before the big day when they were forced to cut the guest list down by half. April says, "We tried to remain grateful throughout as the date was special to us and we decided no matter how limited we were by the restrictions, as long as we were allowed to marry on that day, we would. So, to be able still to marry in the Music Room and have a lovely sit-down meal with our nearest and dearest was amazing. Of course, we missed many people, but we had Zoom on and hired a videographer, who sent on a short film of the day's highlights to them.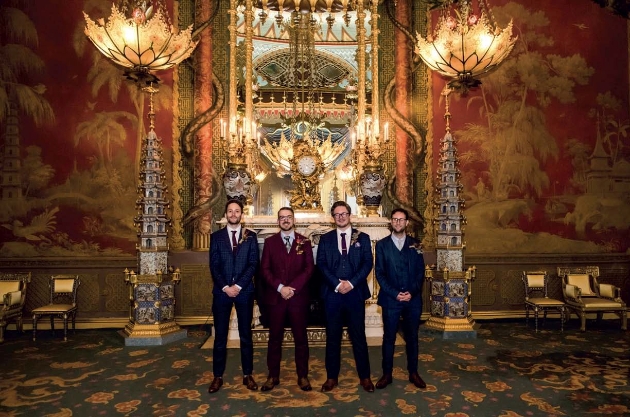 The newlyweds are incredibly grateful for all the love and support they received in planning and re-planning their big day, not least to their right-hand woman, April's mother, Joss."We couldn't have done it without her," April Remembers.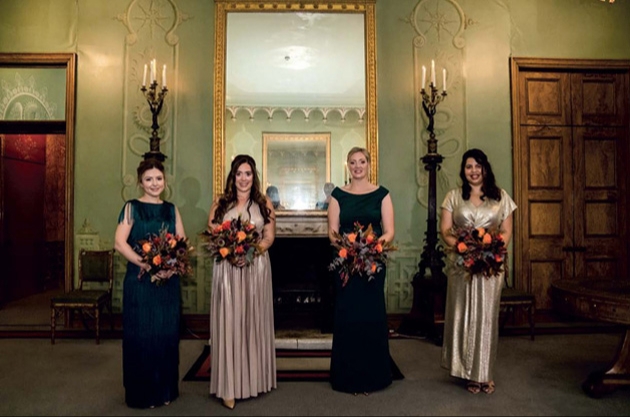 What also stood out for the pair was the exceptional service and support they received from the lovely Charlotte at TheRoyal Pavilion and Charlotte at The Grand Hotel. "Both were so attentive, supportive and creative with ideas ascircumstances kept changing due to the pandemic. I can't recommend them both enough," April tells us.
April and Lee's contact book