Having both ended previous relationships Becci and Ed moved back in with their respective parents, who happened to live opposite each other. Becci's dad would often enjoy neighbourly chats with Ed in the front garden. One day, Becci's sister thought it would be hilarious to tell Ed that Becci fancied him, despite nothing of the sort ever being discussed. Mortified when she found out, she announced to Ed, having bumped into him on a night out, that it had all been a prank. Nevertheless, a few days later he asked her out for a drink and the rest is history. "Seven years, one wedding, three kids later and here we are," Becci says.
Ed's proposal had been a long time coming as he'd bought the ring and kept it hidden for six months before he actually popped the question. In the end, it was when the couple were picking up a new car that Ed managed to sneak the engagement ring into its glove box. As they took it for a spin, he asked Becci to open up the compartment to see what was inside. Coming as a massive surprise to her it took a few moments to sink in, giving Ed time to park up and jump round to the passenger side where he got down on one knee.
When planning began the vision was of a grand stately home affair, but not long into the process the couple realised that they'd started to lose touch with the true purpose of a wedding – "It wasn't feeling personal anymore," Becci explains. So, they abandoned the idea in favour of tying the knot at the church where their children had been christened. "By this time our theme ideas had evolved too and we wanted more of a relaxed country vibe, so we went for St. Mary's Hall in Udimore as our reception venue with it's barn-like feel," the bride tells us.
We couldn't wait to find out more, so we caught up with Becci for the lowdown on the big day and discovered that it wasn't all plain sailing...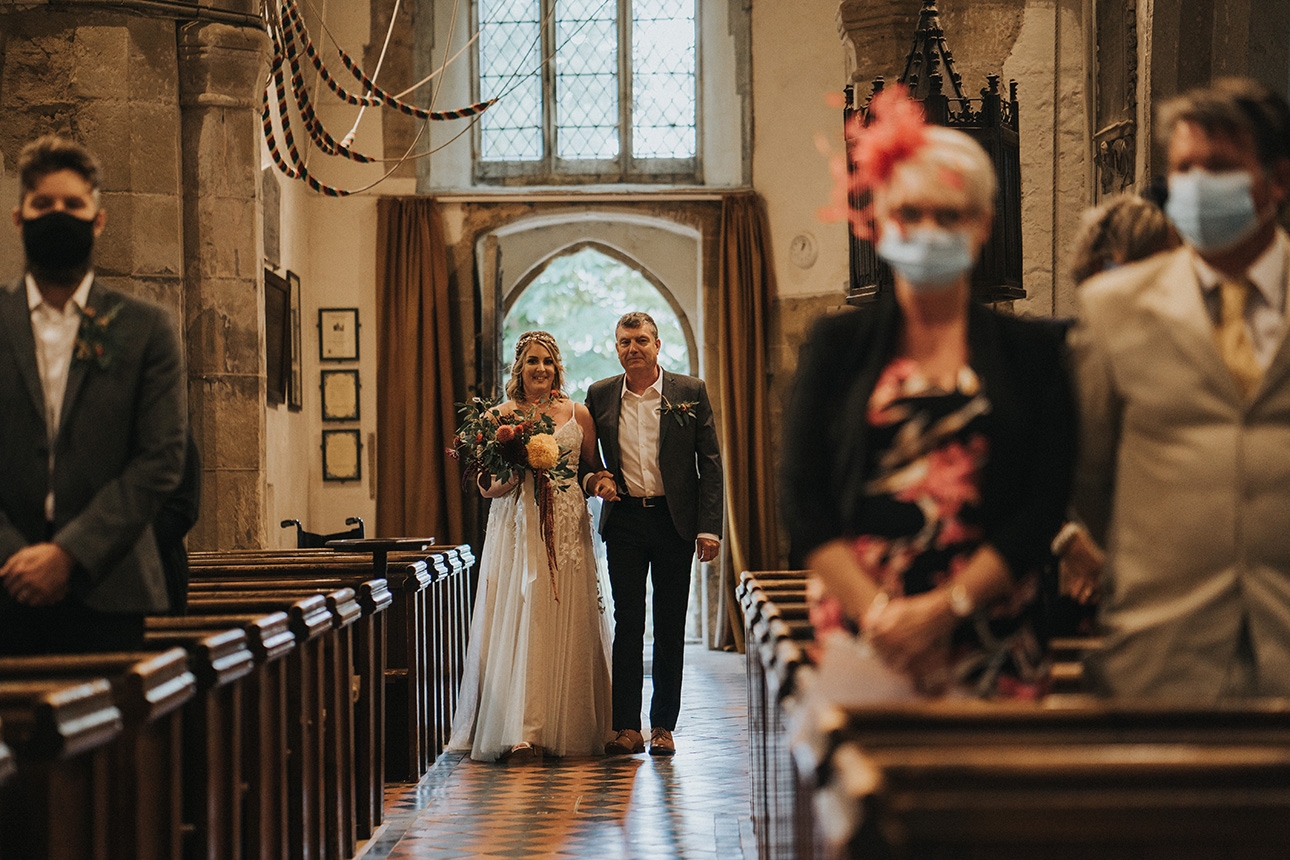 Becci and Ed were gearing up to marry on 10th October 2020, when Boris announced that from 28th September weddings would be restricted to 15 guests again, so the pair made a huge decision. Becci remembers, "I was gutted. This was the third wedding date we'd scheduled and there was no way we could reduce our numbers further. It would have meant we couldn't even have had immediate family there. I couldn't believe this was happening again – we'd already changed the date three or four times. But five minutes later, I put on my big girl pants and told Ed we were getting married that Saturday. He thought I was joking. I wasn't." Then and there she started calling all of their suppliers and succeeded in getting all bar two on board. Becci continues, "That week was manic. The second I dropped the bigger kids at school, the baby became my wedding assistant for dress fittings, nail appointments and wedding rehearsals."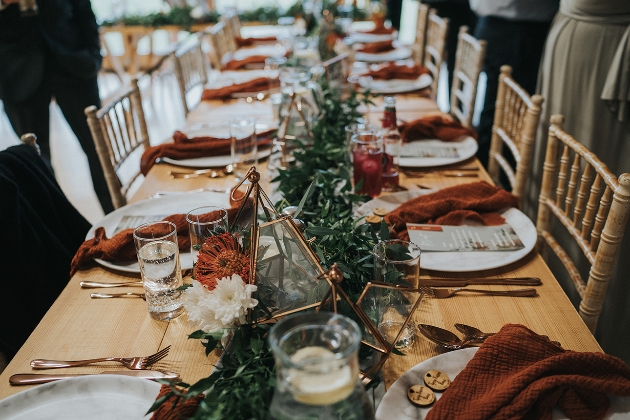 Becci and Ed's bohemian country theme was reflected in the venue styling for the day. Laid out in a horseshoe shape, the long banquet tables were adorned in terrariums of various sizes, copper geometric candle holders, foliage and blooms in glorious autumnal hues.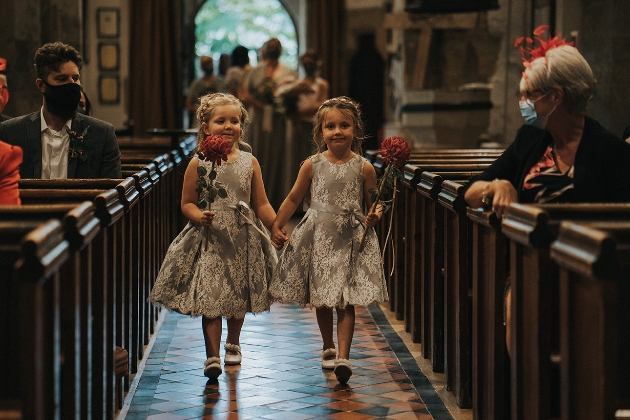 The seasonal flowers were all grown in the florist's own allotment and Becci opted for loose-style bouquets for herself and bridesmaids, which worked beautifully with the boho vibe. The men's buttonholes were made up of herbs, with a flower to match the palette and the flowergirls carried a wand each with a silk flower.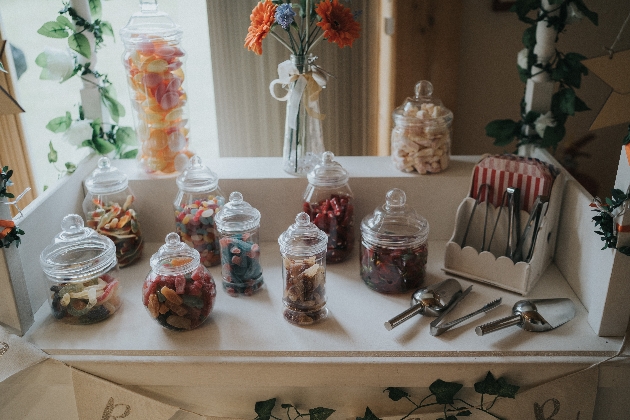 The table plan was designed on acrylic with a backing that incorporated the wedding's natural seasonal colour palette. The place names were made to complement this and the vinyl table numbers were stuck onto the glass of geometric copper photo frames, allowing them to be free-standing.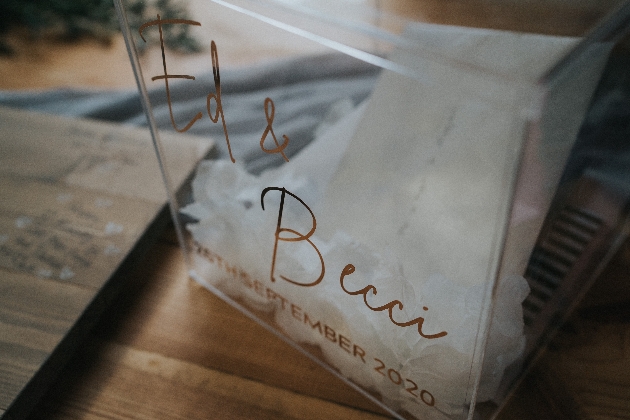 The catering was all a bit last minute amidst the whirlwind of replanning. So, the relaxed barbecue buffet became a roast beef dinner finished with a beautiful chocolate brownie pudding. Further treats were on offer in the form of the big-day bake decorated with copper and a marble effect, plus a sweetie cart.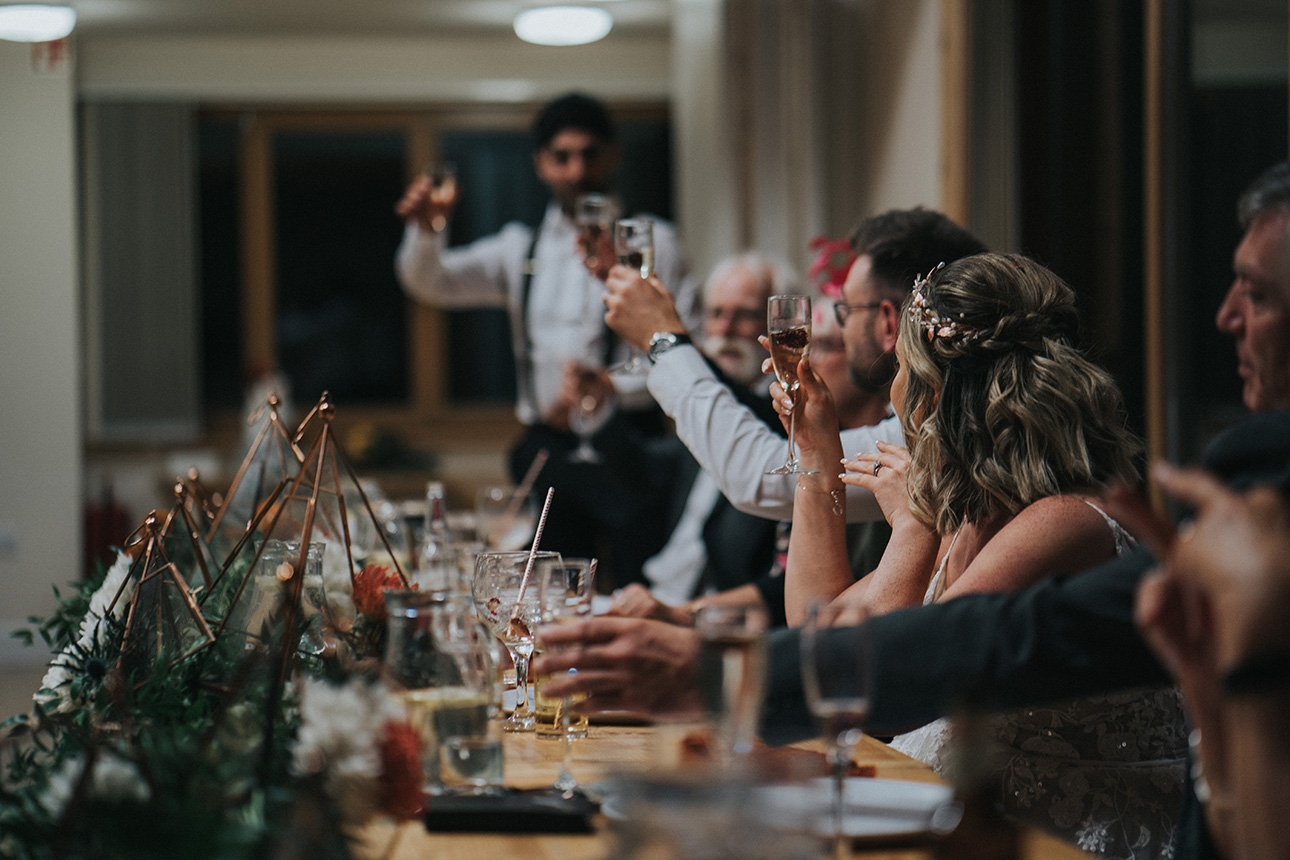 Becci faced even more challenges when dress shopping as shortly after choosing a beautiful Dando London gown for the original wedding date in May 2020, she discovered she was expecting their third child. This meant she'd be six months pregnant at the time of walking down the aisle. So, shopping take two: she selects a second dress, perfect for her and growing baby. But, that wasn't the end, as the pandemic struck and the wedding moved. Frustratingly, Becci was told there was no way the dress could be altered to fit her new post-baby figure, so dress number three was on the agenda. Happily though, when the shops reopened in October, the bride fell in love with Enchanting by Mon Chera. "It was light, easy to move in and so elegant. It made me feel beautiful and I knew I had to have it."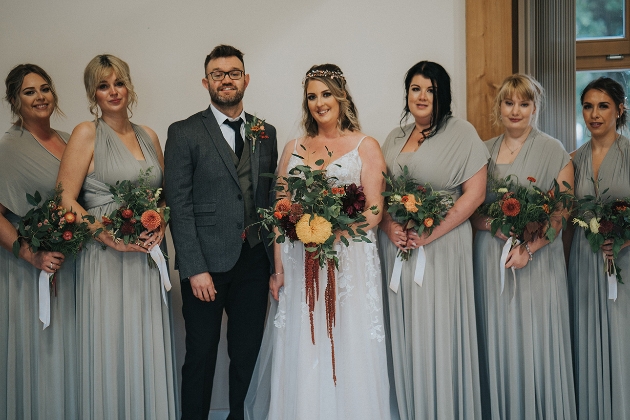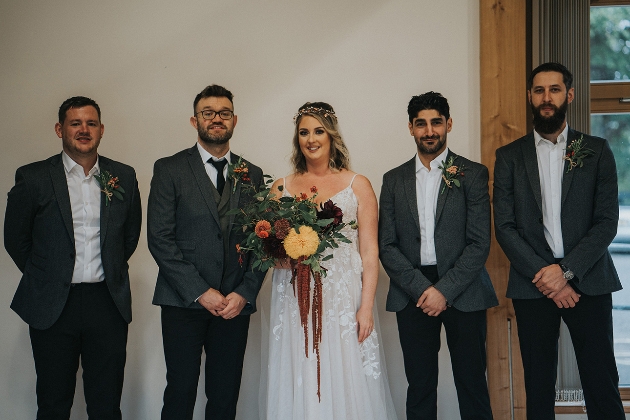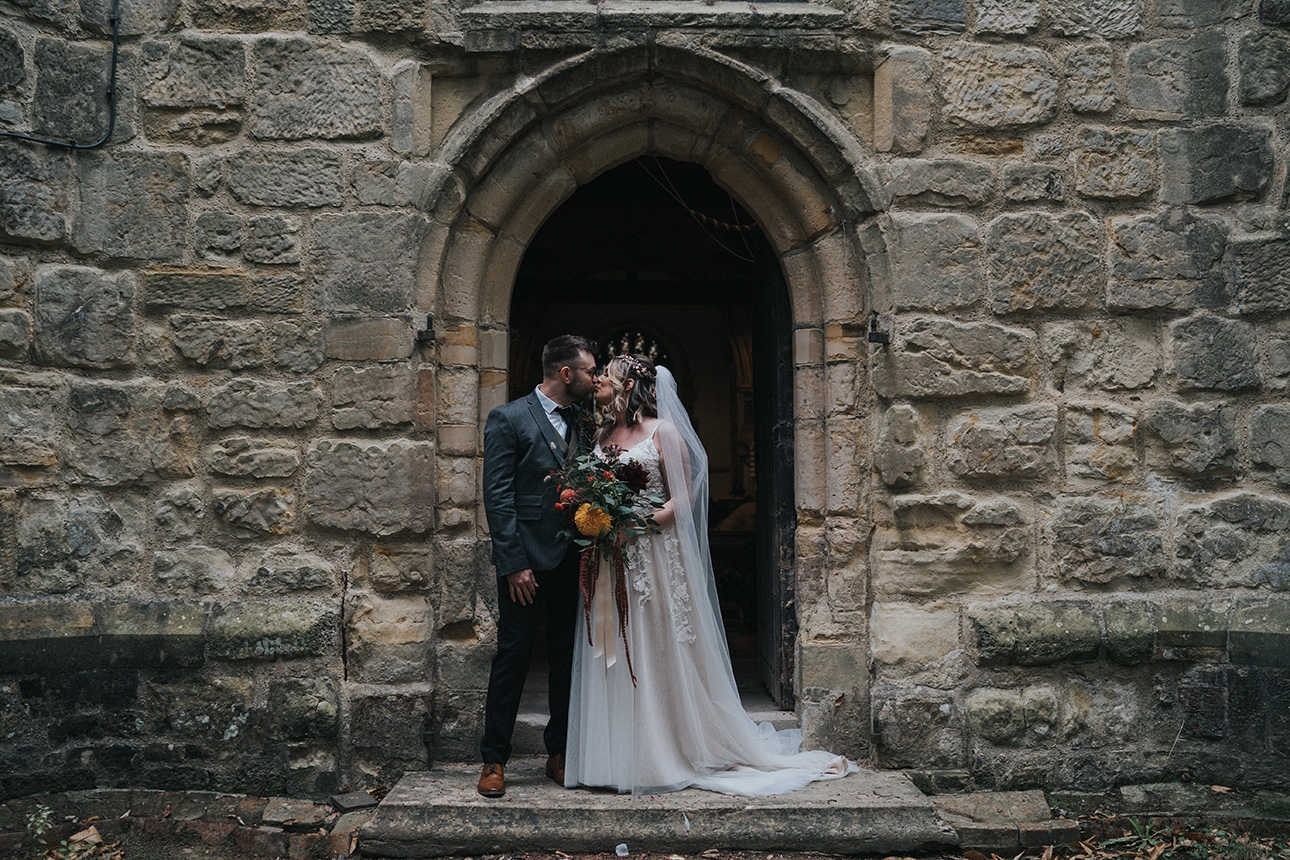 Ed wore black trousers, a white shirt, black tie and dark grey jacket. He completed the ensemble with a sage green waistcoat, which complemented the bridesmaids' dresses. The groomsmen were dressed in the same black trousers, shirts and jackets, but with sage green braces instead of the waistcoat.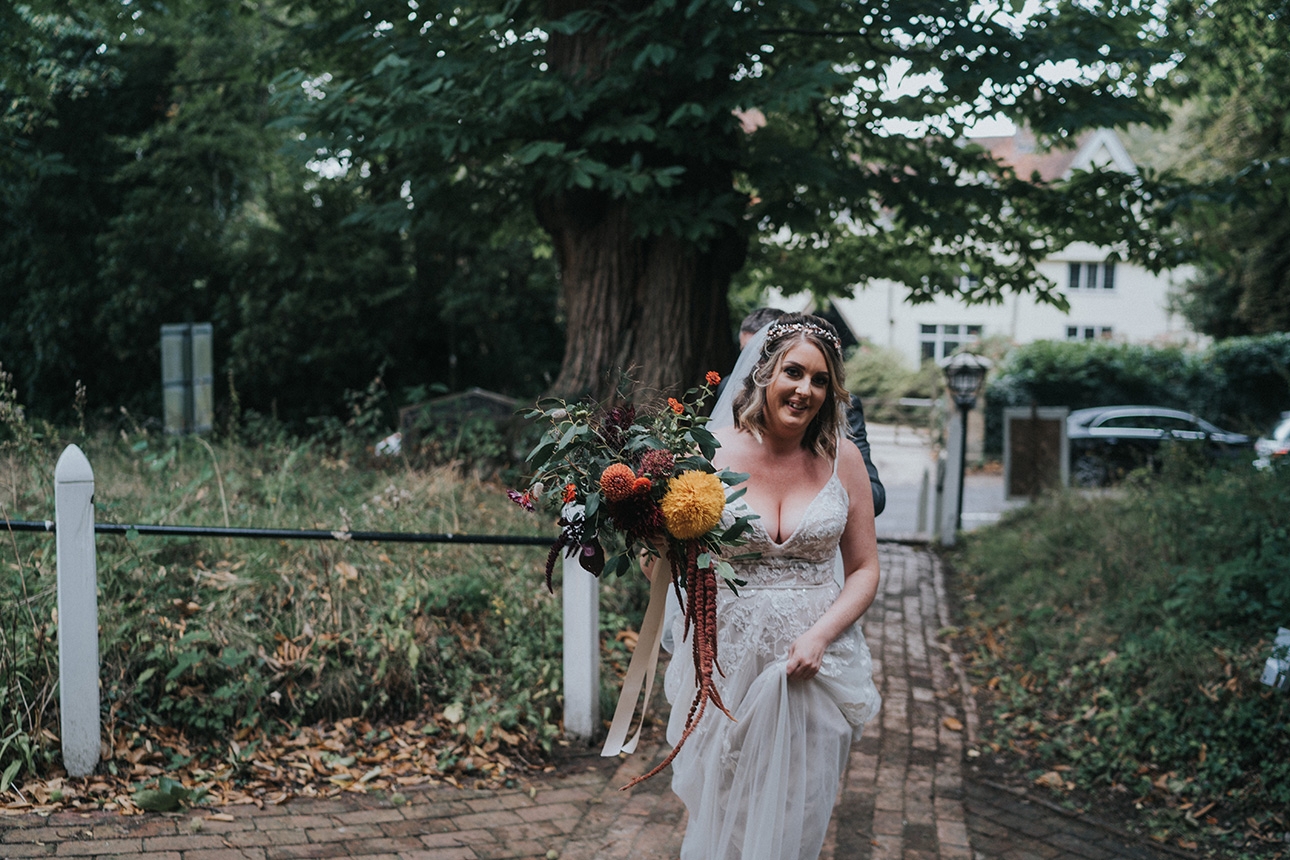 The bridesmaids looked gorgeous in sage green multi-way dresses. Becci explains, "I wanted them to feel comfortable whatever their body shape and let them choose how they wanted to wear them."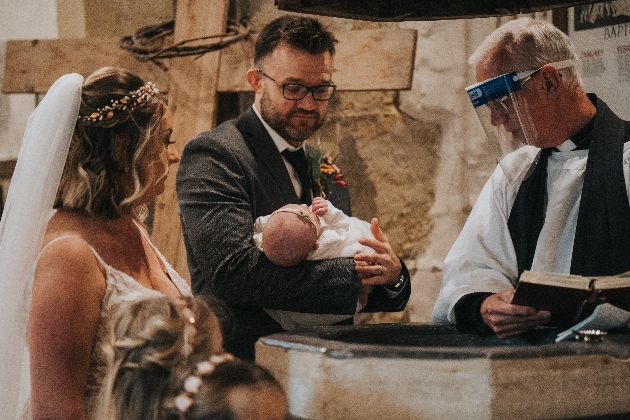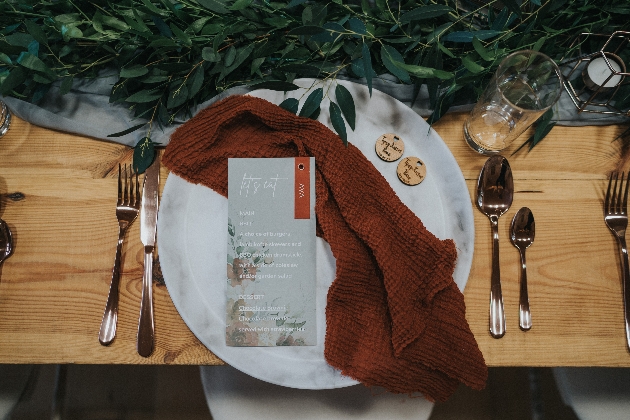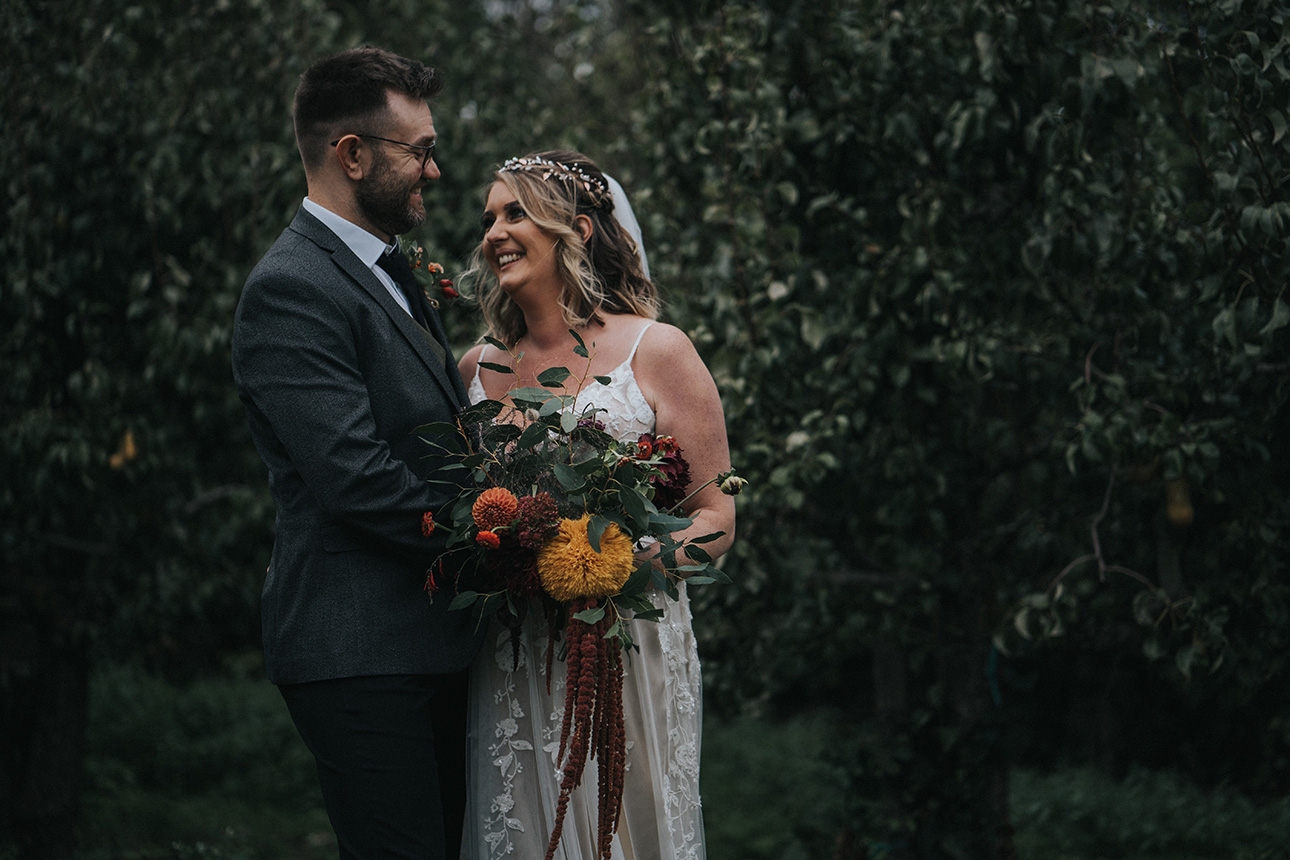 "Cancelling our big day gave us a chance to reflect on what was really important and that the show a wedding can turn into isn't necessary."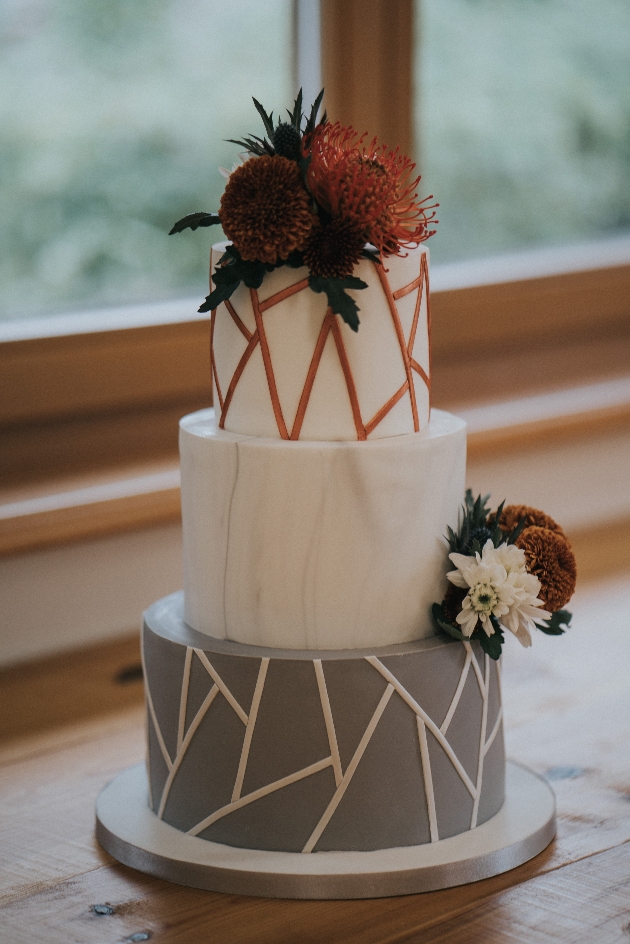 The bride shares, "On the day we felt happy, loved-up, complete – just so relieved that it'd finally happened and nothing had gone wrong.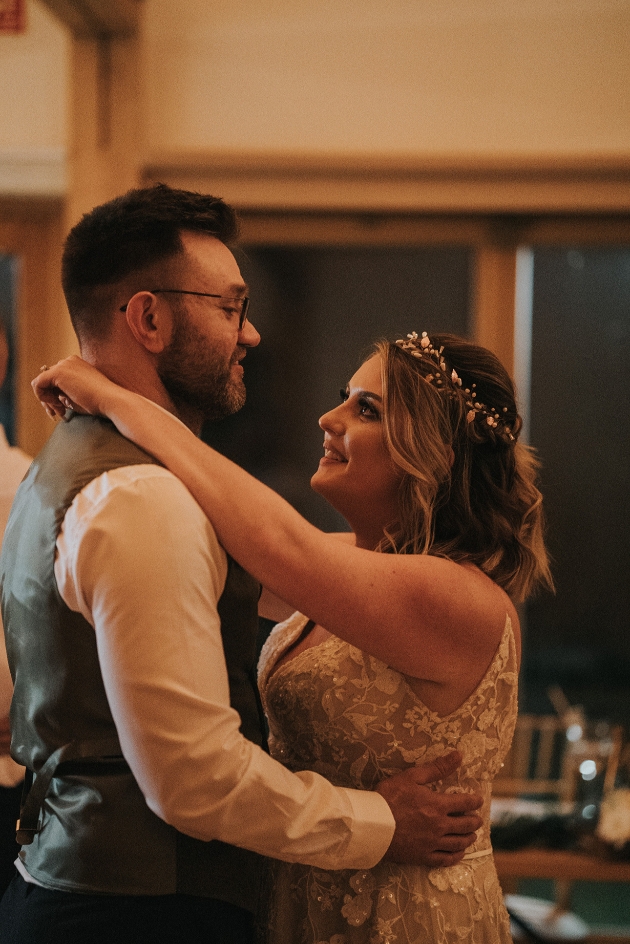 Saying our vows in front of our friends and family was a highlight, as was christening our new baby during the ceremony. It was wonderful to see everyone come together and let their hair down after such a weird year. Life felt almost normal that day.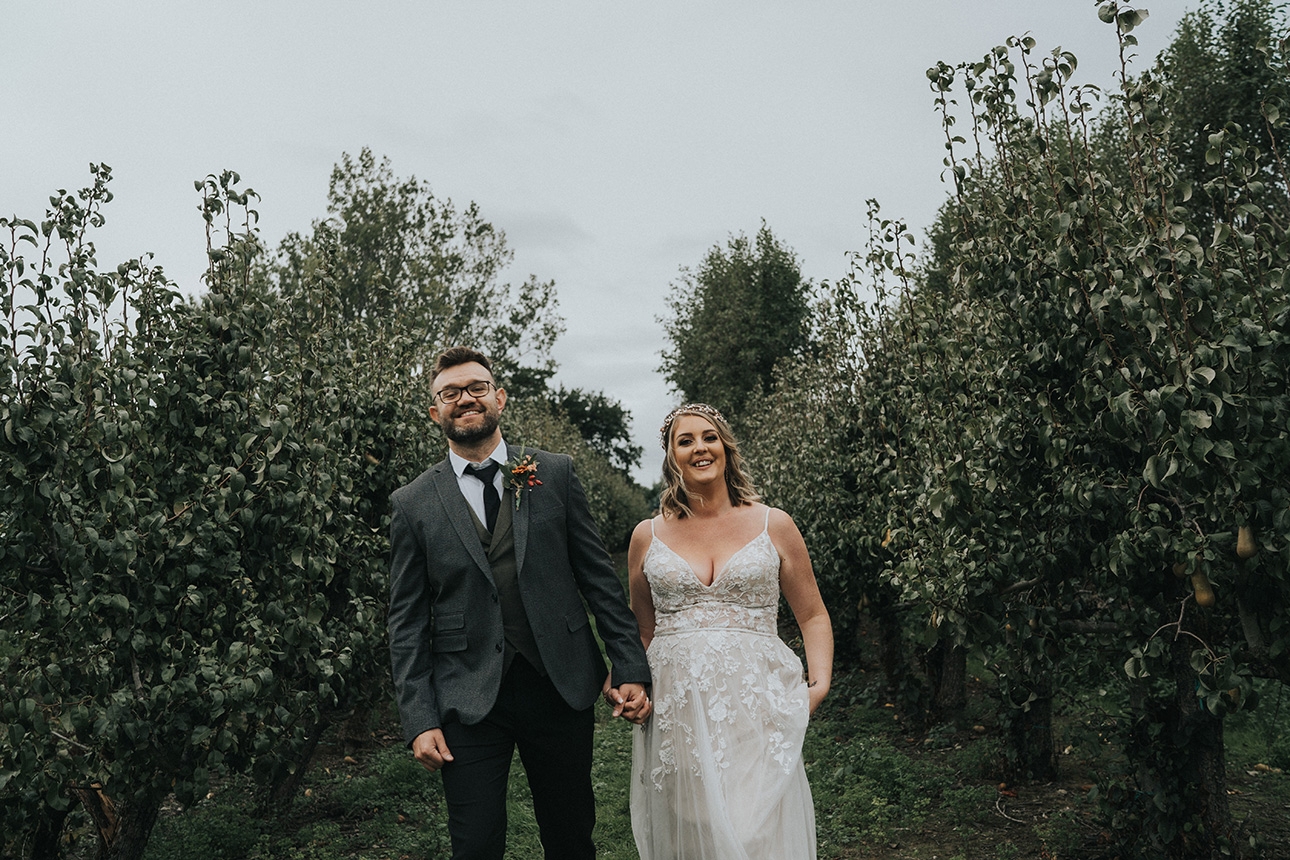 "Every single supplier involved in our big day was amazing. They essentially pulled it all off with only 72 hours notice. Everyone was so nice, helpful and lovely. We're also grateful to our friends and family who came at short notice, and to those who weren't able to attend but were still incredibly understanding sending gifts and well wishes. We're very lucky to be surrounded by such fabulous people."
Becci and Ed's contact book