The spark between Charlotte and Josh was clear from the moment they met and it was obvious to friends looking on that they were witnessing love at first sight. Five years on, and by that time a couple, they'd quit their jobs to go travelling for seven months. Charlotte was quizzed before she left about whether Josh might propose, but she was adamant he wouldn't.
Sri Lanka was the first stop on their travels and whilst there they made sure to visit a restaurant recommended by a friend. Charlotte tells us, "We'd just ordered cocktails when Josh asked me to come down to the sea with him, and it was there by the water's edge that he got down on one knee and said: 'before we left, I asked your dad a question...' I immediately started crying, but when I was eventually able to speak, my answer was 'yes.'" The best thing about Josh's timing was that it meant the pair were able to spend the next few months in their own little newly-engaged bubble as they completed their travels. Charlotte says, "We celebrated with family and friends when we got home and it felt like we'd got engaged all over again!"

In their perfect wedding venue, the pair were looking for somewhere intimate where they could host everything in one place, and fell in love with Southend Barns. So, the date was set for 17th April, 2020. But just one month beforehand, the unthinkable happened as the nation was plunged into the first Covid lockdown. "I'm pretty sure we could fill the entirety of Your Sussex Wedding with tales of our changed plans. By the time the actual day arrived, we were on something like plan 10," Charlotte says. Over the course of the summer the guest list was downsized from 120 guests to 30, then to 15. Despite toying with the idea of postponing further, the couple were keen to start a family and as no one knew how long restrictions would continue, they decided to get married in October and make the most of it.

Here, Charlotte tells us more about their wonderful
wedding day...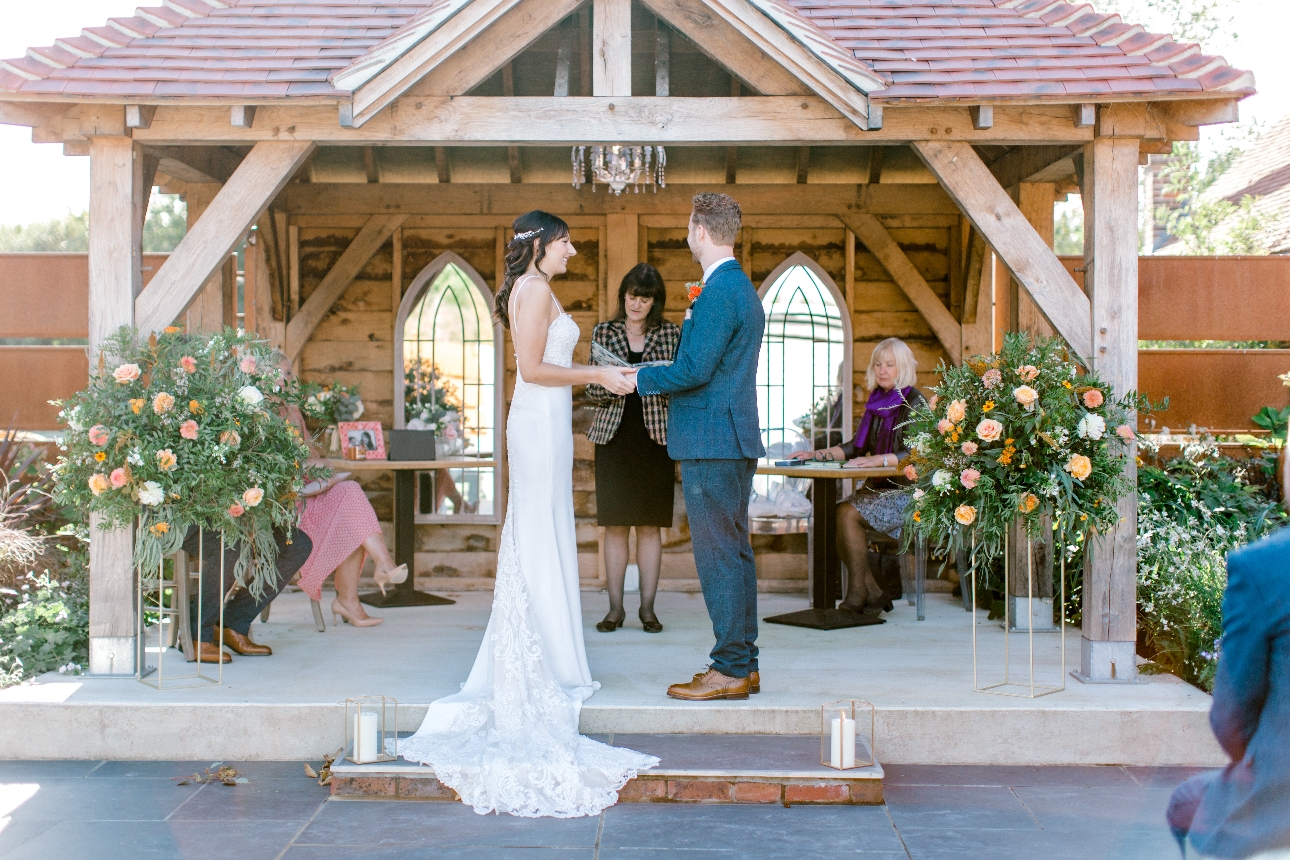 By their own admission Charlotte and Josh went all out on their venue styling. And why not? The bride explains, "There were only 19 of us, so we wanted the barn to feel intimate. I was blown away when I saw it for the fist time. It was more beautiful than I'd imagined."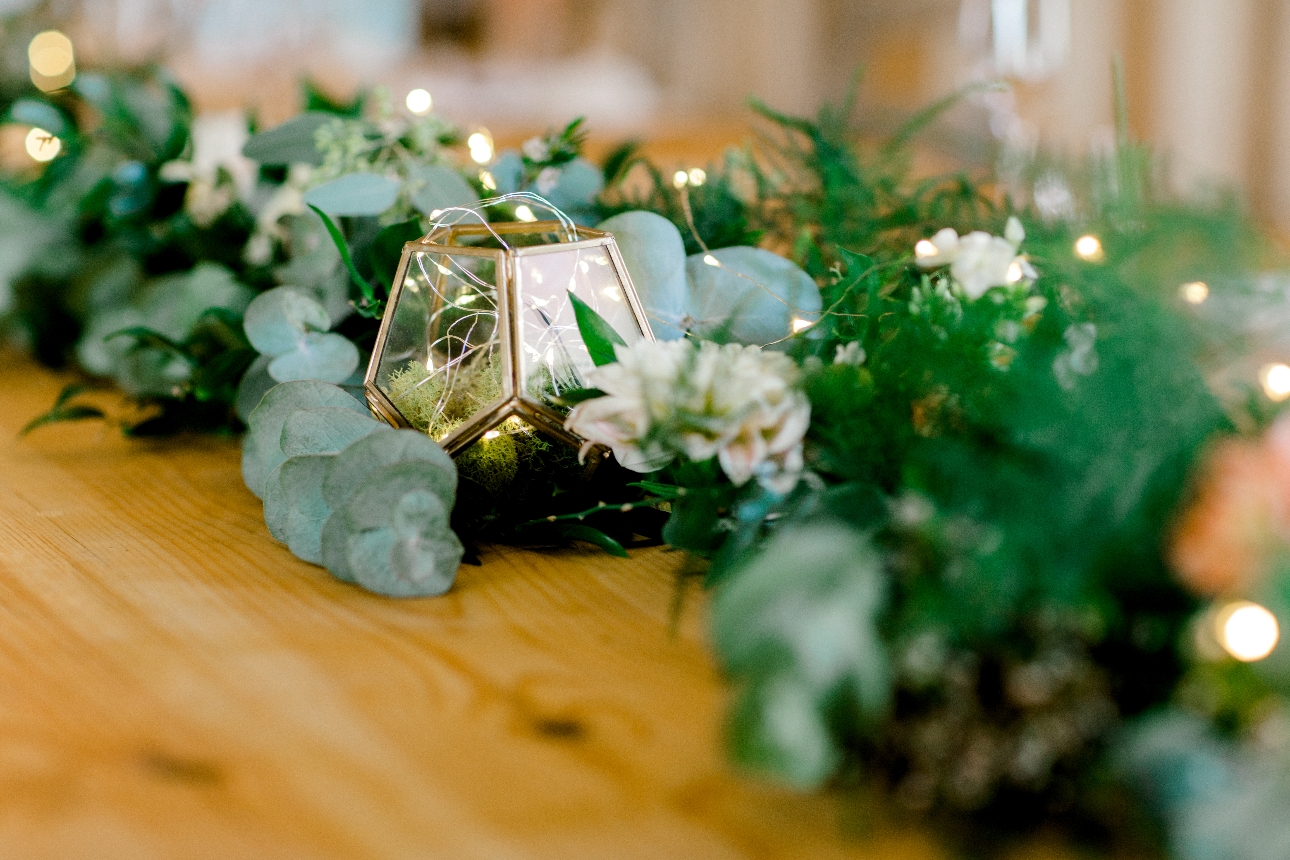 Keen to incorporate the memory of her late mum into the day Charlotte selected orange for the flowers, as well as the gentlemen's accessories since this was her favourite colour. Given the move to an autumnal wedding date, this actually worked brilliantly as a seasonal palette. The centrepieces were garlands by The Floral Artisan and To Have and To Hire embellished the tables with some fab theme-fitting finishing touches. Charlotte adds, "Our florist went above and beyond our expectations. The fact that she pulled it all together within a matter of days, in the face of continued uncertainty over restrictions, was incredible."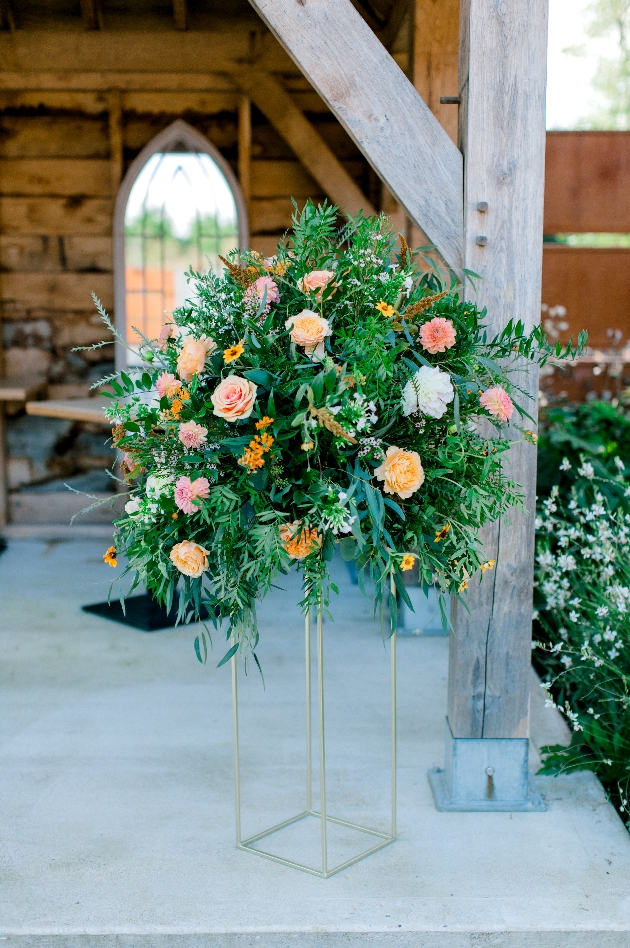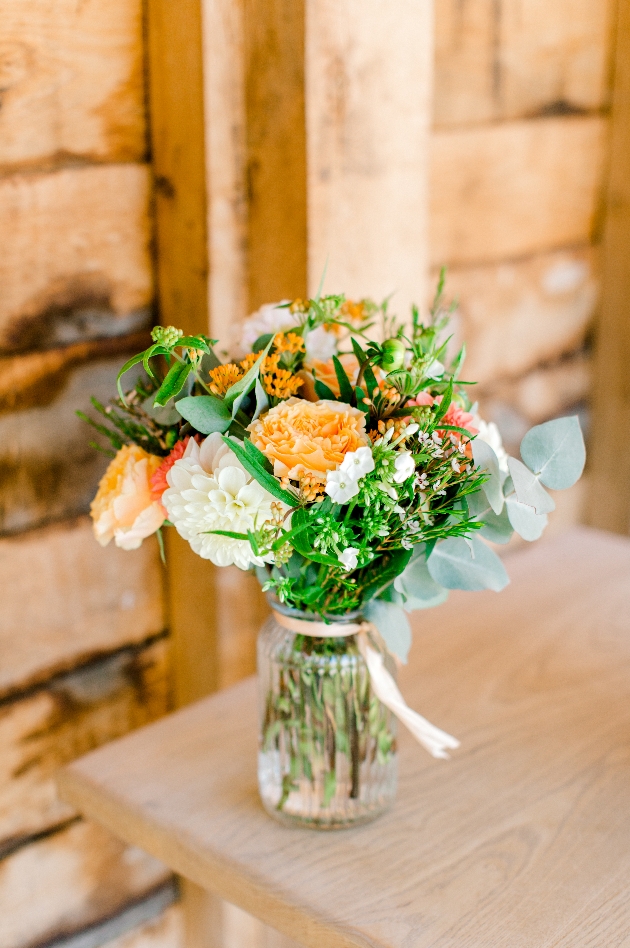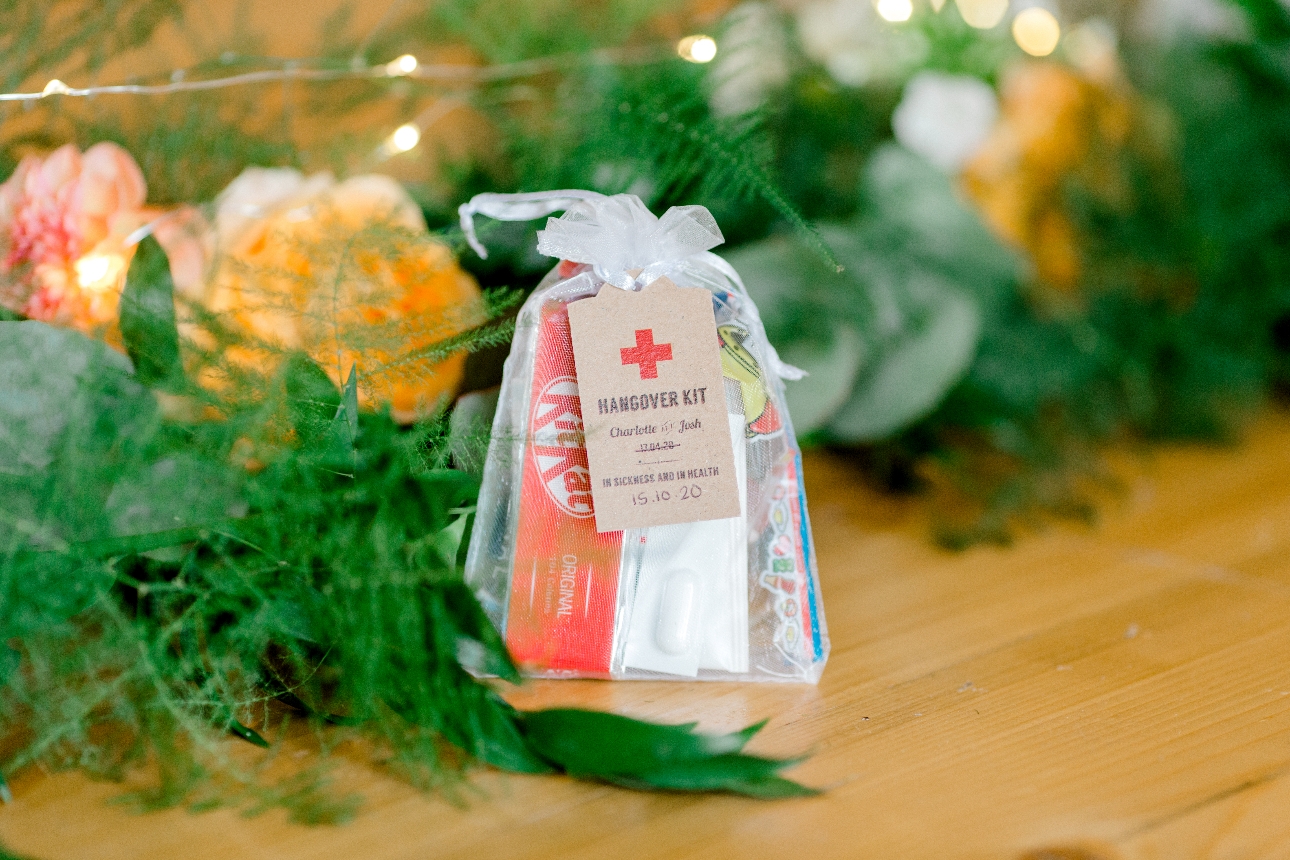 The couple gifted their guests super-fun hangover kits as wedding favours. These included coffee sachets, tea bags, Kit Kats and paracetamol. "We always wanted our wedding to be a proper party even though it didn't quite end up being the big bash we planned," Charlotte explains.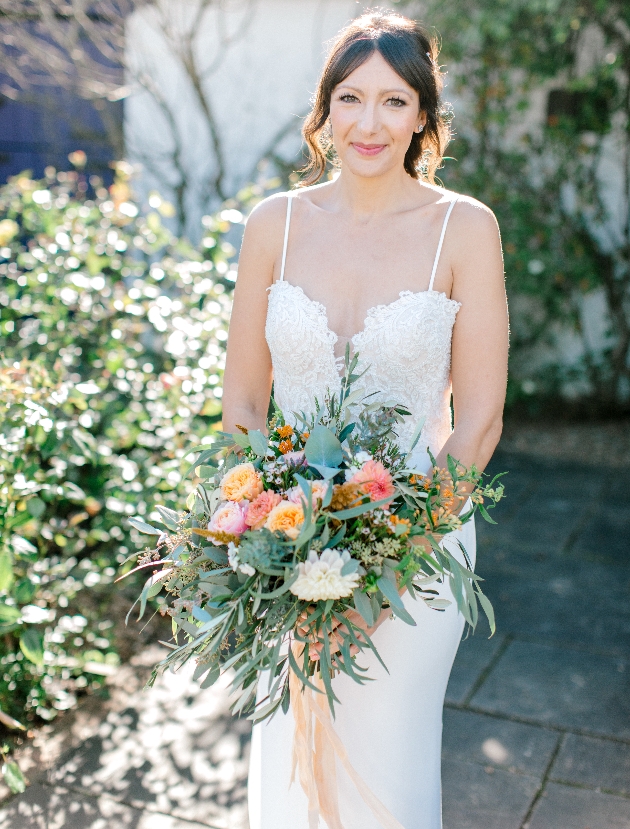 Charlotte wore Marnie by Enzoani. "It was actually my second dress as I changed my mind about the first," she shares. The bride fell in love with the extravagant back and train, even though it wasn't a silhouette she'd ever pictured herself wearing. "I knew Josh would love me in this dress too," she explains. Charlotte finished the look with simple accessories in the shape of ivory shoes, a pair of stud earrings and a bracelet containing a picture of her mum.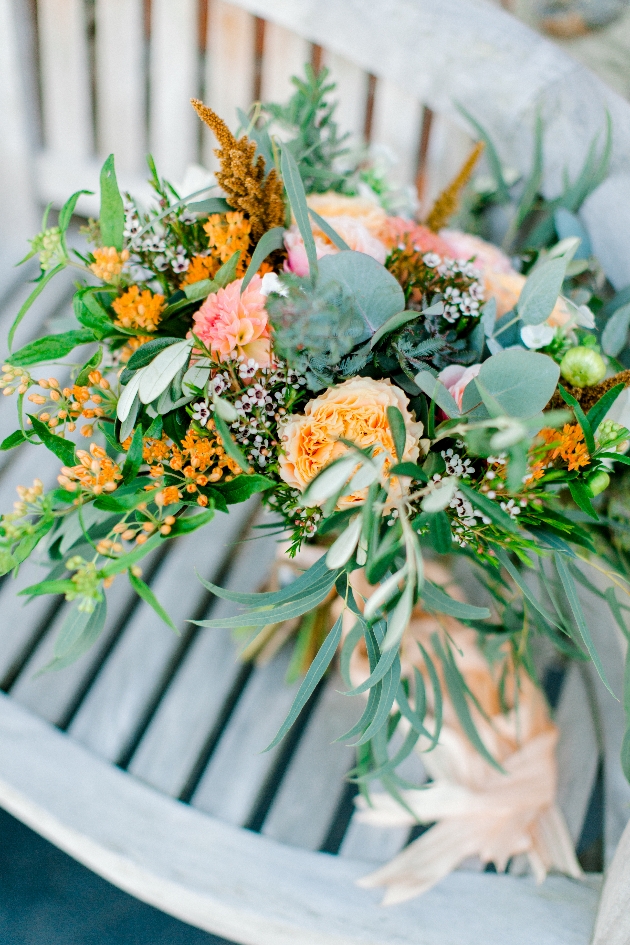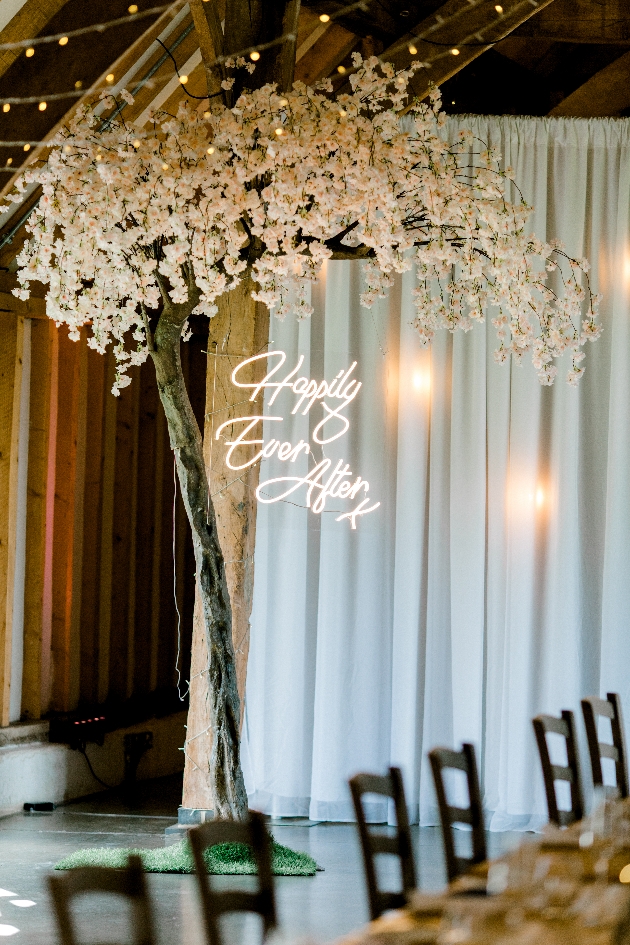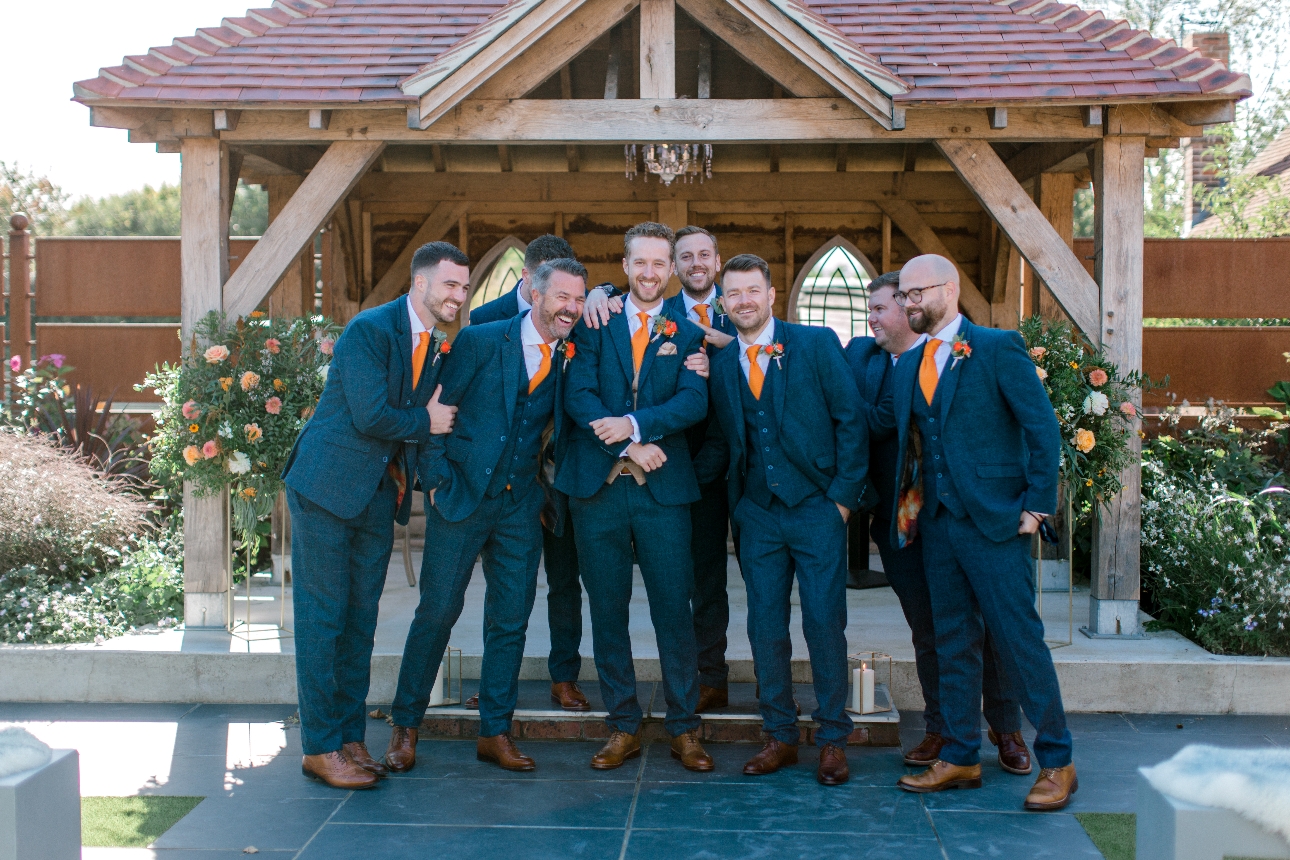 Josh was dressed in a blue tweed three-piece suit. He wore a different waistcoat to his groomsmen and accessorised with brown brogues, a pocket square and the pocket watch his father-in-law gave him as a joint 30th birthday and wedding gift.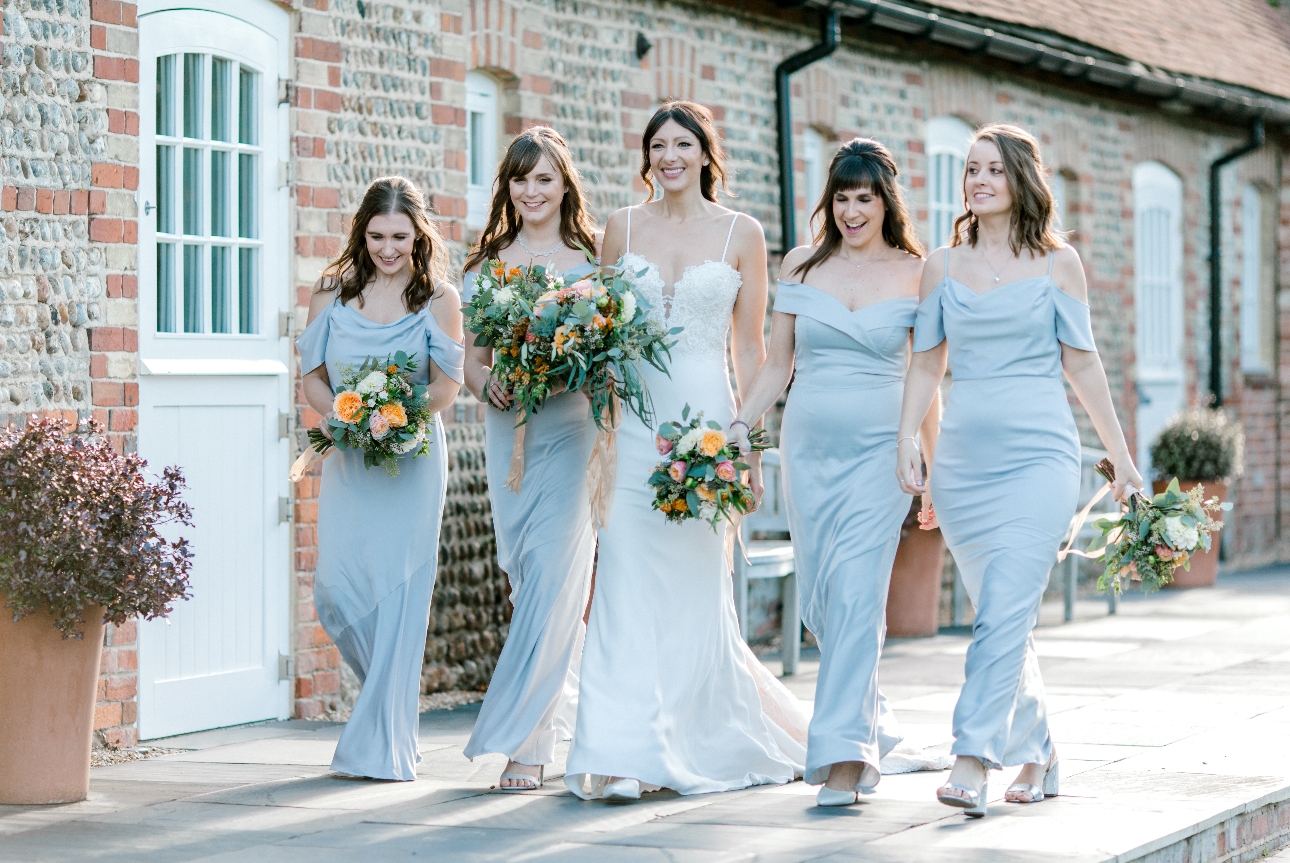 Charlotte's bridesmaids wore dove grey dresses in two different styles – one an off-the-shoulder silhouette and the other with straps and a cowl neck.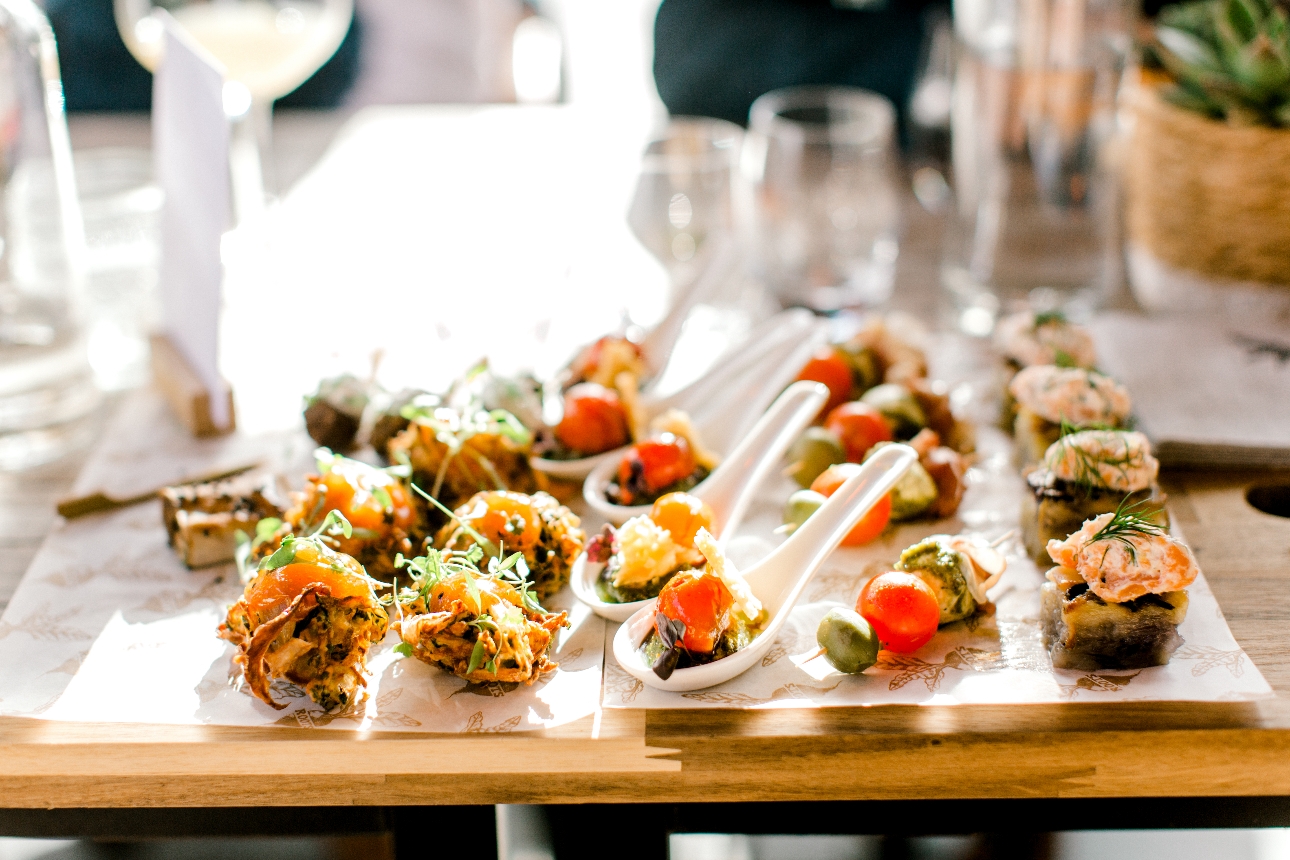 The newlyweds enjoyed their first dance together outside before sitting down to eat. "This was actually really lovely and made the day a bit different," Charlotte remembers.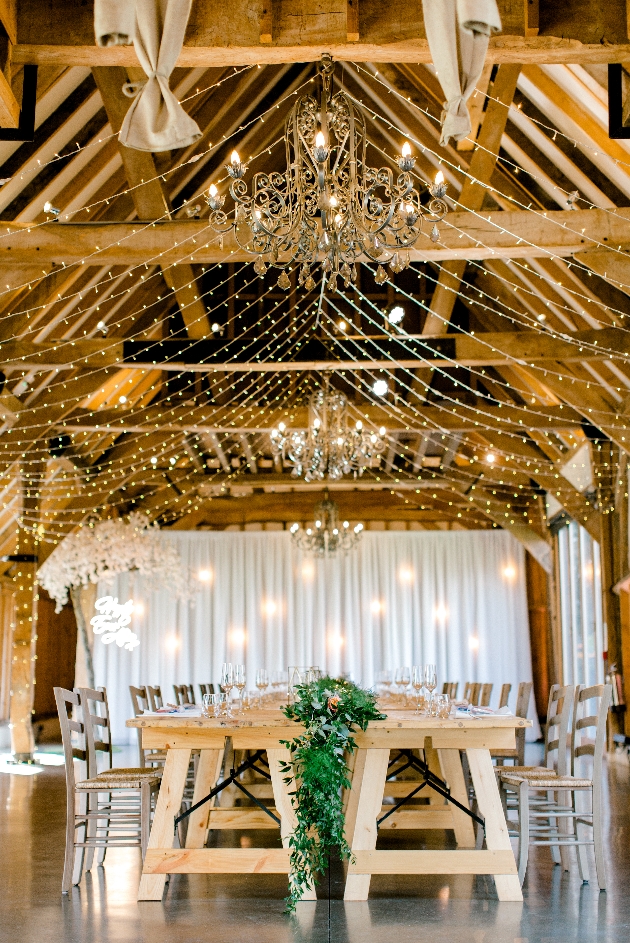 All assembled were treated to a seven-course menu that the couple worked with the venue's chefs to create, and each dish was paired with a different wine. "We can't thank Roots Catering enough. Guests told us this wasn't just the best food they'd eaten at a wedding, but the best full stop! Every part was perfection." Deservingly, the chefs were invited out of the kitchen at the end of the meal to take their applause and a standing ovation.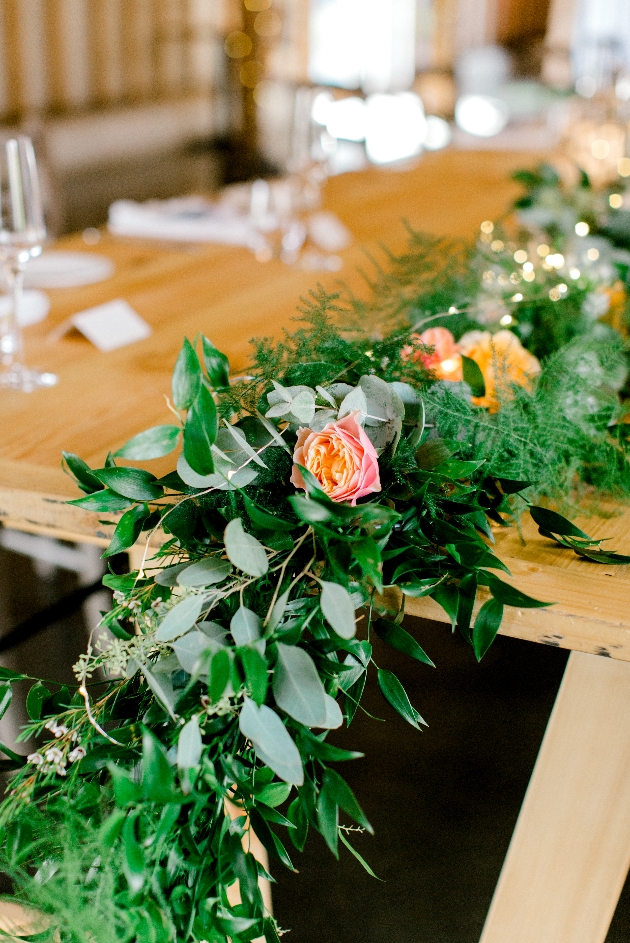 Following the wedding breakfast, everyone enjoyed his 'n' hers cocktails in honour of the bride and groom – espresso martini for Charlotte and an old fashioned for Josh. "As there were so few guests it gave us the opportunity to talk to them all, and there was a lovely relaxed atmosphere to the whole evening. Everyone commented on how special they felt being part of such an intimate day," the bride says.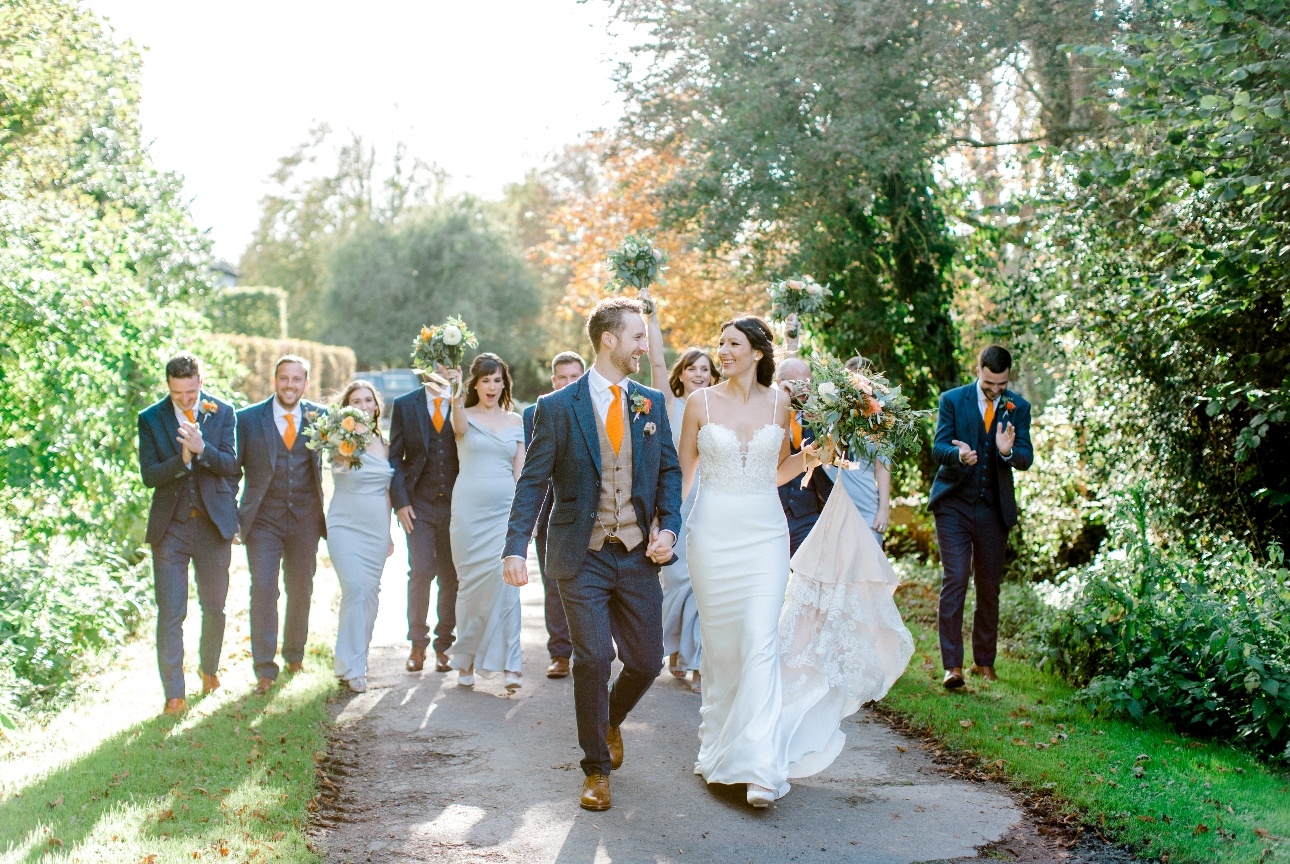 After all the stress and tears of planning and replanning a sense of calm washed over the pair on the big day as they finally felt they could relax and enjoy it. "My bridesmaids were concerned about how calm I was and kept asking if I was OK. But I was just excited that it was all finally happening," Charlotte laughs.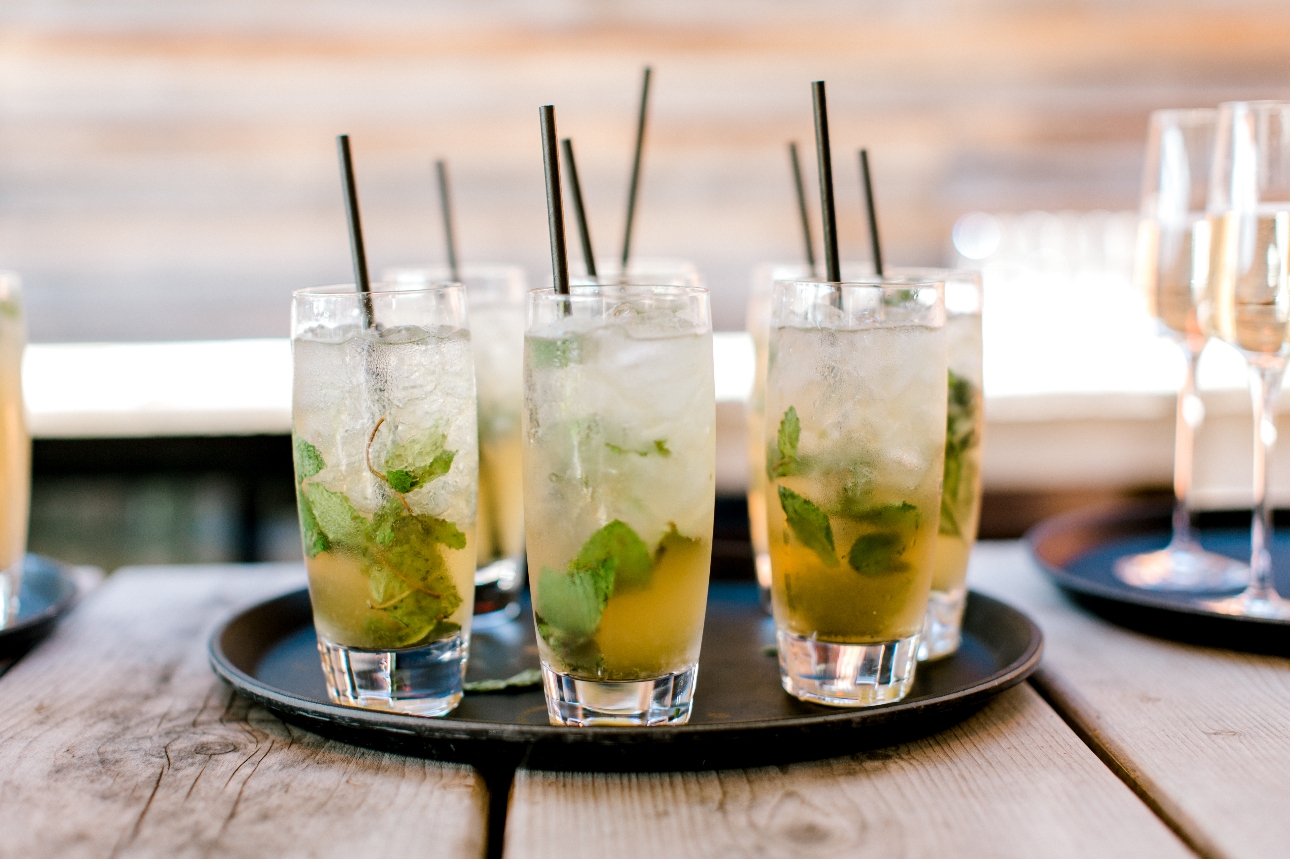 Saying "I do" in the venue's gorgeous Secret Garden meant no one had to wear face masks and thankfully the sun shone. The bride continues, "I'd always had a fear of becoming overcome with emotion and crying as I walked down the aisle, but I was so happy that I smiled the whole way. Writing our own vows was something we'd always wanted to do and being able to say those words to each other was incredibly special.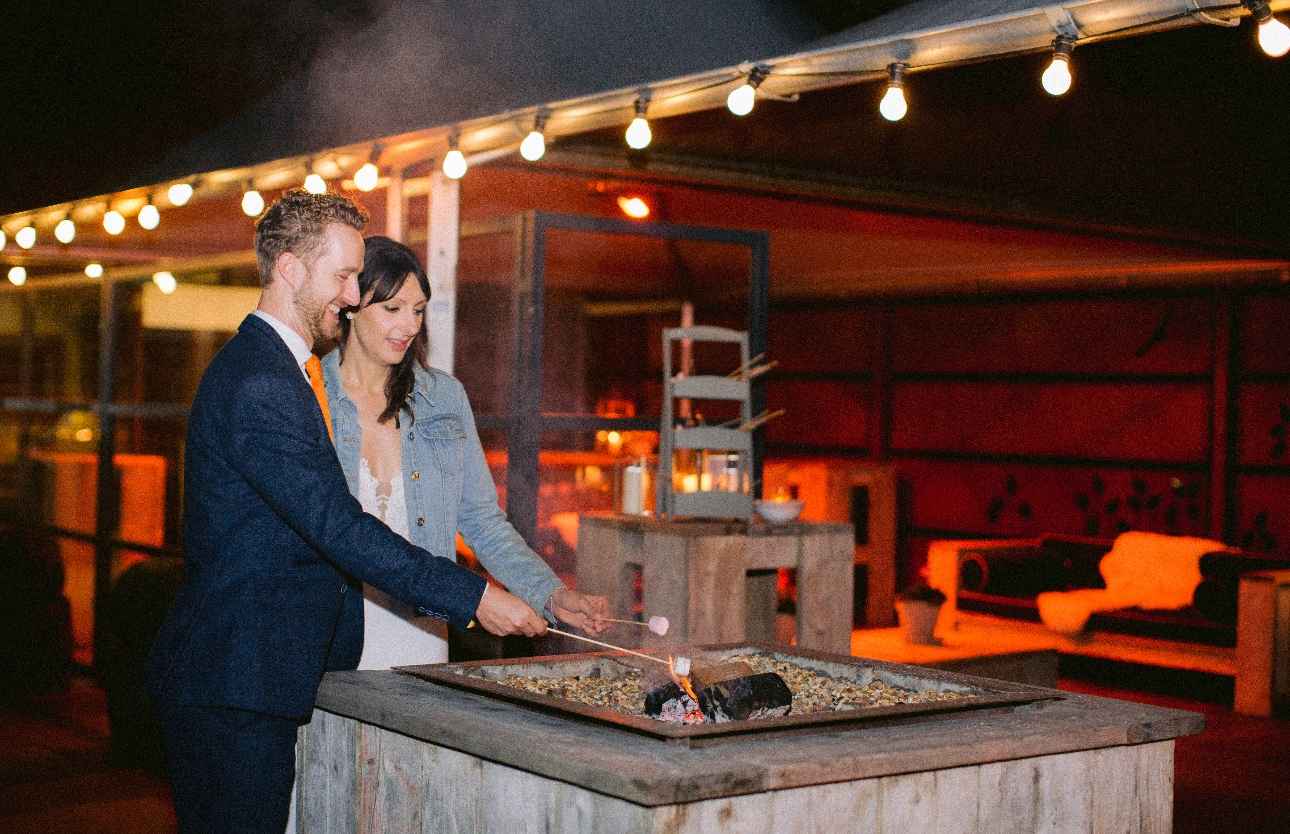 "The overriding emotion for both of us was an enormous sense of relief – after everything that'd happened it was finally our big day and it was absolutely perfect."
Charlotte and Josh's contact book