Melissa was 15 minutes late for her first date with Jim, leading him to believe he'd been stood up and mistaking a speaker for a seat in his distress. "He quickly realised though that a quarter of an hour is practically early for me," Melissa laughs. Despite her time keeping and his seating incident, they both had a wonderful time and set their second date for Valentine's just a few days later. "Jim met me off the tube with a rose and a bag of dolly mixtures," Melissa explains. That's true love for you!
Jim proposed in the kitchen of their new home where, having returned from collecting the engagement ring, he found Melissa in her pyjamas reading a magazine at the kitchen table. "I was absolutely blindsided as I always presumed I'd see it coming. Such was my shock that he had to propose again once I'd regained the power of speech!" she tells us.

St John's Church, Dormansland, is the bride's family parish and her dad sings in the choir there, so this was an easy choice for the ceremony venue. All they needed then was a reception location nearby. Melissa explains, "Buxted Park was one of the first venues we looked at and immediately knew it was right. It's a beautiful Georgian house with history spilling from every room, and the stunning grounds reflect the countryside we grew up in."

We couldn't wait to find out more about the couple's big day, which took place on 27th July, 2019…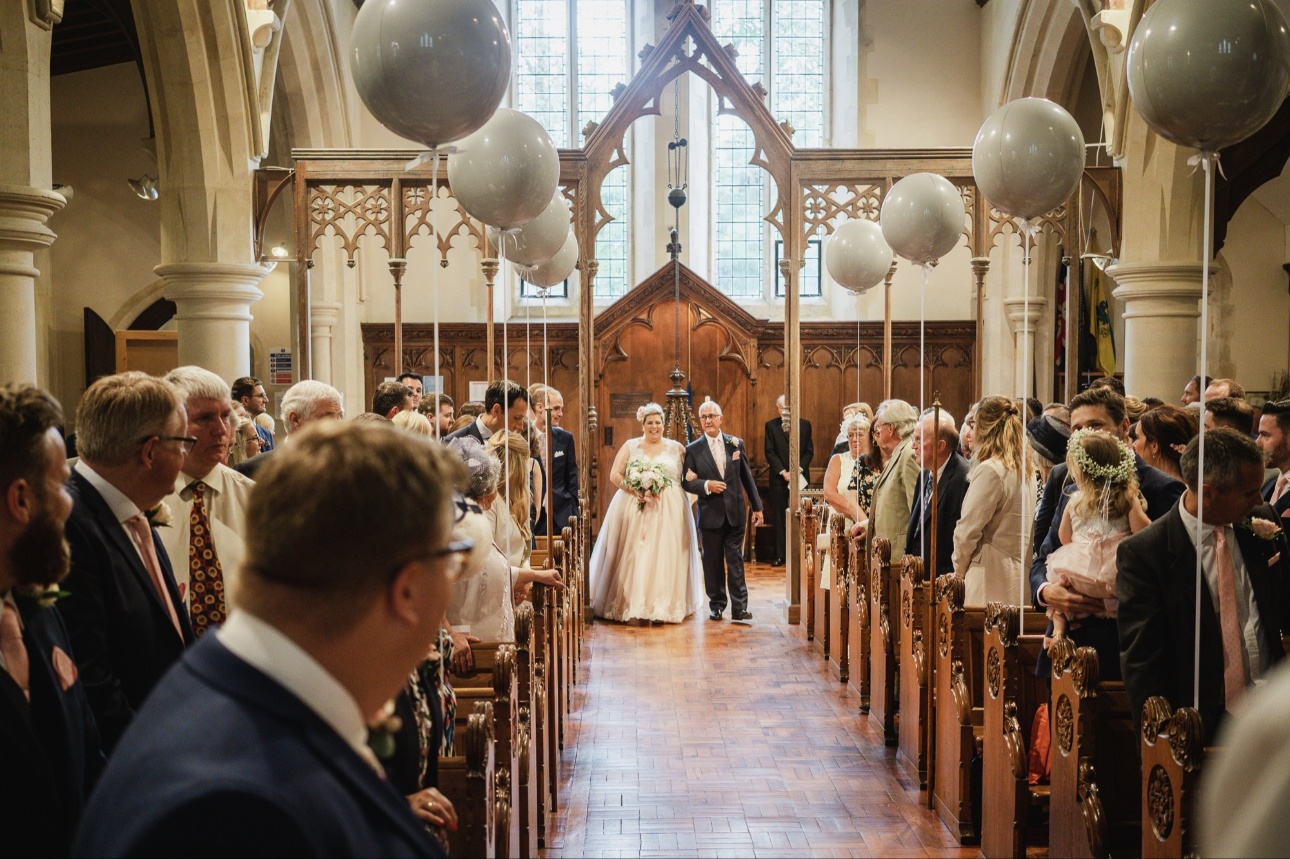 "We didn't have a particular colour palette or theme in mind, we mainly just went for bright and us," Melissa shares. The pair both work in film and television, so they wanted to incorporate elements of this. The table names were all labelled as cinema screens with a mini lightbox on each one. They created their table plan as a movie poster with their wedding as the main event. This was stuck to a board and surrounded by Hollywood-style make-up mirror bulbs and foliage.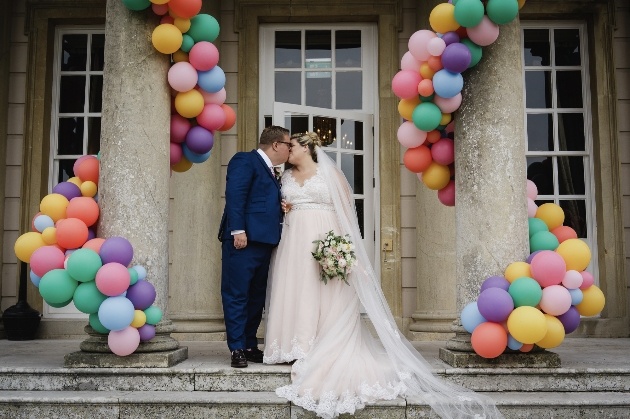 The centrepieces were a combination of high and low arrangements with either faux-blossom trees seemingly growing out of popcorn boxes, or gin-bottle vases adorned with reels of cinema tickets. The super-cool place names, designed by Jim, were in the style of old-school cinema tickets decorated with clapperboards. The groom also cleverly designed all of the table stationery, including menus, in the Art Deco style as a nod to Hollywood's golden age. When it came to the wedding favours the couple opted for Tunnocks Tea Cakes and Bars as the retro wrapping tied in well with the décor.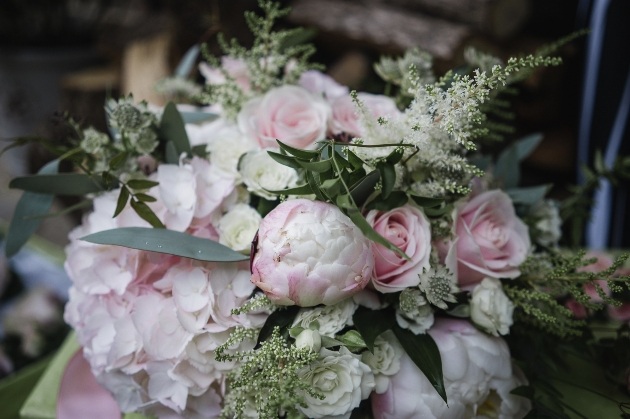 Hydrangeas were the showstoppers of the floral displays, being readily available in July. "They were all incredible," the bride says. Her bouquet was a mix of peonies and sweet avalanche roses to match the two in her hair. As well as lining the aisle, giant balloons also decorated the exterior of the church where they were anchored in gypsophila-filled churns. Each guest was asked to take the balloon at the end of their pew to the venue with them, where they were put to use decorating the reception space.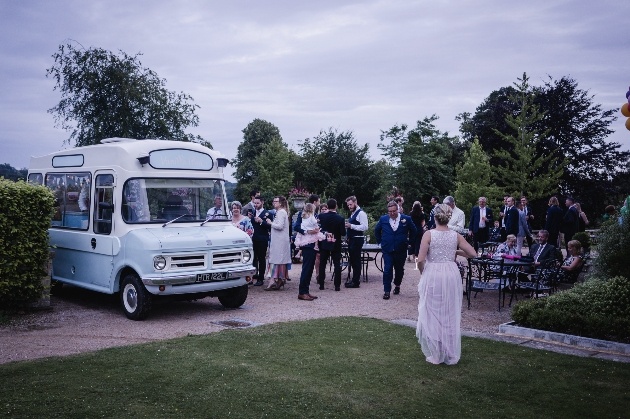 Creativity certainly prevailed at this wedding. With the combined talents of the couple and their wedding planner, Laura, there was a wealth of fabulous elements that made the event a memorable one. Melissa made a faux foliage backdrop with a neon sign for one of the venue's alcoves. This was used for cards during the day and in the evening it was transformed into a doughnut bar, which the couple had plumped for instead of a cake. Pinterest provided a wealth of inspiration from the personalised napkins to the peg board labelled: "Because no love story ever started with salad." Another alcove was used to house big rose gold tubs filled with glow sticks, for guests to grab on their way to the dancefloor. No corner had been left without care and attention; even a set of shelves between the reception room and bar had been given the five-star treatment with framed photos, unicorn candles, lightboxes and various knickknacks.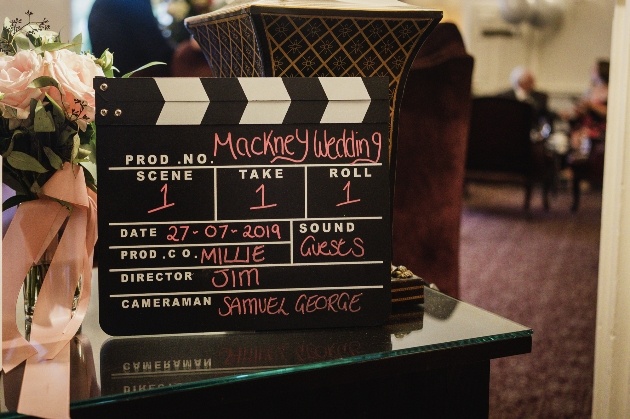 Buxted Park supplied the delicious catering, which the pair had a chance to sample at a menu tasting – "This was a really special and fun experience in itself," Melissa tells us. They selected sausages and mash, including vegan and vegetarian versions, rounded off with a sticky toffee pudding dessert. The bride has a top tip relating to the evening buffet: "Make sure it's set out somewhere people can see it. Drunk people want food, but aren't good at locating it!"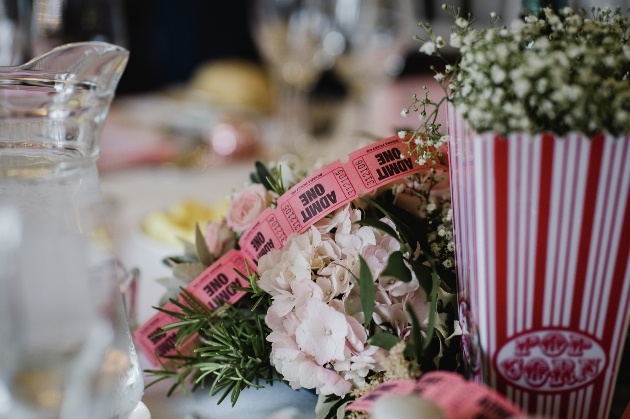 The evening ice cream was supplied by Vera the Vanilla Pod, whose team was very accommodating with a huge range of flavours including vegan ones. "There was a queue all evening," Melissa recalls. And as you may have gathered from the centrepieces, Melissa is a huge fan of gin, so the venue set up a gin bar on the steps leading out onto the terrace, following the wedding breakfast, to freshen everyone up.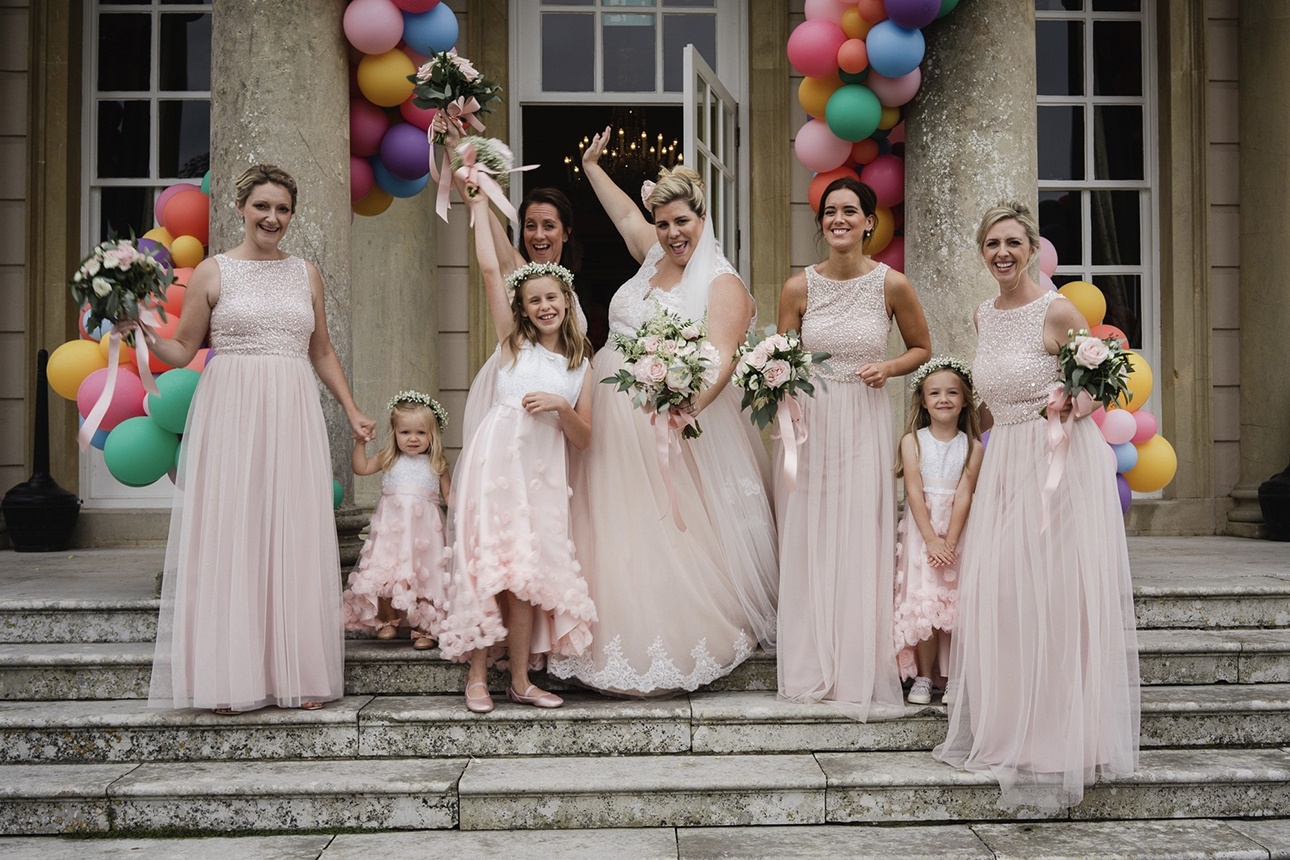 "I didn't think there'd be many options for me to buy a dress from a boutique, not being a conventional size, so I was on the hunt for a bespoke dressmaker," Melissa shares. However, her best friend suggested she try on some beforehand to get a feel for shape and colour. As soon as they entered Cambridge Bridal Studio Melissa saw the one on a mannequin and was ecstatic to discover it was the right size. The beautiful blush gown hadn't been something she'd considered, but it was love at first sight.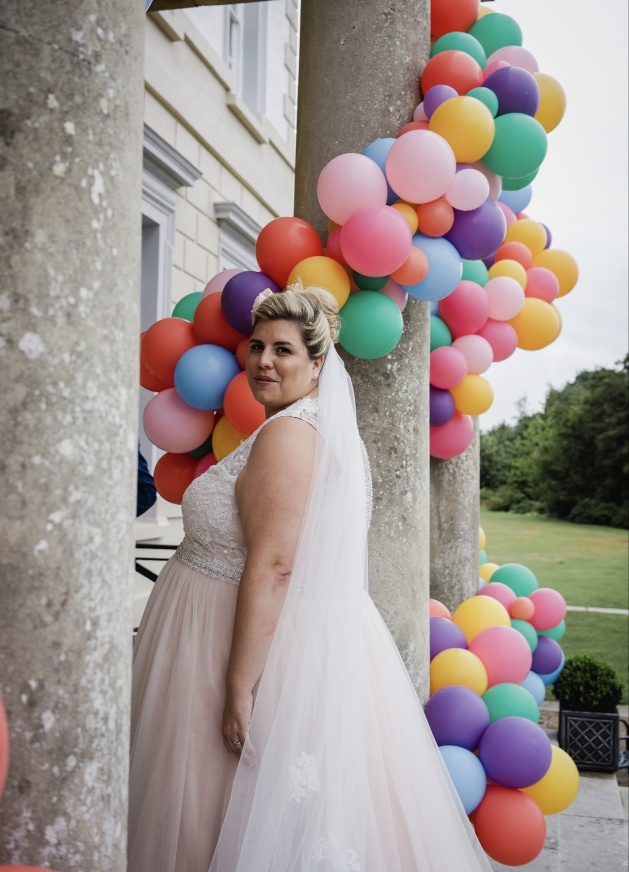 With the dress being the main event, the bride opted for simple accessories, including a pair of Carrie Elizabeth earrings, gifted by the groom on the morning of the wedding. Melissa says, "Jim always looks up who I follow in Instagram, then researches accordingly. I'm very lucky."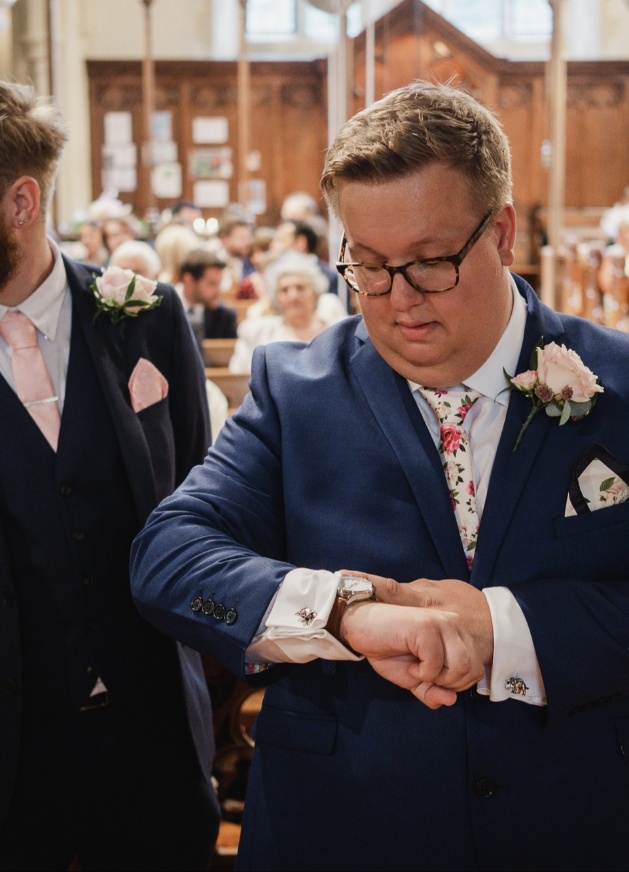 In the evening the bride switched up her look changing into a bespoke evening dress by Felicity Westmacott. "It was a great opportunity to unpick the confetti from my hair and have another event, as it had all been kept a secret to surprise Jim. I still felt like a bride, but one that could do the Macarena and high-kick to Footloose without falling on her face!"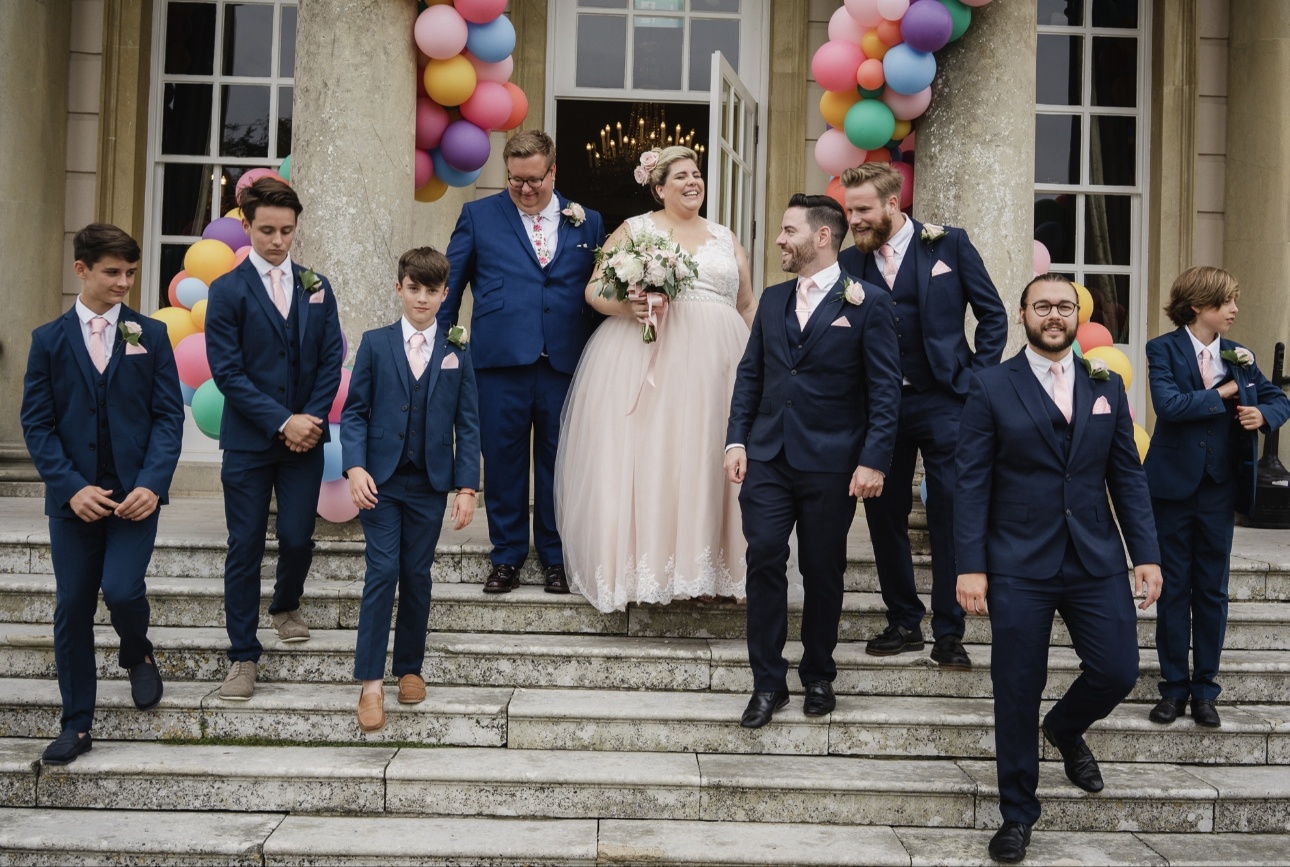 Jim's suit was bespoke Ben Sherman, which made him feel like a million dollars, and his floral Ted Baker tie and pocket square complemented the bride's dress beautifully. The groomsmen wore navy three-piece lounge suits with pink ties.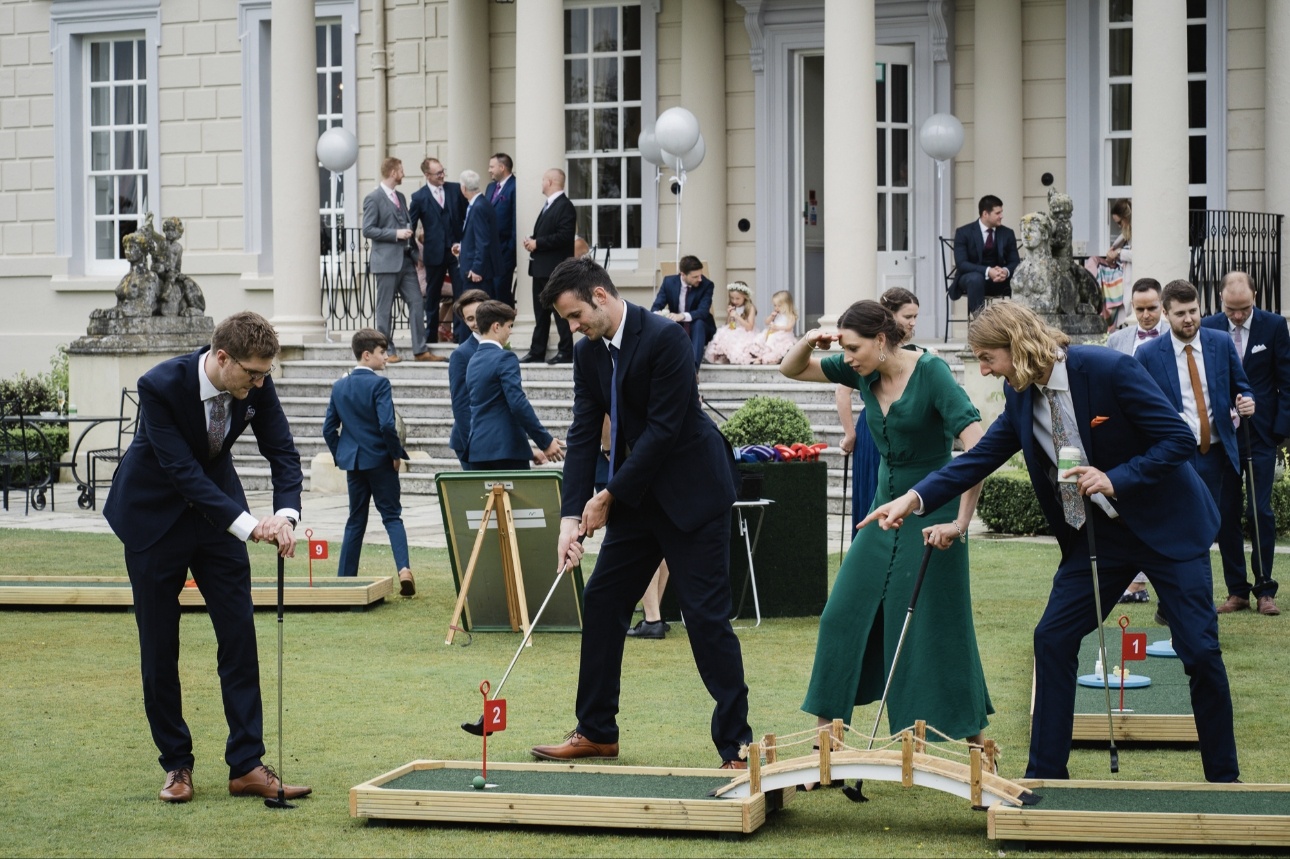 The hue of the pretty bridesmaids' dresses fitted in well with the rest of the bridal party attire, and most importantly, they passed the comfort test.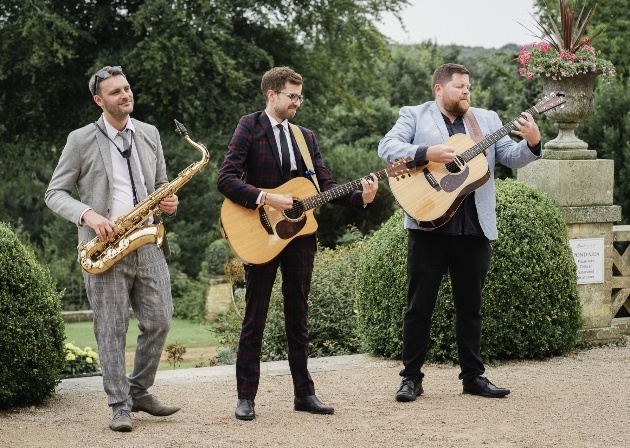 The couple knew what they were looking for to entertain their loved ones: an acoustic walking wedding band. "We scoured YouTube until we found Wandering Hands, who took the day to another level. They created the most wonderful moment during reception drinks and lit up the room from the start of the wedding breakfast," Melissa recalls.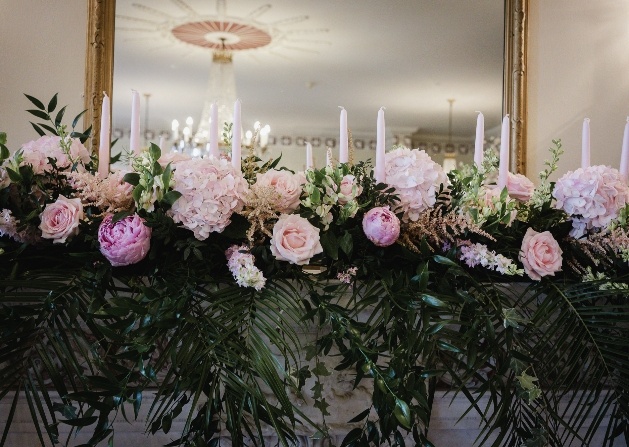 Guests were also thoroughly entertained with mini golf on the terrace, a photo booth and a glitter bar. Apologies from the bride to housekeeping who had to deal with the aftermath of the latter on pillows the next day!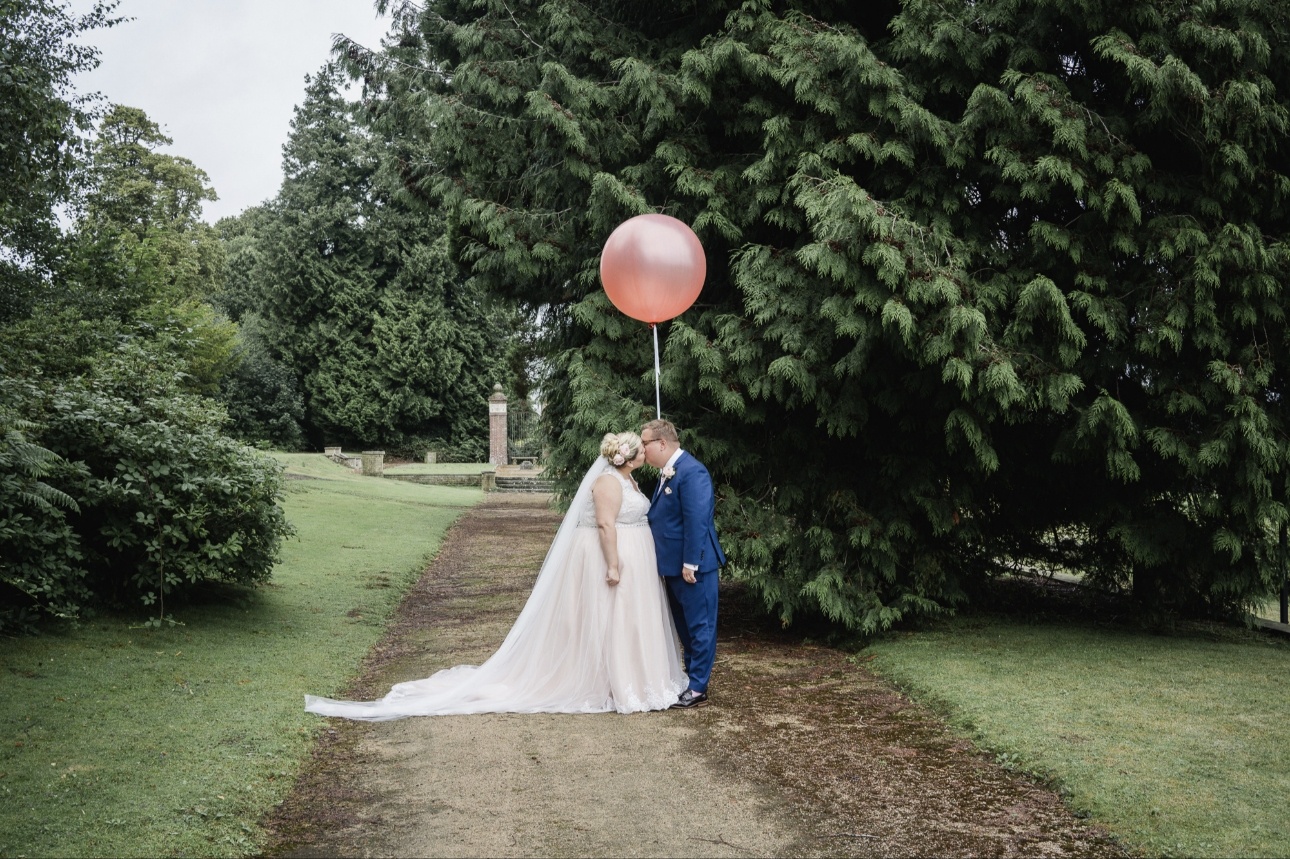 A DJ set rounded out the night. Disco Fever offer an online facility to upload your own playlist and detail requirements for the first dance, last 20 minutes of songs, last song and so on, allowing for perfectly curated wedding music. "Our party was just epic!" Melissa concludes.
Melissa and Jim's contact book