Rosie and Rhys were wed on 25th August, 2018, at Pangdean Old Barn with a romantic rustic theme.
Rosie and Rhys were childhood sweethearts. Rosie went to the girls' school and Rhys to the neighbouring boys'. Rosie remembers: "Rhys asked me out over MSN Messenger. Not particularly romantic, but that was the thing back in 2007!" Ah, so true! Rosie had no idea that Rhys had been harbouring a crush, but she did have the feeling that things would either go terribly wrong or last a very long time. "Now, here we are, more than 11 years later and married," she smiles.

The pair were on holiday in Mauritius, celebrating their 10th anniversary, when Rhys popped the question. On the way to dinner one evening, they passed a wishing tree. The idea of which is that you write your deepest wish on to a piece of paper and hang it from the branches. Rhys drew to a halt and suggested they take a look at some. "Why on earth would I want to read someone else's wishes?" Rosie wondered. As time went on, poor Rhys started to look a bit flustered. It materialised that, bless him, he'd popped out earlier in the day to write his own wish and pin it to the tree – "Will you marry me?" Except he couldn't find it! But where there's a will, there's a way. He wrote a new note, and when Rosie turned around, he was on one knee.

Here the bride shares more memories of their big day…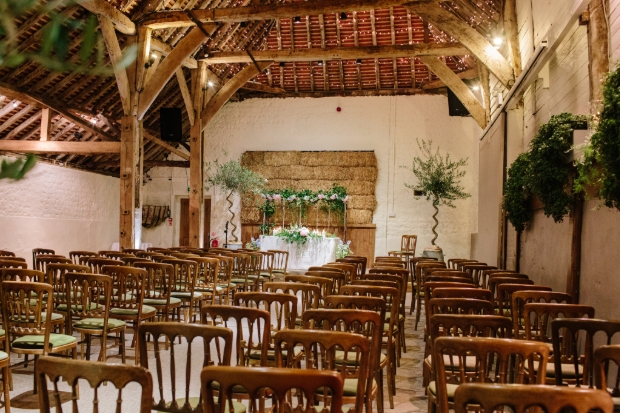 We always knew we wanted a barn wedding. Pangdean was only the second venue we saw, but when we walked in, we both got butterflies, instantly falling in love with its rustic yet sophisticated style.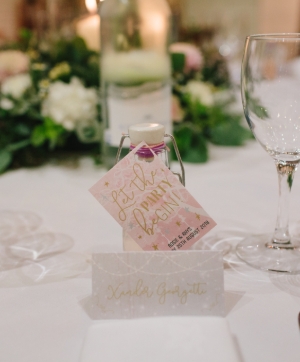 To fit in with our pastel colour scheme, we opted for little bottles of rhubarb gin. Each had a note attached, saying "let the party beGIN."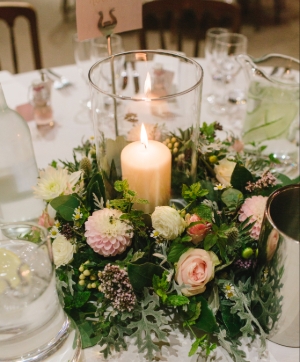 We chose fresh, rustic, large loose meadow blooms, light in colour with pops of pastels. The flowers surrounded lanterns and candles to form our centrepieces.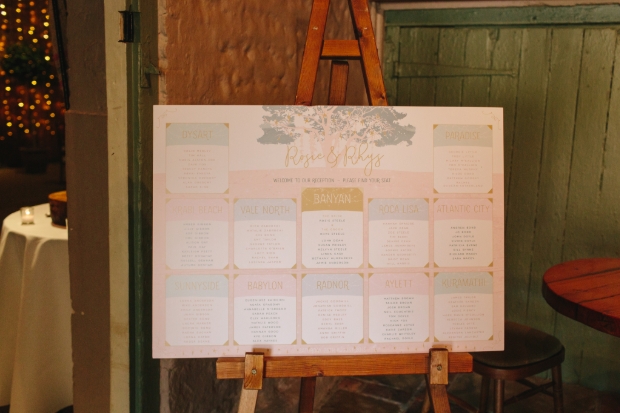 The tables were all named after places or song titles that had a significant meaning to our relationship.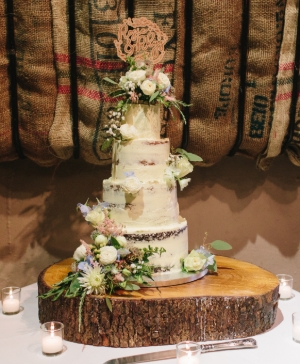 Fresh flowers also decorated our semi-naked four-tier wedding cake. The flavours were strawberry and champagne, chocolate, and carrot. It really fit the rustic theme, and the flowers tied it in with the rest of the décor.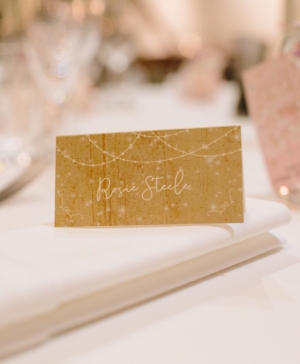 The place names were pastel in colour, with guests' names penned in gold calligraphy. The fairylight motif mirrored the venue's ceiling, and they matched our invitations to keep the theme running through the day.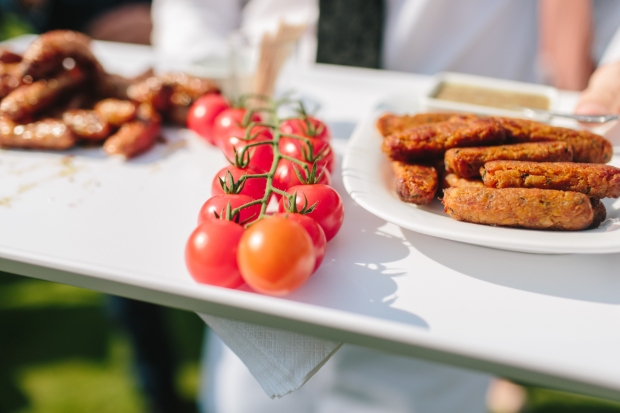 The food was incredible, and the portions were really generous! We started with a range of delicious canapés before moving on to a starter of maple-smoked chicken with a goat's cheese, pine nut and pancetta salad and a main course of pork belly with cider gravy. There were some great vegetarian options as well.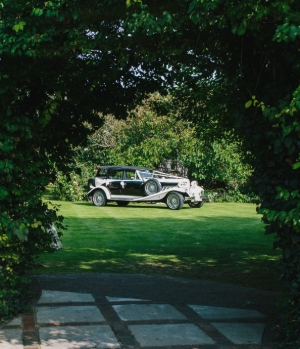 I arrived at the venue with my father in a Beauford 1930s-style open Tourer, which was absolutely gorgeous.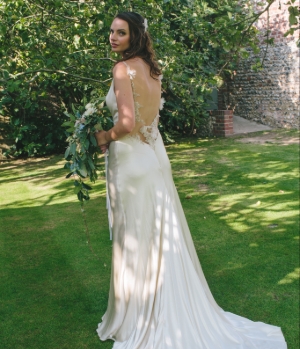 The dress was quite simple at the front with a detailed low back, so I kept accessories to a minimum to show it off. I did have some forgetme- not lace blossom hair pins from Liberty In Love, which complemented the back perfectly.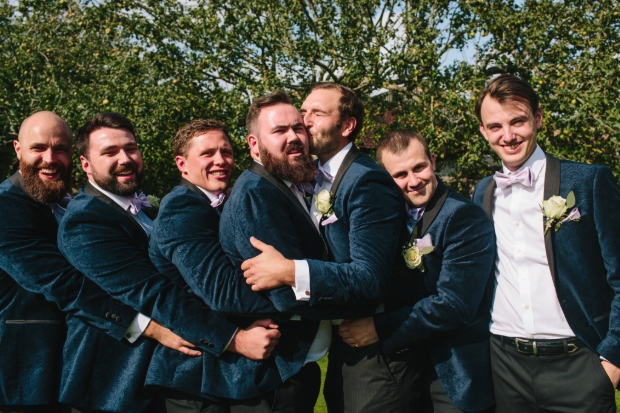 Rhys and the groomsmen all wore black trousers, white shirts and a dark blue velvet suit jacket from Next, embossed with a light paisley pattern. The gents all wore pastel pink bow ties and matching wooden initialed cufflinks. Rhys stood out with his paisley patterned bow tie and shoes with a flash of matching blue velvet.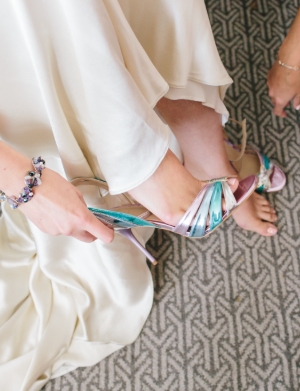 I based our whole colour scheme on my shoes! My something blue, they're called "Jool" from KG by Kurt Geiger.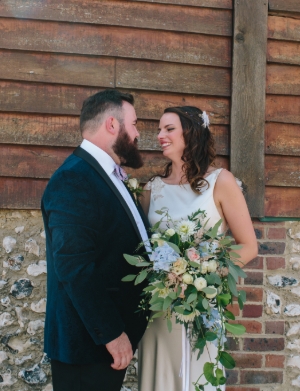 I wore Nadia by Sassi Holford. I found it at a sample sale, and it was only the third dress I tried on, but it felt perfect. It was actually the first thing I bought for the wedding.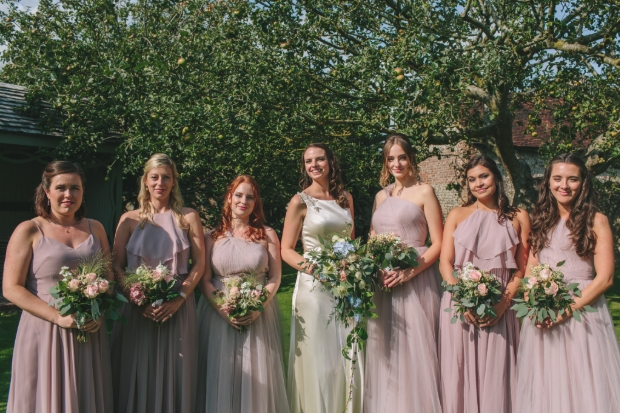 The bridesmaids all wore dresses from TH&TH in varying styles to suit their shapes in a mixture of smoked orchid and smoked blush.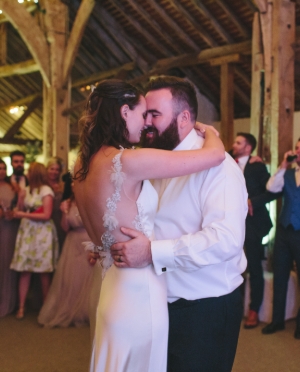 Our band, Dirty Weekend, was awesome and performed festival-style sets that had everyone up on the dancefloor.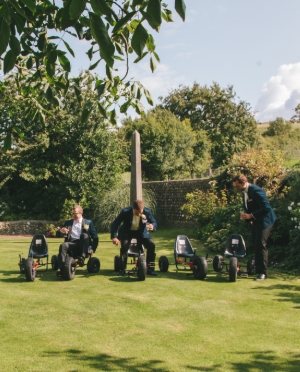 During the day, we had go-karts and croquet out in the garden, which brought out the inner kids in our guests!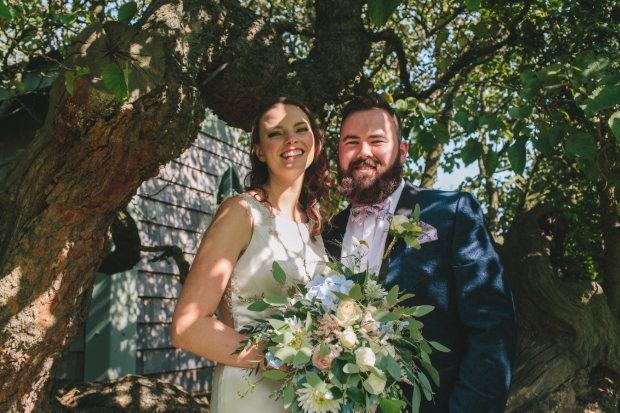 Rosie's top tip:
When planning, try not to worry about what anyone else will think. Remember the day is about the two of you, and you should have your day exactly how you want it.