Despite attending the same school, Chloe and Luke never shared more than the occasional chance meeting at the time. It wasn't until a mutual friend encouraged Luke to join him at an Explorer Scout meeting, which Chloe was leading, that the pair started to get to know each other. They quickly hit it off and were out on their first date a couple of months later.

Although they'd discussed the idea of getting married at some point in the future, when the proposal did come it was nevertheless a surprise for Chloe. "We were on holiday in Suffolk and visited Eye Castle where we ventured to the top of the viewing platform. I spent five minutes trying to read a plaque there, and by the time I turned round Luke was on one knee," Chloe remembers. Fortunately, his joke over breakfast about her having something sparkly by the end of the day had completely passed her by!
After viewing almost every venue in West Sussex, the couple agreed that Fitzleroi Barn was the one. "We loved how it felt like home and the barn itself is absolutely beautiful," Chloe explains, and continues, "It was also important to us that we had full access the day before, as we knew we wanted to do a lot of the decorating ourselves."
Join us as the bride shares her account of their autumnal big day…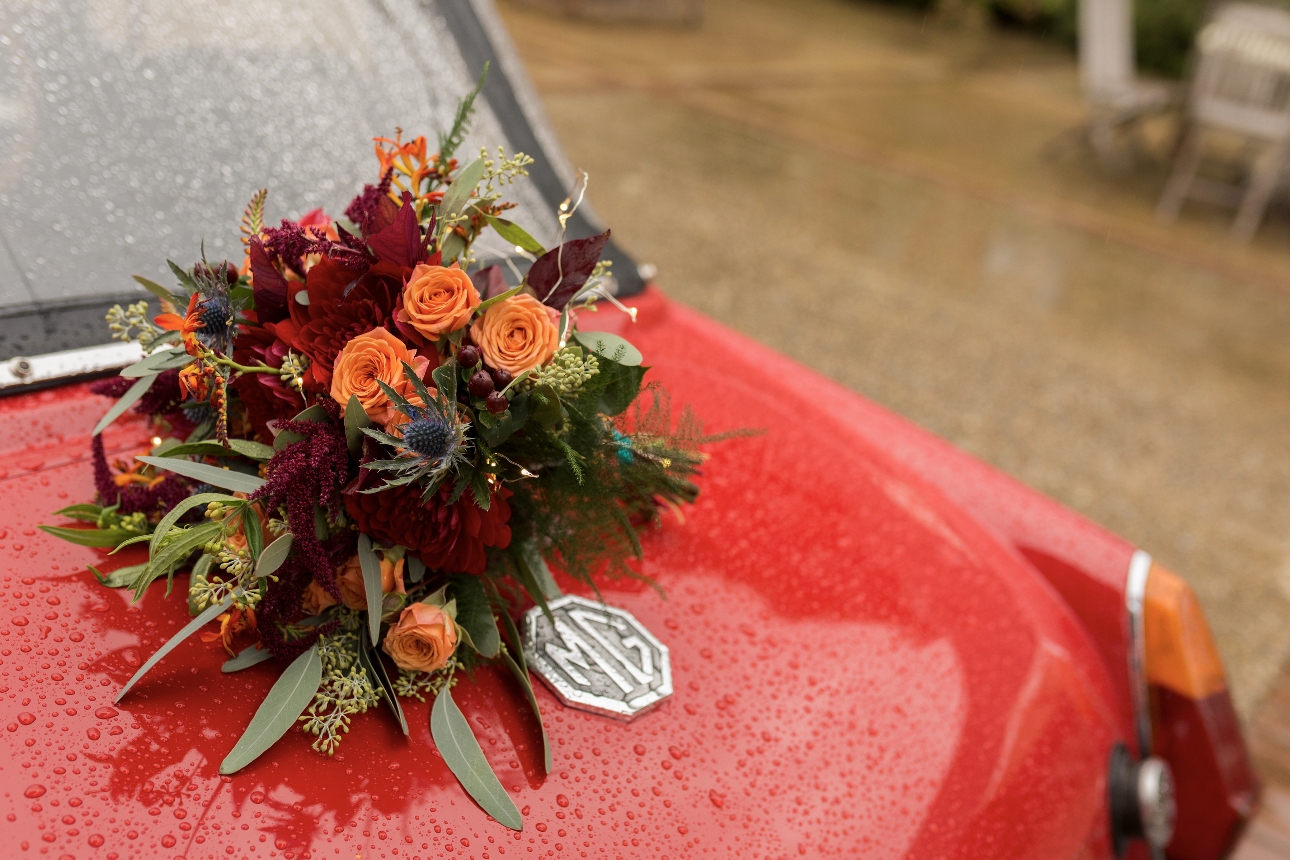 The bride and groom opted to infuse their venue with a gorgeous seasonal feel, featuring hues of orange and teal. "We chose to get married in October, because we love the autumn, and wanted to nod to the fact that it was Halloween month with pumpkin centrepieces," Chloe explains. Even the top and cake tables were adorned with pumpkins and gourds. The bouquets, buttonholes and top table arrangement, were all designed in a mix of autumnal orange and red shades to complement the bridesmaids' shoes. The displays featured stunning chrysanthemum, crocosmia, amaranthus, orange roses and eucalyptus.
The couple regularly holiday in Brittany, France, where they love nothing more than sampling the local cider. So, as well as having wine on the tables, an accompaniment of this cider was a clear winner. Chloe tells us, "In Brittany, it's drank from traditional cider cups, so we decided we wanted to gift these to each of our guests to use at the wedding, and take home afterwards."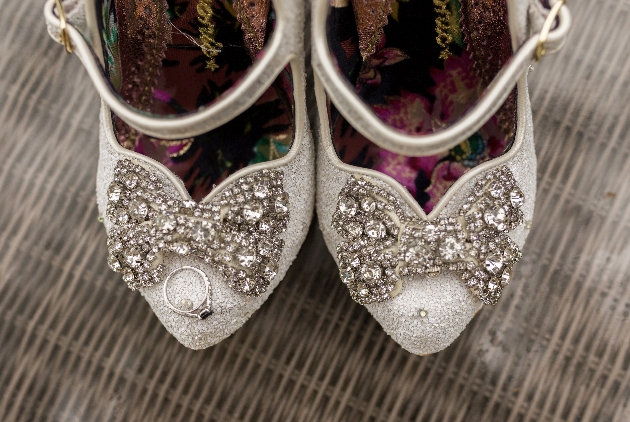 Being avid board gamers, the pair took their on-the-day stationery inspiration from one of their favourites – Ticket to Ride. The game involves train trips between cities, so they decided to name each table after a journey they'd taken together. Chloe owns a wedding stationery business so the stationery was designed by her, featuring the table plan designed to look like the game's board. She also designed place names for each guest, with the menu inside. She then finished each one with a handmade ceramic leaf to complement the day's theme.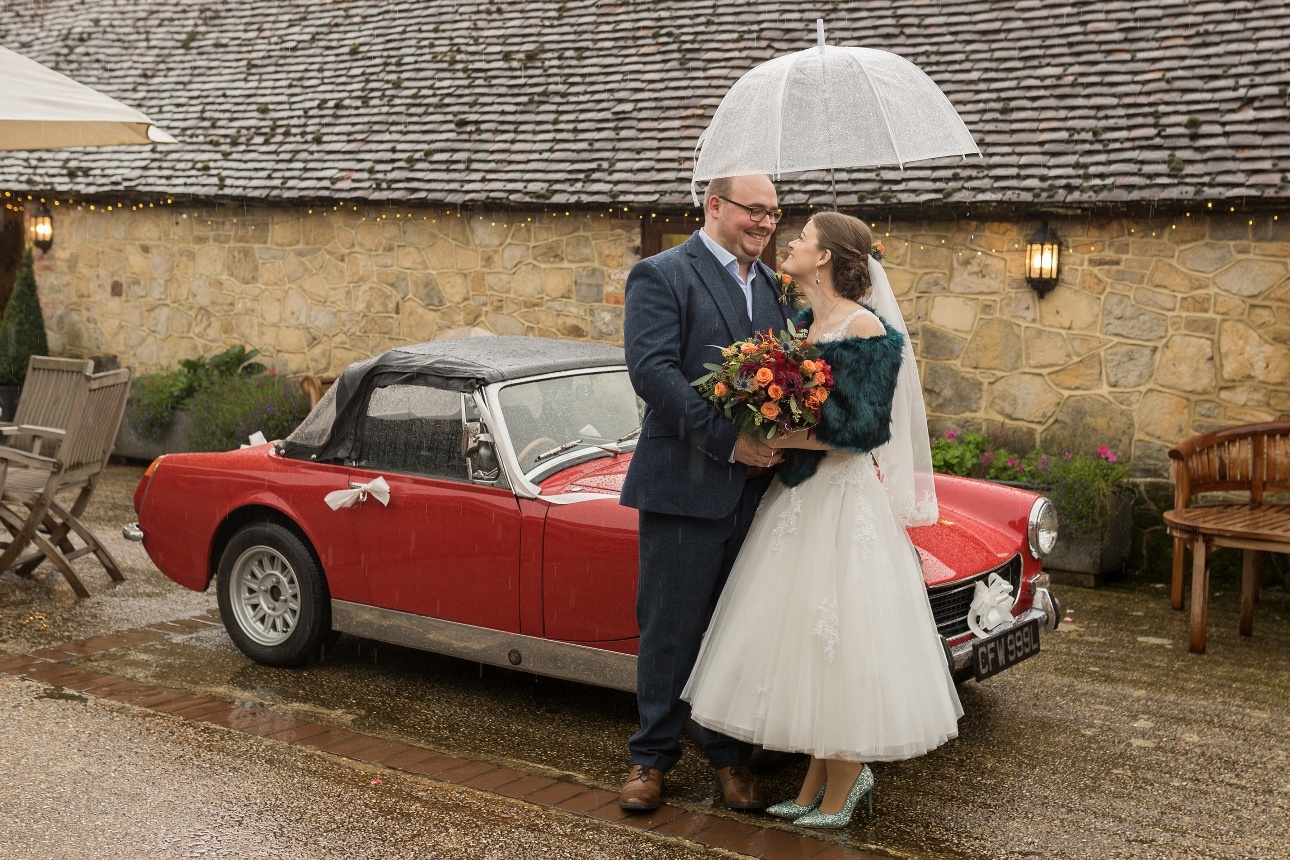 A week before the wedding, they discovered a maple tree in their friend's garden that was dropping its leaves, and saw a further decorative opportunity. After a fair few nights of collecting, washing and pressing leaves, Chloe's sister, Katy, then threaded them onto string to hang from the balcony and down the staircase in the main barn.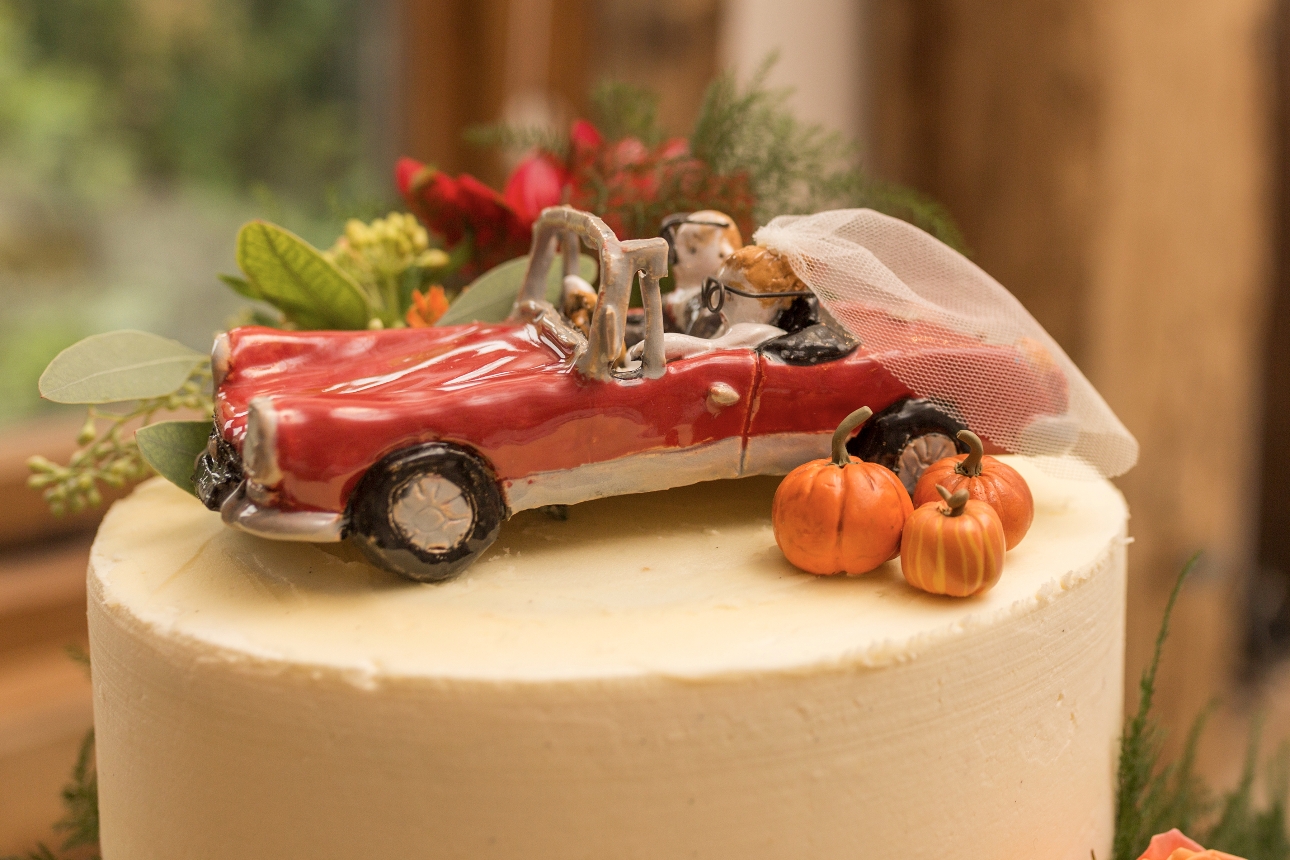 It was important to the pair that their MG Midget, Frank, play a part in their day. "She's the first classic car we've owned," Chloe explains. Luke ensured the car was decorated in ribbons as a surprise for the bride, and her dad drove her to the barn for the ceremony.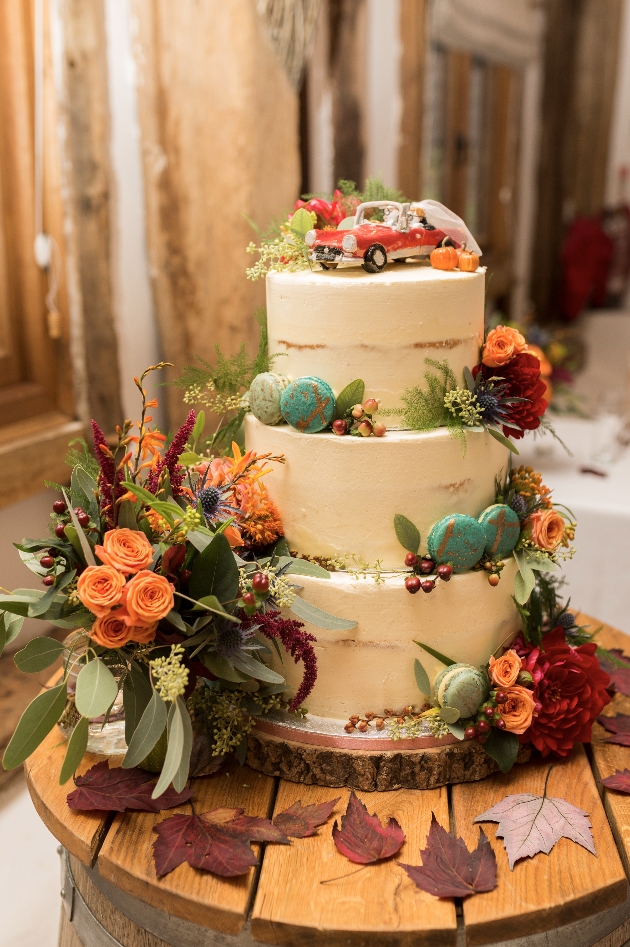 A mutual friend, Emma, made the big-day bake, which boasted three different flavoured tiers – spiced apple, salted caramel, and lemon. It was finished with mini macarons in teal and copper, and decorated with flowers. Another friend, Laura, from Malthouse Ceramics, made a bespoke cake topper in the form of the classic MG Midget, with the bride and groom sitting inside. "We were both absolutely blown away when we saw the finished cake," Chole remembers.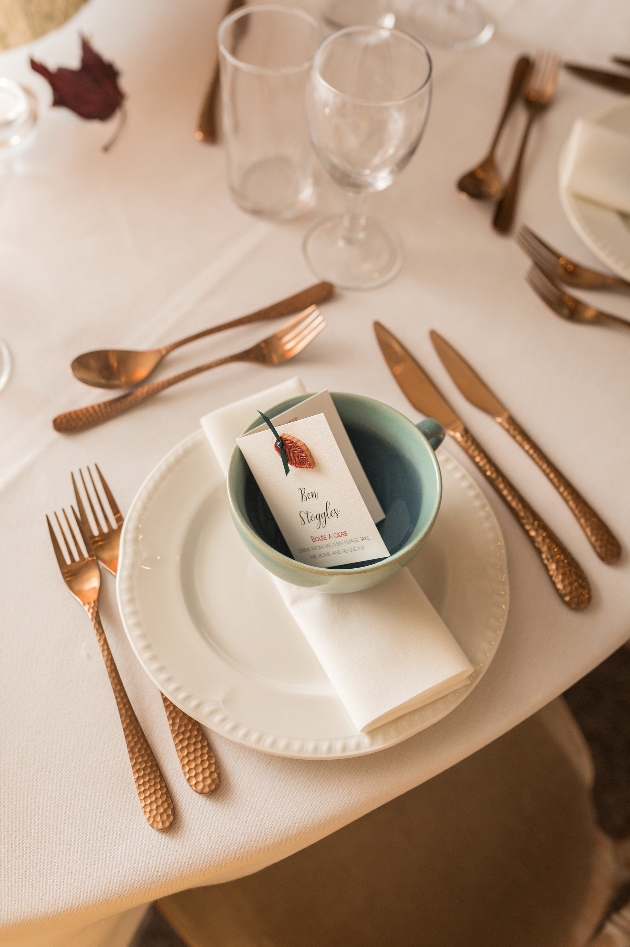 The venue furnished the couple with a list of approved caterers, and they eventually settled on Good Taste Catering, who created a three-course meal for the wedding breakfast. "We just wanted cosy, homely food, because we were expecting the weather to be fairly cold," the bride explains. The meal began with sharing antipasti platters, which were followed by either pork in cider sauce, or beef carbonnade. They finished with a trio of desserts, including sticky toffee pudding, chocolate tart and a meringue topped with rhubarb and ginger. In the evening, guests were treated to a barbecue.
The bride had always dreamed of a tea-length dress – "I knew it would be easier for dancing, and I was very aware that it might be a wet and muddy day," she explains. However, she'd struggled to find the one, until she was advised to look at A-line gowns that could be taken up. This opened up a new world of possibilities and she found her dream dress at a sample show. After a local seamstress altered the length, the mother-of-the-bride used the spare fabric and lace to make the veil.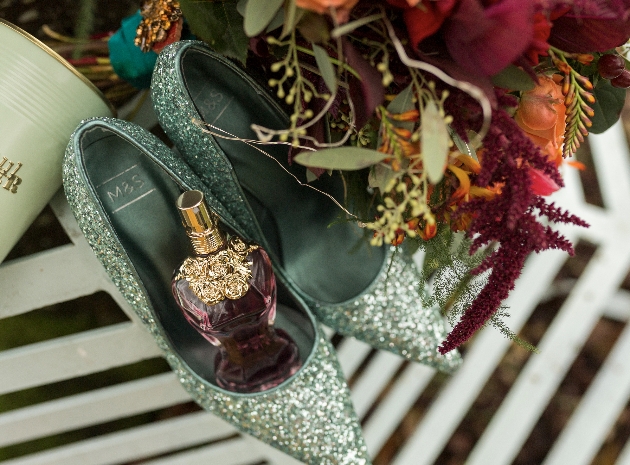 Given they'd be on show all day, the shoes had an important role to play. Chloe says, "I decided I wanted two pairs, so I wore a glittery teal pair to complement the bridesmaids' dresses, and then changed into a pair of Irregular Choice heels for the evening." The look was completed with a teal faux-fur stole that she slipped on for warmth during the outdoor photos.
Luke wore a blue herringbone three-piece suit, while the groomsmen complemented him in navy suits, teamed with herringbone waistcoats. All of the gentlemen, including the groom, went tieless, and wore pale blue shirts, instead of white, for a casual and comfortable look.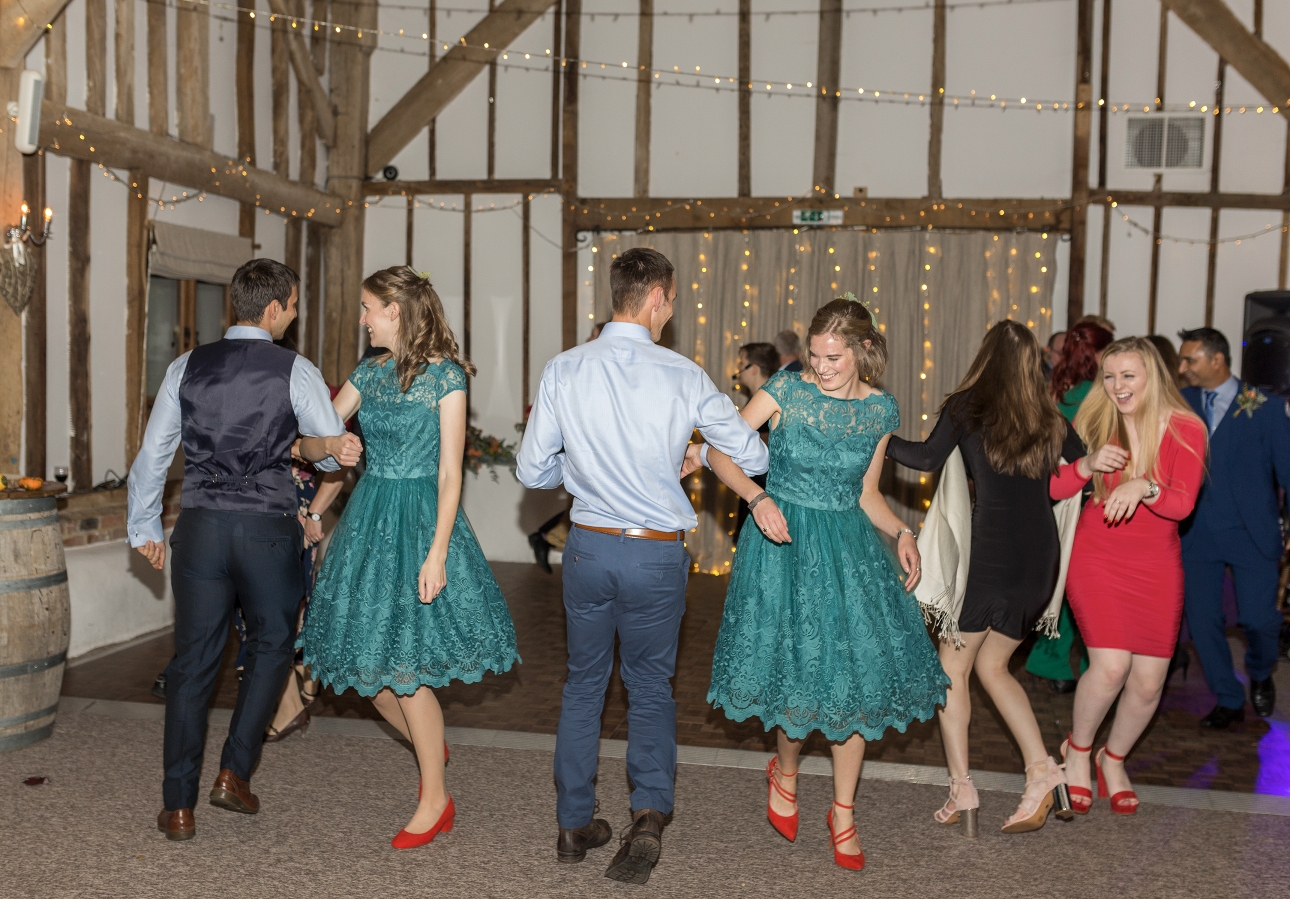 The bridesmaids wore matching teal, knee-length dresses, with a lace finish. These were paired with flame orange shoes, which matched their bouquets. They all wore their hair down, with springs of eucalyptus pinned in. Both bridesmaids and groomsmen wore accessories handmade by Chloe, featuring ceramic leaves in necklaces for the ladies and cufflinks for the gents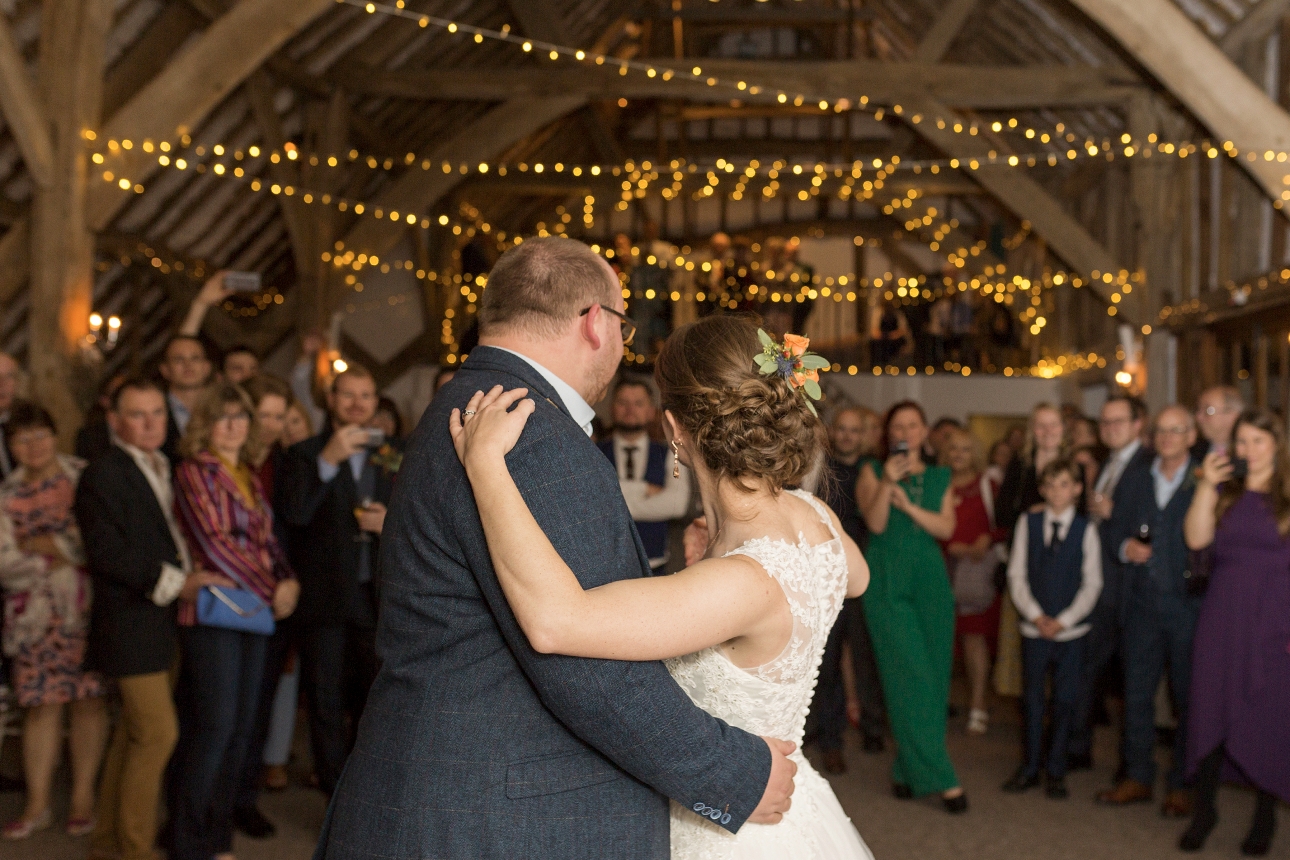 A local band, Taylor Maid, entertained guests at various points throughout the day. They first appeared as a trio playing a selection of jazz and blues tunes during the canape reception. Then, they returned with more musicians for the evening ceilidh. "We decided to have a ceilidh early on in our planning. They're a great way to get everyone of all ages and abilities up and joining in. It was a big hit with our guests, and even those who didn't want to dance enjoyed the show," Chloe tells us.
Chloe and Luke's contact book