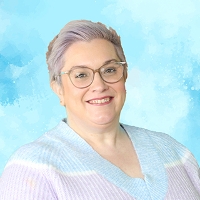 Get to know Kelly Andrews, editor of Your Sussex Wedding, with these top 10 questions.
What do you love most about working on Your Sussex Wedding?
I feel incredibly lucky to work on Your Sussex Wedding. It's such a wonderfully diverse county – history, stunning coastline, beautiful countryside, it just has everything and venues to match! I'll never get tired of writing about this lovely county and what it has to offer our brides.
Describe the style of a Your Sussex Wedding bride?
I wouldn't want to pin her down to one specific style. There are so many amazing bridal looks available and I believe there is a Sussex bride out there for every one of them. I'd like to think she's friendly and fierce in equal measures, knows exactly what she wants and goes for it. She is of course the epitome of her own individual style, whatever that style may look like.
What's your favourite feature to write for Your Sussex Wedding?
I just adore a styled shoot! With so many talented suppliers in Sussex, they never fail to amaze me with the quality of work they produce and the level of sheer inspiration they turn out. True #weddinggoals. Believe me, selecting images for these features is like choosing a favourite child!
If you were to get married what type of wedding would you have?
I think I'd have to have a grand affair surrounded by my beloved parents and valued friends. I wouldn't want to leave a single one of them out, so the guest list would be mammoth! One thing I know for certain is that the ceremony would be held at the church I have attended my whole life, I couldn't imagine being married anywhere else. Since working at County Wedding Magazines, I've become completely in awe of the atmosphere a historic venue can provide, so it'd be off to the nearest castle or stately home for the reception. I love the idea of the sophisticated elegance brought by the navy and rose gold combination, which is my current theme obsession. I see bridesmaids in navy and groomsmen in black tie. Now all I need is a groom who'll actually put up with me and agree to all of the above!
Who would be your number one wedding guest and why?
Definitely Stephen Fry. He'd be the perfect wedding guest. Such an intelligent and witty raconteur, he'd be bound to delight guests with fascinating conversation all day.
What are the five words that best describe you?
I need a cockerpoo puppy
What books do you enjoy reading?
The only book I've ever read more than once is Jane Austen's Pride & Prejudice, so that would always have to be given the award for my favourite novel. I'm a huge fan of a murder mystery – I never miss a Linwood Barclay and also love Douglas Coupland. I first read Miss Wyoming at university and have been hooked ever since.
What three items could you not live without?
The Bible, my blu-ray player and my car, Elliott!
Favourite food?
Italian food is amazing, lasagne is my top nosh. And chocolate… always chocolate!
Where are you happiest?
When singing with the choir I'm a member of, without question.
Contact me
I'd love to hear all about your plans for your big day, or whether you'd recommend your wedding suppliers. Alternatively, let me know about any budget-saving tips you feel may benefit other readers. Email me at editor@your-sussex.wedding.