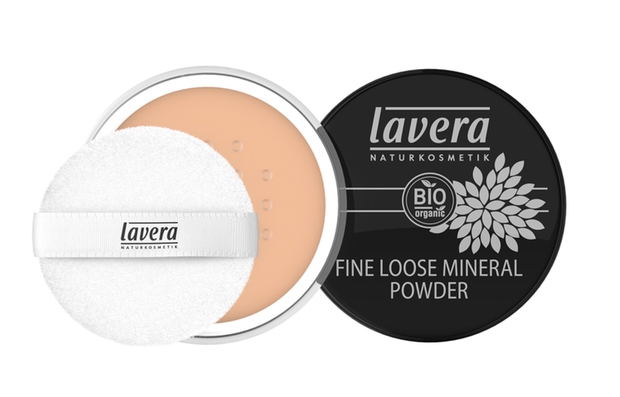 Lavera's product launches are all you need to enhance your natural beauty with ingredients that are kind to the skin and to the environment.

Mattify and perfect your complexion with the Fine Loose Mineral Powder, add a touch of spring pink blush with the So Fresh Mineral Rouge Powder and highlight your best features with the Illuminating Effect Fluid.

Lavera is one of the leading certified natural and organic beauty brands in the world. Its products are certified natural and organic by NATRUE, free from paraffins, parabens, silicones, PEGs, synthetic colours, artificial fragrances, chemical preservatives - and are never tested on animals.

More info on the new lavera products:
lavera Mineral Rouge Powder - Columbine Pink, 4.5g/£12.90
The silky soft lavera Mineral Rouge Powder in Columbine Pink, with light reflecting pigments, adds a touch of colour to your cheeks, giving a natural radiant, healthy looking blush. The mineral rouge powder duo has two lovely shades of pink, which can be used separately or combined together.

lavera Illuminating Effect Fluid - Sheer Silver, 30ml/£14.90
The lavera Illuminating Effect Fluid in Sheer Silver will leave your skin with a silver toned radiant glow. This ultra-light textured organic highlighter contains light reflecting pigments and pearl extract, to illuminate and enhance your favourite features. The lavera Illuminating Effect Fluid also contains nourishing shea butter and jojoba to care for the skin.

lavera Illuminating Effect Fluid - Sheer Bronze, 30ml/£14.90
The lavera Illuminating Effect Fluid in the colour Sheer Bronze highlights and brightens your complexion, giving your skin a wonderful summer glow. The texture of the illuminating fluid is ultra-light and absorbs easily into the skin, leaving a subtle iridescent shimmer. The skin-friendly highlighter contains natural and organic ingredients of organic jojoba oil and organic shea butter to add moisture to your skin. Pearl extract freshens your complexion and adds a touch of radiance to your look!

lavera Fine Loose Mineral Powder, 8g/£15.90
The lavera Fine Mineral Powder will help to hide imperfections, even skin tone and create a matte base. The very delicate lightweight silky smooth mineral loose powder contains organic ingredients and high-quality light reflecting minerals, leaving your complexion looking both matte and more refreshed. This powder can be used to set liquid foundations and to mattify the complexion throughout the day, and it can also be used on its own for a more natural look.
Suitable for vegans and available in four shades; Transparent, Ivory, Honey, Almond.

Available from independent health stores nationwide and online at www.laverauk.co.uk



SILKUP has launched its first product; the Luna, a silk hair wrap that protects hair while sleeping!