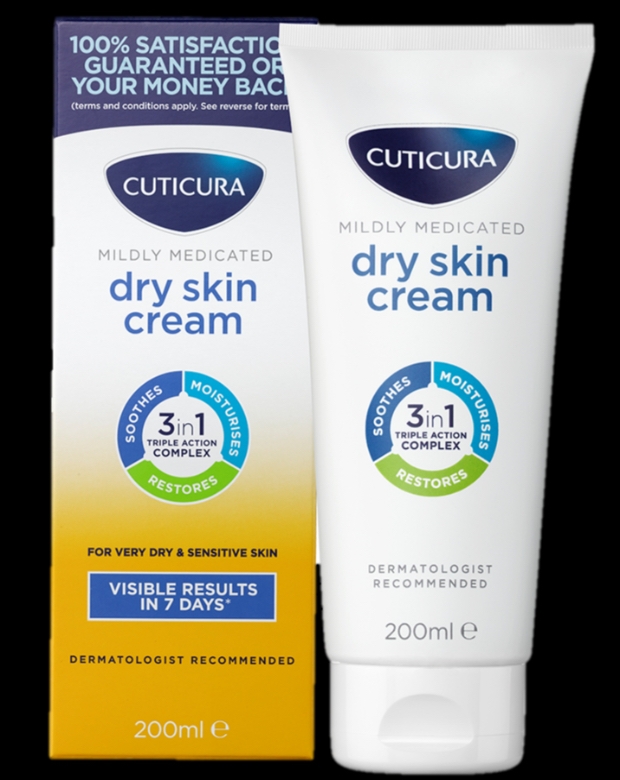 New Cuticura Dry Skin Cream is clinically proven to bring visible improvements to problem dry skin in just seven days - meaning it's not too late to get big-day ready.

The new Cuticura Mildly Medicated Dry Skin Cream is specifically formulated to help make your problem skin look and feel better and is also suitable for eczema-prone skin.

This cream is powered by a unique 3-in-1 Triple Action Complex, which is a potent mix of three core active ingredients, each renowned for soothing, moisturising and helping to restore your skin back to the best it can be when prone to dryness and discomfort.

Zinc Oxide has been used by skincare experts for centuries for its mineral powder, best known for the antibacterial properties which help soothe and calm skin irritation and itching and prevent very dry skin.
Fast-acting Hydroviton® 24 is an advanced 24-hour moisturising complex of eight ingredients, unique to Cuticura. Its double moisturising benefit relieves dryness and skin cracking and hydrates very dry and sensitive skin quickly and effectively. It is also proven to help your skin retain moisture and boost skin renewal.
Shea Butter is a natural emollient, particularly good for softening and smoothing dry and rough skin.

In just seven days:
89% Saw a visible skin improvement
88% Felt relief from their skin discomfort
90% Thought their skin felt soothed
95% Thought their skin felt softer
Available in Superdrug stores nationwide and in independent pharmacies, as well as online at
www.cuticura.co.uk

SILKUP has launched its first product; the Luna, a silk hair wrap that protects hair while sleeping!