A 15-minute evening spa ritual with TempleSpa
TempleSpa's new EXALT FIRMING NECK GEL is packed with multipurpose, effective ingredients that firm and tone the look and feel of your skin. Join our beauty editor, Kelly, as she takes you through a soothing and relaxing 15-minute at home evening ritual with this fab new product.

This is an addition to your skincare routine that you won't want to give up! EXALT is the newly-formulated firming neck gel from TempleSpa, and has been cleverly updated with soothing, stimulating and antioxidant-rich ingredients to tackle the test of time and target this tell-tale area.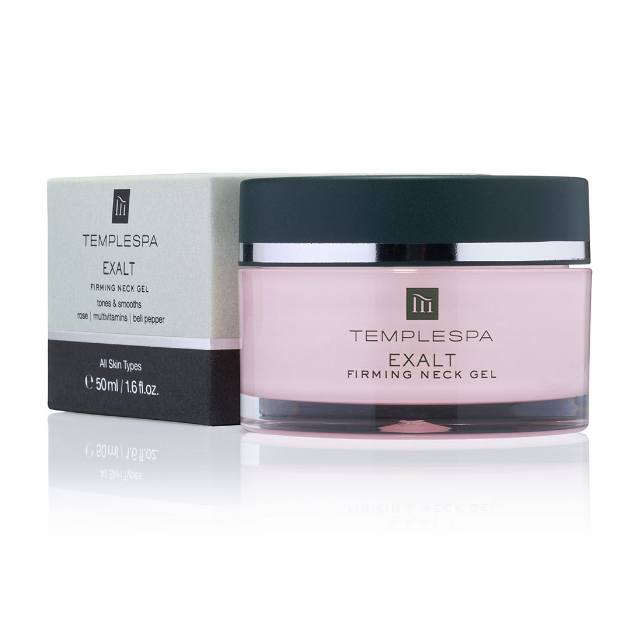 EXALT is a luscious neck gel that powerfully performs, making the sensorial ritual of application something to look forward to, and an easy addition to your routine. Clinically proven to significantly reduce the appearance of fine lines and wrinkles with the addition of electric daisy (or acmella flower extract) to relax muscles and diminish fine lines, as well as improve the elasticity of skin via red bell pepper and brighten skin tone as result of its vitamins C, E and A properties.

Electric daisy is a medicinal flower which – through its powerful anti-inflammatory properties - soothes agitation, reduces swelling and breakouts. It also stimulates nerves in your skin to produce a tightening effect and combat fine lines and wrinkles. This botanical super ingredient is completely natural; encouraging relaxation of tight muscles and expression lines, while visibly smoothing the skins surface. Perfect for use on the jaw, neck and down to the décolleté.

Paired with red bell pepper this formulation encourages cell nourishment and the skin to produce its own oil, due to its high level of vitamin B6, C and E. This powerful trio also renews cells and protects them from environmental and free radical damage that can cause premature aging; making this formula perfect for use day and night. The moisture is locked in with a dose of olive fruit oil, oat extract and wheat germ oil and wheat germ extract; the highest source of naturally occurring vitamin E.

Beautifully scented with rose oil to naturally soothe and fragrance, this gorgeous formula will gently lift your mood, beit in the morning or to ease you into your evening skincare routine. The new formulation has been clinically tested for sensitive skin and is alcohol free and vegan-friendly.
Use morning and evening after cleansing. Massage the neck and decollete with long, upward strokes, ironing your skin with the back of your hands until fully absorbed. Additionally, why not add this stress-relieving ritual into your routine, whether it be every day or as a treat. Join our beauty editor as she takes you through the steps.

EXALT from TempleSpa is available at www.templespa.com for £40.