Lisa Shepherd launches The Hair Boss - love and care for your hair
A 10-product haircare range launches from female Hair Boss Lisa Shepherd, to bring the salon experience home and keep your hair healthy.

The Hair Boss collection has been created by Shepherd, the most awarded and profiled hair colourist in the UK today, to introduce a range to love and care for your hair in the same way you would for your skin. Each product has been developed using Lisa's years of expertise to combat every day, real-life hair problems, in the most simple and effective way. The range is 100% British, vegan and cruelty free with individually selected sensory-friendly ingredients, treating busy women on the go to strong, beautiful and healthy hair every single day.

The Hair Boss product range has been designed as a 4-step regime and the best part of every woman's beauty regime.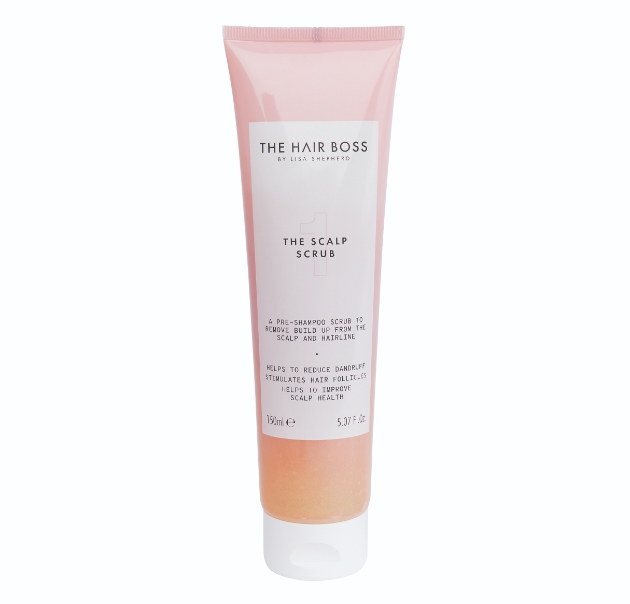 Pre-Treatment - Helping to clean the scalp of product build up, leaving it ready for a daily cleansing routine. Healthy hair starts with a healthy scalp.

The Scalp Scrub
Use weekly as a pre-treatment, the perfect product to remove any makeup from the hair line before washing your hair. The Scalp Scrub contains Tea Tree Oil and Rosebay Extract, a patented scalp active, proven to help reduce dandruff and sebum, as well as Sugar Crystal to gently exfoliate and unclog pores.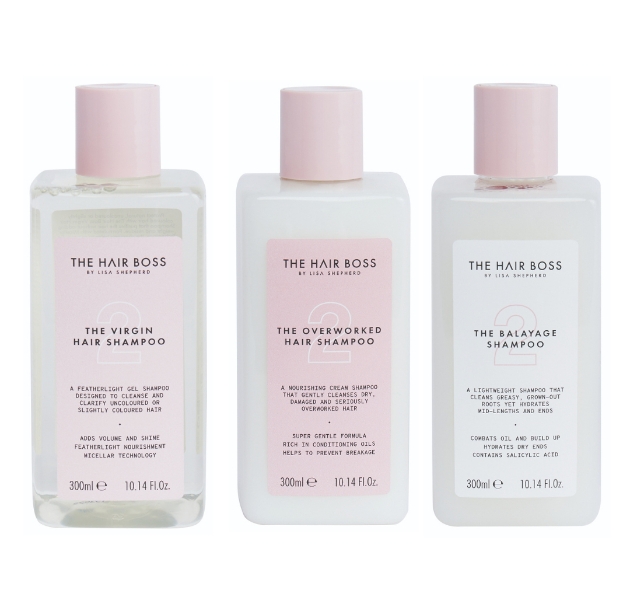 Routine Cleaning – Helping to keep hair balanced and healthy.

The Virgin Hair Shampoo
This shampoo contains Micellar technology and a featherlight gel to remove oil and grease that can weigh hair down. 'Virgin' (non-coloured) or slightly coloured hair will be cleaned without depositing lots of product and residue, leaving hair looking lightweight and healthy.

The Overworked Hair Shampoo
This shampoo is rich in Avocado Oil, Soybean Oil and Sweet Almond Oil that help to replenish the moisture levels of hair, particularly on hair that is dry, damaged, bleached and over processed. The cleaning agent in the shampoo is very gentle to avoid taking any moisture away. By hydrating the ends of the hair, this shampoo will prevent breakage and keep hair strong and in good condition.

The Balayage Shampoo
As the hair at the root is 'virgin', it has a lot more oil than coloured or over-styled ends. This shampoo contains a dual action formula with Salicylic Acid that cleanses the scalp and also lightweight conditioning agents such as Panthenol (from Vitamin B5) to hydrate the ends of the hair, helping to keep hair feeling soft and nourished.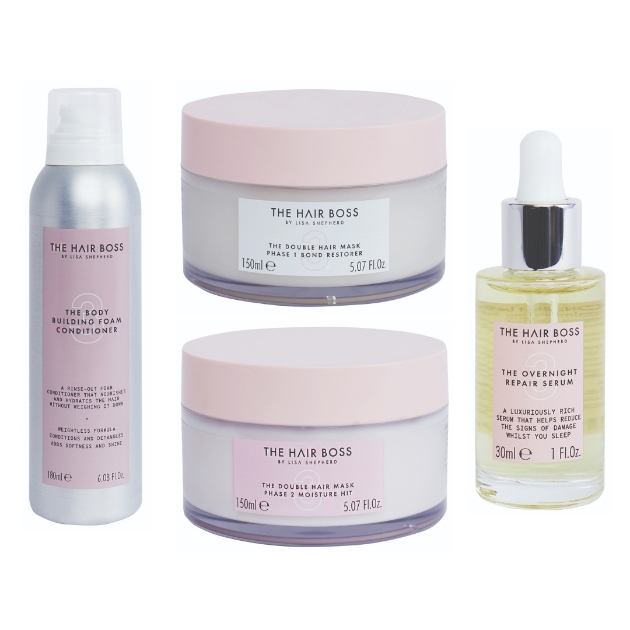 Conditioning Treatments – Overly processed hair, or too much heat application, can leave the hair damaged and dry. Hair structure repair masks and overnight treatments are the perfect emergency kit to bring hair back to life.

The Body Building Foam Conditioner
This foam mousse conditioner smooths and nourishes the hair without the weight of a cream formula, adding volume, body and texture to the hair. With patented conditioning (silicon based) active ingredients, hair is smoother and healthier whilst also preventing breakage or damage during wet combing. This product is suitable for all hair types, with added Argan Oil and Shea Butter for a glossy finish.

The Double Hair Mask
This innovative and exclusive two-phase mask is the ultimate SOS hero product to achieve strong, healthy hair at home. Phase 1 is The Bond Restorer, which acts as a protein mask for the hair. It contains Hydrolysed Keratin and Shea Butter to help restore and smooth the cuticle of the hair, reducing signs of damage and preventing further damage.

Phase 2 is The Moisture Hit Mask, which acts as a barrier to seal in the protein from The Bond Restorer (Phase 1). Containing Hyaluronic Acid and Natural Oils, the mask helps to improve the hair's moisture levels whilst also adding softness and shine.

The Overnight Repair Serum
An oil and moisture-rich serum that replenishes hair and replaces essential vitamins that offers a deep, moisturised hair treatment. Argan, Sunflower, Chia Seed, Macadamia and Soya Bean Oils help all hair types to remain smooth and strong. This serum can be used either on its own as an overnight treatment or on wet hair before applying heat to help to reduce signs of damaged and split ends.

Remember, the texture of shampoo and conditioner you choose should complement your hair type and thickness.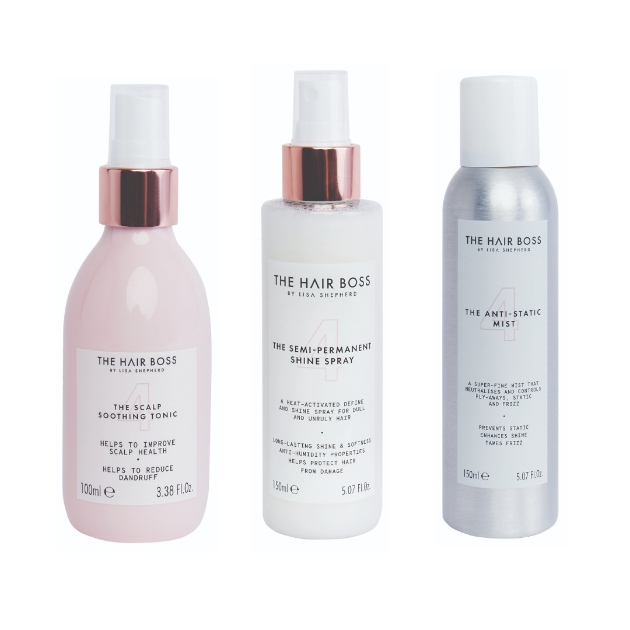 Post Cleaning / Styling – A little added TLC to the hair and scalp to achieve the ultimate #hairgoals

The Scalp Tonic
Rosebay Extract is a patented active, proven to help rebalance the scalp's ecosystem and reduce dandruff and sebum. Salicylic Acid is anti-bacterial element and helps to keep the scalp free from fungal dandruff, leaving behind a healthy and happy scalp. Once the Scalp Tonic is applied, there is a soothing and cooling sensation that lasts for up to 15 minutes, providing the scalp with extra relief and an all-over cleanse, ready for the hair to be styled as usual.

The Semi-Permanent Shine Spray
The special bio-polymer in this product smoothens the cuticle which gives hair an intense shine with a glossy look and feel. The anti-humidity and control element in this product also leaves hair with a soft and silky finish. Additionally, this Shine Spray offers protection against pollutants leaving hair feeling fresh and healthy.

The Anti-Static Shine Spray
This Shine Spray neutralises and prevents static whilst adding shine to the hair, ensuring that from day to night hair stays at its very best and ready for anything. The weightless, super-fine mist keeps the hair feeling super lightweight and always leaves behind a silky-smooth finish.
We put the Shine Spray to the test. Here's what our Social Media Coordinator, Beth Morton, had to say about it...

"This product just smells amazing. If you've got the time to deal with wet hair in the morning then this is definitely one that will wake up your senses. Let the citrusy grapefruit scent wash over and ready you for the day to come! Upon the first use of this product I noticed immediately how soft my hair felt afterwards. Within just a couple of days of using this product before blow drying my hair (as advised on instructions), my usual frizz fuzz that sits atop my head, had completely disappeared and my hair was silky smooth. This product is step number 4 within the Lisa Shepherd Hair Boss range, so I can only imagine how amazing my hair would feel after following all the steps within the product collection."

Check out the range on www.asos.com