Introducing a vitamin-E enriched light reflecting skin finish...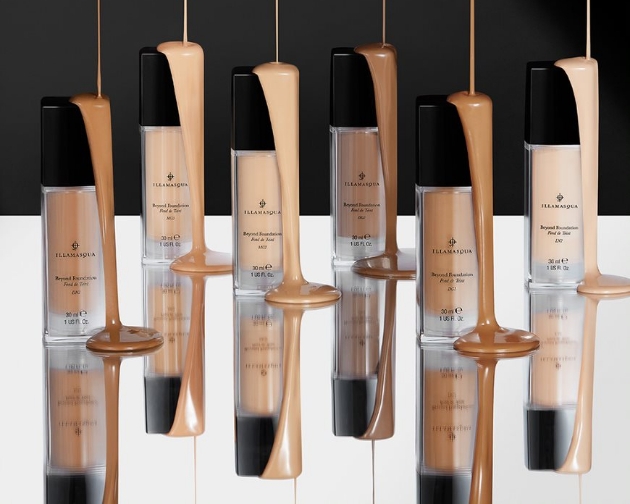 Discover Illamasqua's new lightweight and illuminating Beyond Foundation for light-reflecting, radiant skin. The impressive vegan and cruelty-free foundation offers sheer coverage and a silky-smooth finish across 25 shades. The moisture-packed formula leaves all skin tones with a gorgeous glowing complexion perfect for your wedding day.

Illamasqua Beyond Foundation melts into skin seamlessly, smoothing and bluring pores, while providing a healthy dose of hydration and moisture. Hyaluronic Acid is known for its intensively moisturising properties, which help reduce the appearance of fine lines, whilst high-performance vitamin E is renowned for protecting skin from environmental stressors and boosting collagen. Radiance-boosting properties work in symmetry to provide the perfect natural base and glass-skin finish.

Pair it with other products in the Beyond or Skin Base Collections.
CWM beauty editor Kelly Andrews, recently joined Pablo Rodriguez, Illamasqua's global director of artistry, for a make-up masterclass. Check out her demo of the radiant, flawless and natural skin look that she learned from the expert, and see how easy it is to achieve.
FIND YOUR PERFECT MATCH WITH ILLAMASQUA'S SIMPLE AND INCLUSIVE 3-STEP SHADING SYSTEM

Available in an extensive 25 shades covering light, medium and dark, the range is refreshingly easy to navigate between beautiful warm, neutral and cool undertones, which create a wide variety of shade depths that cater to all skin tones. Illamasqua has adopted a powerful 3-step shading system to narrow down the search for your perfect skin match by exploring skin colour, undertones and depths of shade to help you find your perfect match.

Kelly says,
"I've never found it so easy to match my foundation shade. The three-step system makes complete sense, and LG3 is the closest match I've found to date. Finally a foundation I'll use to the bitter end, one that won't be cast aside as a poor match."
Here's how...
1 : SKIN SHADE SELECTION
To start, it's important to identify which colour category you sit within, from light, medium or dark. These categories can often be connected as to how your skin reacts when exposed to sunlight. For example, light tends to burn very easily in the sun, but may slowly develop colour and eventually tan; medium will tan in the sun, but if exposed to the sun for a longer time, can burn; and dark tends to tan easily and will rarely ever burn.
2 : EXPLORE YOUR UNDERTONE
Golden is for hues of cool olive, with more of a yellow tone, as opposed to pink; rose is infused with a blush tint – essentially skin that appears more pink or red within; and neutral is
the perfect combination of both rose and golden tones for skin that has both beige and peachy hues.
3 : DEPTH OF SHADE
The depth of the foundation is based on how dark or light the foundation is required to be to create a perfect match. Within each category and undertone, Illamasqua now offers a sliding scale of shades – from 1 being the lightest, and 4 being the darkest.
Beyond Foundation is available at www.illamasqua.com from 3rd September 2020, priced at £33