Prime, tan and perfect with Lusso Tan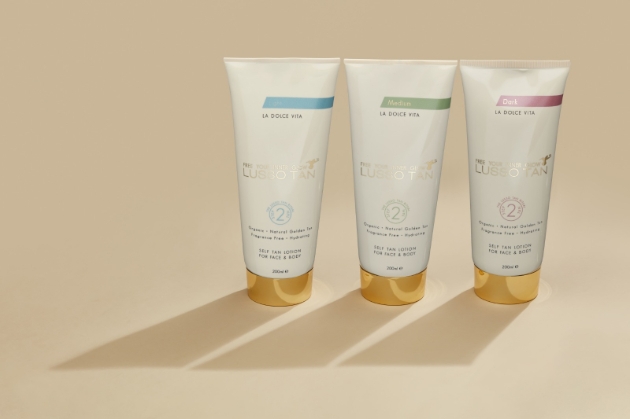 Many of us crave a golden, glowing complexion all year round and thanks to Mother Nature our chances of achieving a natural tan all year round are very slim.

Founded by Belfast-born sisters who know the struggle of living in colder climates all too well, Lusso Tan was created to simplify the self-tanning process and whilst also looking after your skin. Vegan, cruelty-free and free from parabens and other nasty chemicals, the Lusso Tan range offers quickdrying tanning solutions, without any unpleasant smells. The full range of Lusso Tan products offer easy application whilst protecting and hydrating the skin, resulting in a gorgeous and even tan.

To help its customers achieve the very best out of their self-tanning routine, Lusso Tan introduce the Lusso Tan 3 Step Ritual to help achieve the perfect tan. Just like your make-up routine, you wouldn't apply foundation without using moisturiser first. Lusso Tan identified that your tan should be applied on primed skin, followed by a great natural tan shade - for final dimensions, highlight shimmer and contour to lift your tan.


Lusso Tan's three step user-friendly guide:

Step 1: PRIMER plumps and conditions the skin to give the ideal canvas for your tan.
Step 2: the carefully designed LUSSO TAN products give the glow of a natural golden tan.
Step 3: the SKIN PERFECTOR FINISHING TOUCH turns a beautiful tan into an exceptionally polished one.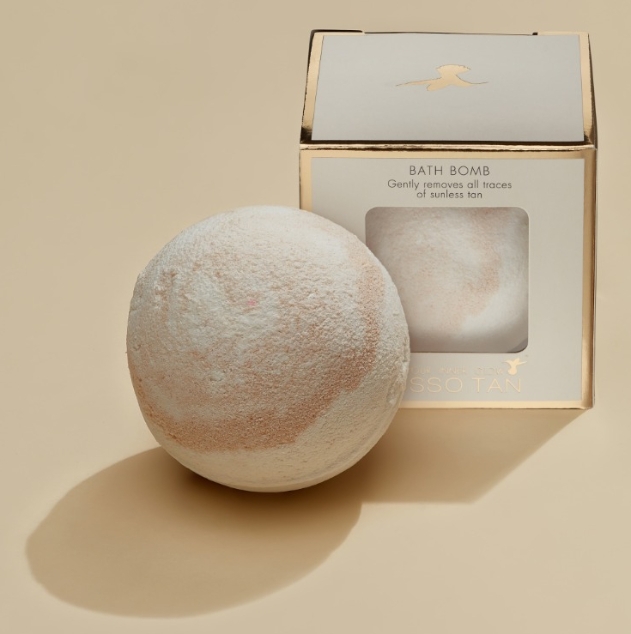 Tan today, gone tomorrow: the Lusso Tan product range has been designed to make your tanning journey simple with easy to use products to ensure that your tan lasts all day but can be effectively removed in minutes the very next day. The Lusso Tan product range includes:

Lusso Tan Bath Bomb RRP £8.50
Packed with avocado, lemon and witch hazel & jojoba oil, the Lusso Tan Bath Bomb repairs and protects the skin whilst removing your tan at the same time. The longer you soak, the better the results!

Tan Eraser RRP £14.50
To remove self-tan effectively and prepare the skin, the easy to apply foaming cleanser removes unwanted tan in minutes as natural active ingredients remove old tan to prevent any build-up. Skin is left feeling silky soft and cleansed.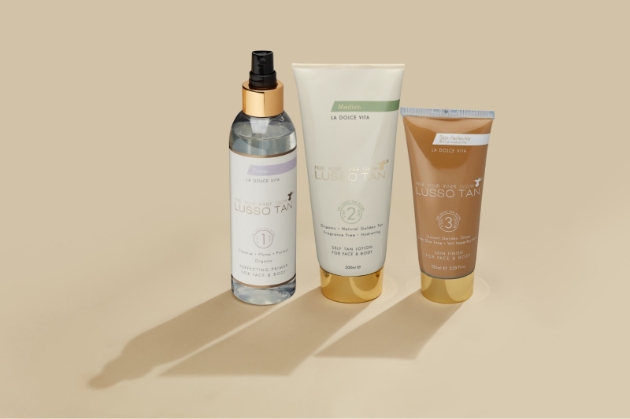 Self-Tan (light, medium and dark) RRP £19.50
Available in three shades, to create a gorgeously smooth tan that fades after 7 days. The shades are buildable making it suitable for all skin tones and has a 60 second drying time, meaning customers can be tanned and dressed ready for the day. As well as antioxidants Vitamin A and E infused to protect and repair the skin, Aloe Vera is also present to sooth, firm, heal and hydrate the skin.

Rapid Tan Mousse RRP £19.50
Suitable for both face and body application, each shade can be personalised to the customers tan requirements: wash after an hour for a light tan, wash after two hours for a medium tan and for a deep tan, leave for a few hours.

Flawless Tanning Mitt RRP £7.00
For a soft and streak-free tan, the Lusso Tan Tanning Mitt is gentle on the skin and can be used on the face and body for professional looking results and application.

Primer Cleanse RRP £14.50
This simple spray enriches the bronzing effect of self-tan products or a professional spray tan. The spray rebalances the skin's pH levels (vital for good tanning) and is infused with Vitamin A and E to protect and repair as well as organic witch hazel to refresh the skin, locking in moisture and cleansing away impurities.

Skin Perfector Finishing Touch RRP £19.50
For an instant golden glow and even skin tones, the Lusso Tan Skin Perfector Finishing Touch enhances the skin tone and covers slight blemishes, freckles and veins. With a natural shade tint and instant results, skin appears healthy, glowing and perfected.

Find out more at www.lussotan.com