Healthy scalp = healthy hair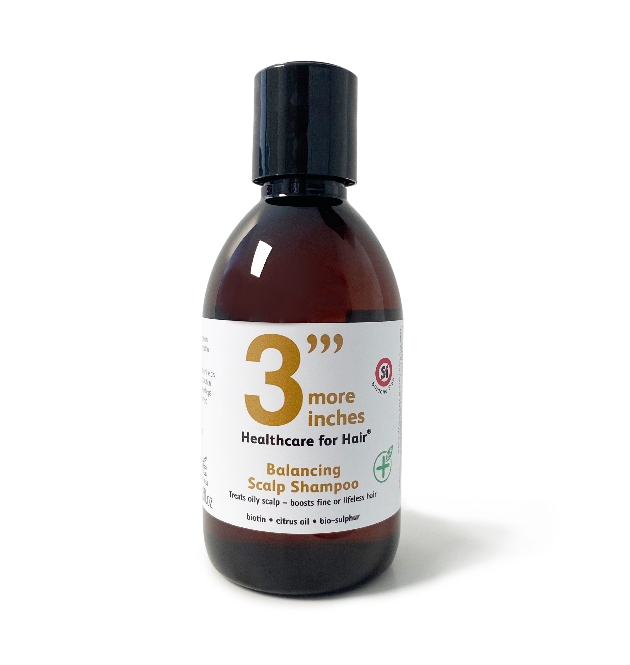 Years ago, people just didn't wash their hair that often. Most people wash hair more often these days and therefore fewer people get really greasy hair so can choose their shampoos based more on hair thickness and texture around the roots and mid-lengths. But there are still lots of people that have fine, silky, lifeless hair or over-productive sebaceous glands in the scalp. Dealing with oily hair by using overly aggressive cleansers isn't good as it simply strips the hair shaft making that dry and brittle prone to breakage.

THE PROBLEM
Overactive scalps can produce excess sebum.This leaves hair feeling oily, flat or lifeless andcan lead to seborrheic scalp conditions.

THE SOLUTION
Michael Van Clarke, a renowned hairdresser in Marylebone, currently in his 43rd year in hairdressing, has developed 3 more inches Healthcare for Hair, Balancing Scalp Shampoo.

Citrus oil, bio-sulphur, plant extracts and minerals, cleanse and rebalance the scalp and improve blood circulation, while protective multivitamin A, B, E, F & H, herbal complex helps reduce hair loss. Cashmere amino acids build volume so your hair feels fresh, vibrant and fuller. The Balancing Scalp Shampoo...
Deep cleanses with citrus and plant extracts.
Rebalances with bio-sulphur and horse chestnut.
Improves hair strength and texture with biotin and cashmere protein.
WHAT YOU SEE AND FEEL
Instantly your scalp will feel clean and fresh. Your hair will feel super clean but not stripped. Cashmere protein amino-acids will penetrate deep into the hair shaft leaving your hair feeling stronger and thicker.
WHY SILICONE-FREE
99 per cent of haircare ranges on the market use typesof silicone to temporarily mask damage with a cling film-like wrap. Your hair may feel better - softer, more manageable with a cosmetic gloss - but it's a 'fake' better. Most silicones actually make the problem worse because they suck vital moisture out of the hair shaft leaving it brittle and vulnerable to damage. So most haircare is the opposite of 'care'. It is destroying the health of your hair.
AMAZING INGREDIENTS
Orange oil helps deep cleanse and reduce sebum production without stripping hair of its natural oils.
Flavonoids, courmarins and aescin in horse chestnut extract, stimulate blood flow on the peripheral blood vessels.
Tocopherol (vitamin E) reinforces the circulation of the blood and protects against UVB induced DNA damage.
Anti-inflammatory and anti-bacterial sulphur helps reduce excess sebum production and strengthen scalp and hair tissue.
Unique cashmere proteins, almost identical to human hair, help strengthen, rebuild and hydrate.
Priced at £21, the Balancing Scalp Shampoo is available at www.vanclarke.com