Ask the experts
Here is a selection of Q&As from Your Sussex Wedding magazine. If you would like your question answered by our experts, please email it to editor@your-sussex.wedding.
To view more Q&A's on a different topic, please select one from the list below.
Hot topic: Autumn/winter dilemmas
Our experts answer your autumn/winter wonders.
---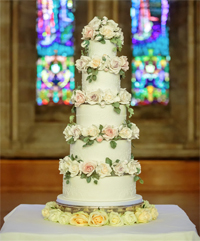 Taste of the season
Q. What key trends can I expect to see for autumn/winter cakes? I'm getting married in this season and I don't want our celebration to look dated. What do you suggest?
A. Liz Chatfield says: As a cake designer, this season provides endless possibilities with splashes of autumnal colour, natural effects and finishes and some warm tones too. Cake trends change all the time, but leaves, foliage and greenery around this time of year are really playing a strong part in decoration, whether handmade from sugar, or from the florist, they make a stunning addition to a rustic, tiered wedding cake covered with butter cream. Elegance is also on-trend, with tall, stately cakes making a big statement. Deep aubergine tones with metallic splashes are stunning and provide a modern take on traditional wedding cakes, with metallics remaining a very strong design element. Something to watch out for are seasonal fruits, berries and crops available in the autumn. Made from sugar, they look beautiful and add a really delicate nod to the time of year.
---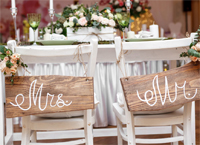 Colour pop
Q. We're getting married during the chilly months and want to match the feel of our big day to the wonderful atmosphere at this time of year. How can we do this?
A. Dan Hale says: Use props and styling to tie in with your theme; drawing on the beauty of nature at this time of year with wood, mosses, berries or even an ice sculpture!

A trend I think will continue is quirky and alternative table plans. Pinterest is a great place to find inspiration and it's a part of the wedding where you can bring your own style and sense of fun to your day. While something stylish and portable is ideal for your toastmaster to carry around the reception, engaging with your guests to ensure they know where they're sitting, this is a real opportunity to do something different. A good toastmaster and an eye-catching table plan will ensure everyone knows where they're sitting before they're called to their place.

During the outdoor photos, you and your guests may get cold, so this is a perfect opportunity to add a seasonal touch with faux fur or stylish, luxury wraps to keep the chill off.

Another trend is the use of seasonal flowers and colours such as rustic orange, ivy green and deep berries shades.

Something I've seen a lot more of is succulents and even herbs as an alternative to flowers – this works particularly well for place settings and buttonholes.
---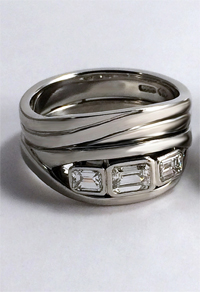 Ring in the new year
Q. I went the extra mile for my fiancée's engagement ring and I want to ensure her wedding ring feels equally special. Any ideas?
A. Andrew Leggett says: It's important that the wedding ring complements the engagement ring, rather than competes with it. Find at least one feature of the engagement ring that can be carried across to give a unified effect, this can be something as simple as the profile or cross-section of the band.

It's a good idea to stick to the same depth, so the two rings sit on the same level. These days, many are designed with straight sides so they lay nicely alongside each other, but others need a fitted band. It's extremely unlikely you'll find a readymade option that will fit properly, so it may need to be handmade. Another advantage of a fitted band is there will be much less movement as the jewellery will be held in place and stay correctly aligned.

Many brides-to-be like to add small gems for a bit of extra sparkle. If there are diamonds on the band of the engagement ring, consider matching the size, quality and style.

A final alternative is to go bespoke, as sometimes the item you want simply doesn't exist yet. Commissioning a goldsmith to design and make something specifically for you means you'll get exactly what you want, and it's one way to ensure that this new piece is just as special for your fiancée.
---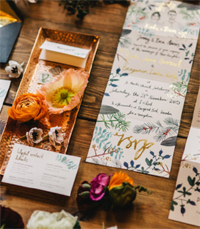 The write way
Q. I want our stationery to reflect the magic of late autumn, early winter, so we can look back and it will evoke a real moment in time. What are the 2017 trends?
A. Julie Annis says: For this autumn/winter the three key trends are:

Autumn woodland
Indulge in all the season has to offer, think rustic wooden crates full of apples, gourds and all the burnt colours of the season. I've seen stylists use dried leaves and horse chestnut scattered over table centres, with pine cones as name card holders and mossy tree stumps for the table names. There's so much natural beauty around so include berries and rosehips among traditional meadow flowers for hedgerow-style bouquets and centrepieces. If you love wildlife and the outdoors, consider a venue that offers a dramatic display of autumn foliage for a seasonal backdrop to your photos, teamed with tartan rugs, furs and lots of candles for a cosy highlandesque theme. Our Hazy Woodland invitation suite includes a deer and stag that follows through on the stationery and is in keeping with this rustic woodland theme.

Rich botanical hues with metallic touches
For something a little more decadent and sophisticated, think about a botanical theme with an autumnal slant. Botanicals have been big in 2017, but alter the theme to suit a rich jewel-like colour palette with delicate metallic touches. Deep emerald greens with ruby reds and dark purples go well with shiny gold and perfectly reflect the cosiness of autumn. Think Italian Renaissance with 'still life' style bowls of delicious purple grapes and gold candlesticks as table centres with dramatic dark blousy roses, peonies, berries, eucalyptus and firs. Adorn your place settings with sprigs of dark foliage tied to menus and napkins. A perfect setting would be an upmarket Georgian country house with dark old paintings in gold frames to set the scene and create a romantic backdrop to your tables. Add subtle touches of gold foil to your stationery to create the wow factor but don't go overboard – save the glitter and gold confetti for New Years Eve!

Abstract modern pastels
If you want to avoid clichés and do things a little differently why not consider a modern look and be inspired by the watercolour trend in a pastel palette. This is popping up in fashion and home-styling and it totally works for weddings too. We love subtle pops of ombre watercolour shades and loose abstract patterns. Go for candy-toned blooms and make your food a talking point with rainbow meringue kisses and fun colour-streaked marshmallows. Continue the theme with a doughnut wall with iced goodies covered in coloured sprinkles. Use hand-died table runners in subtle shades and keep the rest of the look simple and white. Team with our modern Brooklyn suite of stationery and we'll even tweak the hues for free!
---
Contact our experts...
Julie Annis
Stationery designer
Liz Chatfield
Cake designer
---