Ask the experts
Here is a selection of Q&As from Your Sussex Wedding magazine. If you would like your question answered by our experts, please email it to editor@your-sussex.wedding.
To view more Q&A's on a different topic, please select one from the list below.
Hot topic: A touch of romance
Our experts are on hand to help you create a big day that's sure to wow
---
Fairytale dreams
Q. I don't want a traditional princess dress for our fairytale wedding – what are the best modern alternatives that are available at the moment?
A. Christine Giles says: Rest assured you don't have to wear a traditional big princess dress on your wedding day to achieve the wow-factor. Choosing your dress is all about finding the right style for your body shape and there are plenty of styles to choose from.

A princess dress can be equally as dramatic as a fitted fishtail style, sculpting the body to the knee but with a full skirt below, to get maximum impact from this style it can be worn with a net or hooped underskirt.

The "back feature" is very popular at the moment as your guests will see a lot of this view whilst you're saying your vows, this could be a lace detailed pattern or full of sparkles, or both. Make sure that if you choose this style you love the front as much as the back because most of your photos will be taken from the front! Alternatively a dress with a detachable train gives you the best of both worlds.
---
Nice and natural
Q. What are your best tips to create some really lovely family photos?
A. Justine Claire says: Well I quite like the idea that once you have everyone assembled you do a couple of straight shots of the line up. (This usually involves everyone looking scared and confused!) Then, depending on the group, you give everyone a few seconds to find a new place to stand and grab the shot. Alternatively, the photographer says 'strike a pose' and you get more natural facial reactions and interactions between the group – the best shot is usually the one taken when everyone thinks the photographer has stopped shooting – that's the best way to capture everyone's personalities.
---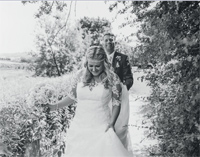 Calm and collected
Q. Both my partner and I are terribly camera shy and feel worried we won't look natural or like ourselves on the big day. How can we really capture the emotion of the day and our love for one another when we're feeling self conscious?
A. Samantha Pells says: It's a good idea to meet your photographer a couple of times before the wedding too, I often suggest this if I know I have self conscious couples so that by the time the wedding comes they're familiar with me and, more often than not, they feel like a friend is taking their wedding photos. A prewedding photo shoot is a great way of getting both of you used to the camera, these shoots can sometimes feel a little cheesy or unnecessary but they work wonders!

For even the most camera shy people, it's still important to set some time aside for romantic shots of just you two on the day. Ask your photographer to take you away from your guests. At this point in a wedding I leave the bride and groom alone, then I sneak back to them and start taking photos. They rarely notice so these are often the best shots.

And just a little extra advice to think about during the day (if you can remember it amongst all of the excitement), hold good posture, relax, and most importantly enjoy it!
---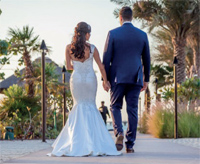 Really romantic
Q. We're getting married in February and want our day to be as romantic as possible. What type of photographs should we request as we hate anything too cheesy?
A. Marc Bates says: Before I answer your question let me ask you a few of my own…

-I hope by now you've chosen a photographer, but have you had a face-to-face meeting with them?
The reason I'm asking is because a face-to-face meeting is so important. Not only to talk about packages and prices, but also to discuss in detail the wedding and the type of photos you're looking for.

-Do you absolutely love your photographer's work?
You should be able to look at their images and say, "That's what I want my wedding to look like." Clients often send me screen shots of my own photos telling me that they love them and want something similar. If you love your photographer's work then you're half way there.

-What's your idea of romance?
Is it the glance between two people, a gentle kiss or a moment where the couple steal themselves away from the celebrations. Once you know what you're looking for, you should go back to your photographer and say 'this is what we want'.
---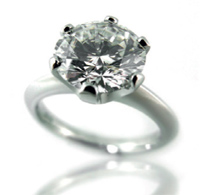 Diamonds are forever?
Q. I have no idea about jewellery at all and wondered what a typically or traditionally romantic ring would look like. What's the best material or stone to go for?
A. Richard Talman says: Jewellery is a very personal thing, and we frequently find what one person love's another may not. But there are definitely certain styles that have stood the test of time in the past and will in the future. If a bewildered man is seeking an engagement ring – but simply hasn't a clue where to start, a white metal brilliant cut diamond solitaire ring is really going to be the safest bet. These are simple and stunning, less is more sometimes. This type of ring was popular 50 years ago and most likely will be in 50 years time. White gold or platinum is the choice for the majority these days and using this metal to mount a high white coloured diamond will do the trick everytime! We love to microset or pave set diamonds on the shoulders of the ring. This makes the entire top surface of the finger come alive with sparkle. The use of coloured stones such as pink sapphires or aqua looks incredible when combined with diamond. But if the process of designing a bespoke ring for a surprise proposal really is too daunting, we can supply a single diamond, in a presentation box, to propose with. Then the bride-to-be can visit the studio and have her input in the design of her ring.

When it comes round to the wedding bands, making something to match is critical, and also to fit alongside without gaps is great feature. This process, only available from bespoke jewellers , is really something worth considering. After all, your bridal jewellery isn't just for the day itself.
---
Contact our experts...

Christine Giles
Boutique owner
Justine Claire
Photographer

Marc Bates
Photographer

Richard Talman
Jewellery designer

Samantha Pells
Photographer
---