Ask the experts
Here is a selection of Q&As from Your Sussex Wedding magazine. If you would like your question answered by our experts, please email it to editor@your-sussex.wedding.
To view more Q&A's on a different topic, please select one from the list below.
Hot topic: Trends
Our experts are on hand to help you create a bespoke big day that's sure to wow all your loved ones and look great in 2017
---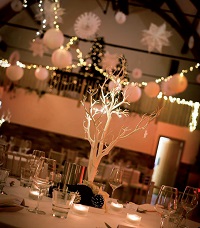 Cool and contemporary
Q. I firmly believe that flowers belong in the bouquet rather than all over the venue. What else can I choose for my centrepieces that looks cool and contemporary?
A. Amanda Samain says: We're having floods of couples looking for 2017 styling trends already and are advising them towards gold and blush pink for the hot colour palette of next year. Gold or cream candelabras dripping in crystals or pearls with lots of tea lights and fairy lights will help create a great ambience.

A mirror table top gives a stunning look and will reflect the light with your centrepiece in the middle to finish the look. White or natural manzanita trees adorned with micro lights and bubble balls suspended from illusion thread with tea lights in can create a real wow for your guests too.

Get the mood right with lighting and candles; keep it simple and flawless – style is simple, think 'less is more'.
---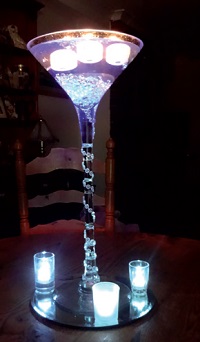 Urban retreat
Q. We're planning a cool, industrial warehouse wedding and want our styling to look equally trendy. What are the 2017 trends we should be looking at?
A. Annabel Grange says: Keep the look simple with clean lines and add metal and glass elements – lighting is also key. Avoid soft furnishings and any ribbons or soft looking flowers. Try to use any existing metallic chairs or hire them in to look on-trend.

It's important you also keep the tables simple, for example – a central glass mirror plate, with a tall glass vase complemented by floating candles with twisted wire in the base will look great.

Finish with three or five tealights in glass votives on the mirror and some clear crystals.

Angle up-lighters up the walls or onto any industrial features such as a metallic staircase and keep ceiling lights to a minimum.The floor standing 'Love' signs that light up are still on trend for 2017 – these would fit in very well in a warehouse, as would starlit backdrops.
---
Let me entertain you
Q. Entertainment is set to be a huge part of our New Year's Eve wedding in 2017. I know cheesy hits are out but what top trends are 'in' that we can use to help encourage our guests to get on the dancefloor?
A. Mark Parker says: Over the last ten years, the music requested by clients has really changed. We ask for requests beforehand to get a flavour of the music that will get everyone up and dancing. One of the current trends is to have a 'garage' set at some point in the evening. But you could choose any genre you like, as long as you have a group of friends that will enjoy moving to. The key to a good wedding party is to vary the musical style as the evening progresses, keeping the energy up on the dancefloor so everyone feels involved.

At a wedding there are likely to be groups of people with widely differing tastes. A brilliant solution to this is a silent disco, where you give headphones to each of your guests. The headphones have a switch to select different musical styles, so you really can keep everyone happy. At about quarter to twelve play the same songs on each 'channel' to bring everyone together for the countdown to midnight, and enjoy the party!
---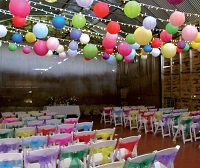 Super stylish
Q. We're planning a classic wedding for our South Downs reception. We want it to look as elegant but on-trend as we can – is this even possible? What looks to be hot in 2017?
A. Susie Evans says: The new glam trend for 2017 is mirror table signs instead of chalkboards to complement these stunning mirror table tops, which are featured heavily in the luxury wedding market. They're perfect for bringing so much more light into the room. You need to consider colours and move away from the classic pastel pinks and ivory and look at muted greys or duck egg blues. Tinted glassware has slowly crept in for 2016 and looks to take over in 2017. Use just one of the glasses in a single shade to create a wash of colour on the table to give that 'wow' factor. We love to see luscious green garlands across the tables to really create some depth which also looks eye catching across the mirror table tops.

Chair covers really are a thing of the past! If your venue only has conference chairs, why not consider hiring some in?

People often see this as a luxury but more often than not, the cost can be similar to that of hiring covers. The chiavari chair is a timeless classic but hot, hot, hot for 2017 is a cross back chair in natural dark wood. To really add that elegant edge, create a small flower arrangement. This doesn't need to be done on every chair – how about every other one?
---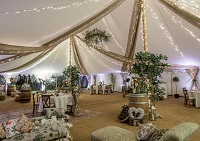 Midsummer dream
Q. I really want to wow our guests with an on-trend A Midsummer Night's Dream theme. How do you suggest we style it?
A. Kelly Kearley says: For me, an A Midsummer Night's Dream theme conjures up images of luscious green foliage, hanging floral displays, moss and log displays. This wouldn't be complete without the mystical glow of mood lighting or hundreds of jam jars filled with candles. When I'm styling any venue, I start with the largest element and work down to the finer details. In this case it would probably be the ceiling display and the lighting. Once this has been designed the finer details will fall into place effortlessly. I always tell my clients to visualise their big day – how do they want it to look? Imagine your marquee, what would you like hanging from the ceiling? With this theme in mind a luscious hanging floral and foliage display would work perfectly and are very en vogue. It's at this point that you need to think about the lighting. This is key to create an atmosphere, and is particularly important with this theme in mind. Once these two key elements are set, it's then time to think about the table centrepieces, table plan and place cards. A marquee is the perfect setting for this theme – just look at the picture below.
---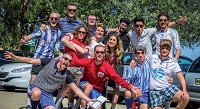 Swing when you're winning
Q. We're looking to book our hen and stag do next year and know we want to stay in Sussex. What are the most on-trend ideas around for entertaining our family and friends?
A. Katie Scopes says: It can be so difficult to arrange an activity that's suitable for everyone from your parents to your best friend. Why not try something like putting your way round a golf course? It's really inclusive and we offer an 18-hole jungle-themed adventure course across desert islands, over crocodile-infested lagoons, through caves and under waterfalls. A recent hen party just enjoyed one and gave out forfeits for the lowest score and a prize for the highest.

If you have bigger ambitions there's also footgolf. This is a brand new sport that's taken the UK by storm. As its name implies, it's a mix of football and golf and is a game of kicking precision in just nine holes. All equipment is provided so that leaves plenty of money in your budget for a beer or a cocktail later!
---
Contact our experts...
Amanda Samain
Venue stylist
Annabel Grange
Wedding planner

Katie Scopes
Membership and events

Kelly Kearley
Venue Stylist

Mark Parker
DJ

Susie Evans
Wedding and events consultant
---