Ask the experts
Here is a selection of Q&As from Your Sussex Wedding magazine. If you would like your question answered by our experts, please email it to editor@your-sussex.wedding.
To view more Q&A's on a different topic, please select one from the list below.
Hot topic: Personalisation
Our experts are on hand to help you create a bespoke big day that's sure to wow all your loved ones
---
Do us a favour!
Q. We're looking to inject a little personality into our favours but don't know how to. All we do know is that we want to offer our guests something different. Any ideas?
A. Emma McDonald says: Favours have moved a long way since the little bag of sugared almonds we once used to all receive and now there's so much choice. Online tools such as Pinterest are a great start for inspiration. A tip when looking is to ask yourself these two questions 'Does it fit?' and 'Does it reflect us?'

These two questions are key to creating a seamless wedding design. For example, if you both love food and have a special bakery or deli, then why not ask them to create something bespoke for you? Or if you both love to read why not provide all your guests with a classic novel complete with their place name? Favours don't need to cost the earth and this is why the big trend for homemade jams and slow gin has become so popular, but be inventive and then your guests are more likely to use them and remember them.
---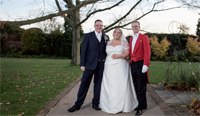 The toast of the town
Q. We'd love to include a toastmaster in our day but don't know how to use this service to our advantage so the whole day feels more personal. Any ideas?
A. Dan Hale says: You should always meet your toastmaster before you book them so you can get a feel for how they will work and support you in planning and running your day. It's important they can adapt to suit the tone and style of your day and your requirements.

Use your toastmaster to welcome your guests on arrival and thoroughout the day to help them in the right direction and act as a point of information. They can also take presents and cards and place them on your gift table.

Your toastmaster will help you plan the order of service, providing advice and tips about etiquette, tradition, formalities and involving your friends and family. They can also advise on information to send to your guests with your invitations.

Providng them with a running order for official group snaps will enable them to support your photographer to get friends and family in the right place and avoid waiting around.

During the reception and wedding breakfast they should circulate amongst your guests to check they have all they need, remind them to sign the guest book, send photos to your social media account or convey any other messages to your loved ones.

Having a professional toastmaster will allow you to relax and enjoy your day in the company of your family and friends.
---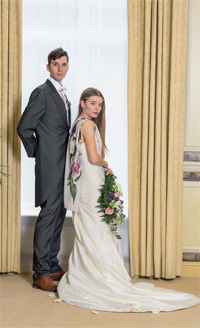 Especially for you
Q. I'm having a bespoke gown made which is wonderful but my groom doesn't want to feel left out either. What's the best way for him to personalise his big-day outfit?
A. Andrea Leggett says: Quite often gentlemen will opt to hire their suits. However, this could leave the groom without a keepsake from his wedding day attire.

We'd recommend buying a tie and pocket square ensemble. There are plenty of great options on the high street and online including our own handmade 'off the peg' exclusive designs.

However, for something really luxurious to reflect the flowers and colour scheme of the wedding, the groom and his attendants could have specially designed and handmade pure silk accessories such as bow tie, standard necktie or maybe a dapper cravat.

We work with couples planning their wedding and create our 'Bells & Whistles' couture fabrics using the flowers, colours or theme they've chosen. This fabric is unique to the couple and their wedding – it won't be seen anywhere else.

Something entirely for the groom alone would be bespoke silk suit linings, supplied by us and added to the suit by the tailor. Using calligraphy we can add a line or two from your song or even a love poem to add special meaning.
---
Blank space
Q. We have a plain white marquee booked for our evening reception and want to transform it into a romantic oasis. What's the best way to personalise such a blank space?
A. Katherine Hudson says: If you're working with a plain white tent you'll need to soften it and in order to inject the feeling of romanticism, the lighting is key.

A great way of doing this is to use soft coloured voile drapes in a couple of different shades – such as champagne, and oyster combined – with the addition of fairylights. This creates billowing softness and the lights give it all a little twinkle. I'd also recommend continuing these drapes and fairylights down the poles to give a billowy look.

By also using candles in candelabra on the tables or micro-lights in the flowers as part of the table displays, the soft ceiling lighting will be pulled together with the table decorations.

But if the budget doesn't stretch to voile and fairylights, I'd recommend just going for the latter. If installed underneath the white marquee lining, this will soften the light, as seen in rustic woodland fairytale look we created recently.
---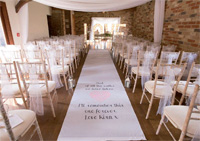 This time it's personal
Q. I know that you can personalise your day through the table plan and the place cards but I was wondering if there were any other, more unusual ways, of really stamping our mark on our day?
A. Amanda Samain says: There are so many ways to personalise. We love helping our couples do this by displaying a photo wall of their time together as a couple from the first date to special moments in their relationship. These can be placed in individual frames and set up on a rustic ladder, or mounted on a large frame. They look lovely displayed in miniature frames and set up on apple crates surrounded by tea lights and flowers around to make a real feature for your guests to look at. Family wedding photos are also great to display and to see how the generations of both your families have tied the knot.

'Pimp Your Pimm's' and 'Hot chocolate stations' are fab, while setting up your own DIY sweet table is a great idea and a lot more cost effective – use crates and jars, make your own labels and provide your own sweets.

Our personalised aisle runners are also a great idea to add to your ceremony, we have many colours and designs to choose from. If you have any hobbies or interests try and incorporate these into your day, whether it be on the tables, or décor. Putting your stamp on your day doesn't need to be costly, a venue stylist will have many ideas and inspirations for you. By working together you'll be able to create a wedding like no other!
---
Contact our experts...
Amanda Samain
Venue stylist

Andrea Leggett
Designer

Dan Hale
Toastmaster

Emma McDonald
Wedding planner

Katherine Hudson
Director, House of Hud
---